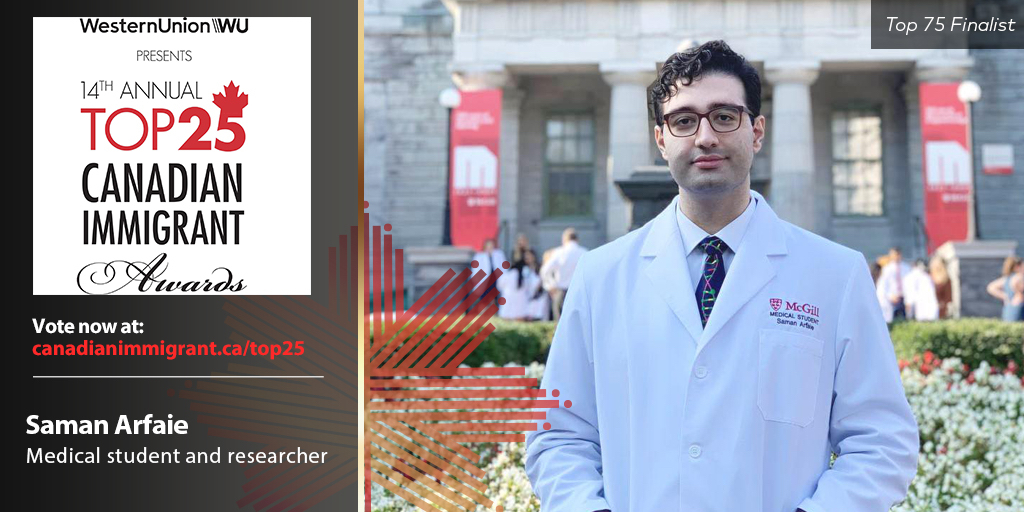 Second-year McGill medical student, Saman Arfaie, has been selected as a finalist for the Top 25 Immigrants in Canada. An annual campaign by Canadian Immigrant Magazine, this national award recognizes outstanding work by immigrants who "have come to Canada and have made a positive difference living in the country." Amongst the top 75 Candidates, 25 will be honoured with this award through daily cumulative votes. You can cast your vote online.
The Reporter spoke with Arfaie about, among other things, his family's path from Iran to Canada, his motivation to become a doctor and his love and gratitude for his adopted country.
Where were you born and raised? Can you describe your home country?
I was born and raised in Tehran, Iran. There is so much to talk about! Iran is a country with a very rich history and many cultural traditions. Iranians love guests and appreciate visitors quite a lot. I always found myself fascinated by Persian history, poetry, pottery, and calligraphy. I am proud of my background because it provides me with a deep root of grounding. Growing up, I was constantly reminded of the value of hard work and creating opportunities for others.
How did your parents influence you?
My parents are both physicians. My mother is a diagnostic radiologist, and my father is an orthopedic surgeon. When we first immigrated to Canada, they sacrificed their entire careers and clinical practice, so that I could have the opportunity to grow up in Canada. I always believed that love is about sacrifice and I saw it firsthand.
What I admire most about them is that they never told me what I ought to do with my life or what career trajectory I should pursue. Instead, I was granted the liberty to think for myself and develop that autonomy of thought from a young age. In my opinion, it is crucial for one's development to make decisions for oneself and keep that sense of accountability preserved.
I did observe, every day, that despite the long hours in the operating room or at the hospital, they were always fulfilled. The internal gratification from their work surely did not go unnoticed.
What were your first memories of Canada?
Tiny drops of rain falling with a harmonizing sense and a constant rhythm on the thirsty ground! That, I find, is my first recollection of Vancouver, British Columbia, where we officially immigrated in July 2009. The memories of that night are crystal clear to me: wandering around in the streets with several heavy luggage, and optimistic with the vision to build a better future.
I also have many fond memories of piano lessons at the UBC School of Music. Long hours in the practice room remind me of the importance of discipline and a yearning desire to search for the truth. Classical music has been the backbone of my life and a great stabilizing force. I credit this maturity of passion to Canada, too.
In your biography on the Canadian Immigrant website, you write that you 'hope to serve the country that opened its doors and took [you] in'. How do you describe Canada and being a Canadian?
Like love and great works of art, loyalty and trust are central foundations for any relationship. This extends beyond people and holds the same charm when it comes to places that are near and dear to us. I felt this relationship and close affinity with Canada. Canada is a great nation that celebrates inclusion and diversity. Canadians are friendly, polite, and enlightened people, and this fact holds true from province to province.
I have been fortunate to attend a public education system in the Vancouver School Board and credit my formative teachers for providing me with the support to trust in my intuition.  Without question, I have also been a beneficiary of all the opportunities made available to me during my academic trajectory. I recognize that I was granted an equal opportunity to learn, grow, and mature. I hope to be able to contribute in a meaningful way during my career and later years to fulfill this sense of loyalty and trust.
What is your educational background?
I have a B.Sc. in Molecular Cell Biology (Neurobiology emphasis) an Honours B.A. in Persian Literature and double minors in Chemistry and Music from the University of California, Berkeley.
Why did you choose McGill?
McGill was a natural choice due to its rich history, intellectual lineage, and culture of innovation. We all like to connect with the past, and McGill enjoys a pantheon of great minds that bridge this transition. It also happens to be the oldest medical school in Canada. Research done by McGill was frequently cited and always respected, back in my studies at UC Berkeley, so I wanted to have a formative part of my educational experience take shape here in Montreal.
I am also in love with neuroscience, so it is difficult to miss the contributions made at McGill in this arena. Many names stand out and amongst them are the revolutionary work of pioneering neurosurgeon-scientist Wilder Penfield (who founded the Montreal Neurologic Institute), David Hubel, and Torsten Wiesel (1981 Physiology/Medicine Nobel), and John O'Keefe (2014 Physiology/Medicine Nobel).
You are one of the youngest finalists in a distinguished national cohort of nominees. How did you feel about this when you first learned the news, and why have you chosen to pursue a career as an aspiring physician-scientist?
Shock and humility! It is an absolute honour to be amongst this group and learn from all the groundbreaking work they do.
Ever since my interests in medicine and scientific research were sparked early on, I have felt both deeply-rooted passions develop together. It is beautiful how interconnected they are at their core. Having a scientific mindset for discovery further motivates me to look harder for practical solutions to improve patient care. Few ideas can be as rewarding for me as applying my love for research to alleviate human suffering. The reverse is equally true – I know I will be a better scientist by understanding first-hand what my patients need to heal and thrive.
What impact have you made at the national level so far during your studies?
Back in 2020, I co-founded the Canadian Medical Student Interest Group in Neurosurgery (CaMSIGN) with two of my colleagues, Mohammad Mashayekhi and Pedram Laghaei, who are currently studying at the UBC Faculty of Medicine. Our student-led group is the first national platform dedicated to the pillars of neurosurgical education, research, advocacy, and mentorship. With over 20+ events, a blog focused on education and CaRMS interviews, encouragement of more representation of women to pursue surgical specialties, and other neurosurgery-focused content, CaMSIGN's role is to connect all students interested in the field with residents and faculty across the country.
What are some other projects you are currently working on?
COVID-19 has become a topic of fascination and scholarly interest. I am currently co-authoring a book on the subject. This is being done alongside two of my dear friends and colleagues at Queen's University, Peter J. Glinos (PhD candidate) and Faraz Honarvar (medical student). This is the first multi-dimensional collection of interviews and analyses with Canada's leading experts that distills insights from molecular biologists, infectious disease researchers, population health experts, healthcare professionals, policy and legal experts, historians, and psychologists. The aim of our book is to produce a comprehensive and holistic history of the pandemic in Canada.
I am also in the process of writing another book with my friend and colleague, Professor Philip Pearl of Harvard Medical School titled 'The Neurobiology of Creativity: Music, Medicine, and the Art of Self-Expression.'
What were some of the thoughts that entered your mind during the white coat ceremony?
I love this question. It is one that has occupied my mind and I even wrote about it on LinkedIn. Four points continue to resonate:
The first step in becoming responsible for another being is only possible via actively seeking responsibility.
During moments of suffering and pain, we feel most human. In a career that will directly weave through and traverse some of the most difficult times for patients and their loved ones, it is essential to have a comprehensive grasp of the human condition and cultivate the emotional means to serve others with grace and compassion. We must also care for ourselves.
Gratitude for being a medical practitioner can be manifested in the following two ways amongst others: i) Through a deep recognition of the complexity of human anatomy, physiology, and its molecular systems. This will be crucial to best understand disease etiologies, guiding our diagnosis and treatment. ii) The acceptance that human health, while our default setting, is not assured.
We must transition from being consumers of knowledge to producers of it. Innovating the current medical landscape, especially in cases when treatment modalities fail or no cures exist, will be central via dedicated devotion to basic and translational research.
You recently gave a TEDx talk and piano performance at McGill University. Tell us more about it.
I am interested in the unification of knowledge through the overlap of sciences with humanities. 'Illuminating the Human Journey: Music, Medicine and Meaning' was a celebration of how that connection is made relevant to medicine. [Watch Arfaie's TEDx talk]
Any final thoughts you would like to share with us?
To me, virtues matter more than accomplishments. To be a good human being is to have a sense of openness to the world. An ability to stay connected and grounded is a far more important quality than how many awards you win, peer-reviewed papers you publish, or other recognitions you receive. Those are the cherry on top of the cake, but without the former (virtues), there would be a void within that nothing would ever replace or complement. This is what the first principles do.
I say it again and again about how lucky and blessed I have been to be where I stand: to be surrounded by brilliant medical school colleagues (whom I learn from daily), inspiring scientists, and thoughtful mentors here at McGill University. We are the total summation of the people we have met, the mentors we have had, and the thoughts we have pursued. In that sense, there is no sense of ego. And there can never be!
We must be grateful for the efforts and support of people who have helped in shaping our life trajectory: both those who are with us and continue their support, and those who used to be but no longer are. Complete independence is an illusion that hinders our growth, for growth is only attained through the meaningful bonds we form with one another and the world around us.