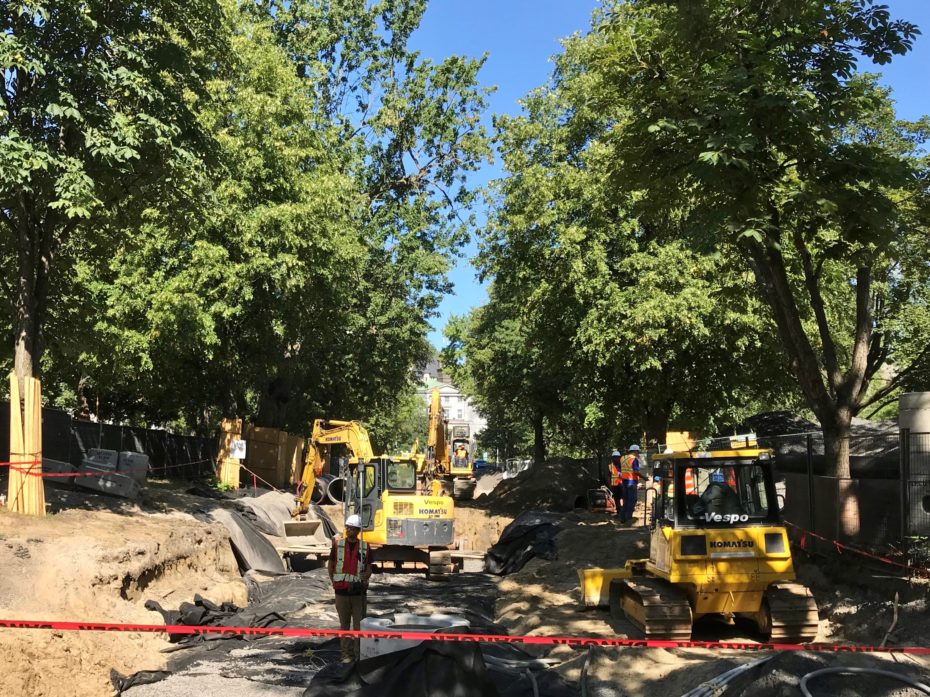 You may have noticed some construction work around the downtown campus. Or felt it, as the jackhammers, sandblasters and power drills do their thing.
But, although it's hard to miss all the digging and hammering (not to mention the shovelling, drilling, backhoeing, bulldozing, back-up beeping, plastering, sanding and scaffolding), all that visible activity is only part of the roughly 90 construction projects currently underway at McGill.
Projects range from the big-ticket jobs, such as the redevelopment of the west wing of the Stewart Biology Building, to lab or classroom upgrades. Keeping the University in working physical order is a vast and complex undertaking with many moving parts, says Robert Couvrette, Associate Vice-Principal (Facilities Management and Ancillary Services). The construction phase gets all the attention, but there can be years of planning and design before a hammer hits a single nail.
Major road work
Case in point: the $3.9-million main road project north of the Roddick Gates. Before one shovel broke ground, about a couple of years' worth of work went into the planning of that project.
The main road is part of a 10-year refurbishment plan for the lower campus that started three years ago. That included the McTavish Gates, renovating the Roddick gates two years ago and the east side of the Leacock Terrace recently.
"People see the surface work, but there are many other facets to these projects. We are also redoing the infrastructure – water, sewers, electrical, paving, lighting, street furniture, signage."
Work is now underway on the west side of Leacock. The project involves major structural work; the concrete slabs have severely deteriorated over the decades and as there are classrooms and other Arts spaces underneath, it is essential that they be rebuilt.
Over 200 additional projects planned
Recent increases in provincial funding for infrastructure and targeted federal funding for research facilities (such as the SIF program) have allowed McGill to nearly double its annual construction budget to about $130 million, from between $70 and $80 million a year previously. Couvrette expects it to increase to $150 million annually by next year
In addition to the 90 projects currently in construction, there are just as many in the planning or design phases, and another 140 or so being validated.
Most are not as visible as the exterior projects. For example, McGill started replacing outdated HVAC systems in many of its buildings a couple of years ago, such as at the University Centre.
"We are making energy gains either building by building, or through recovery loops, which means energy sharing between buildings to be as efficient as possible," said Couvrette.
These energy gains are meant to help McGill become carbon neutral by 2040.
Classroom upgrades
Many classroom and lab upgrades are also planned each year. About 40 per cent of McGill's building space is dedicated to research, which by nature requires a perpetual turnover and renewal in equipment and facilities.
Projects are prioritized according to several considerations, such as research/teaching needs and safety of the community, but the scheduling can sometimes shift based on other work needed in the building, funding rules or donations.
"To be more efficient, we might combine a lab renovation with the replacement of a roof, or of an electro-mechanical system."
Get more information on current construction projects online