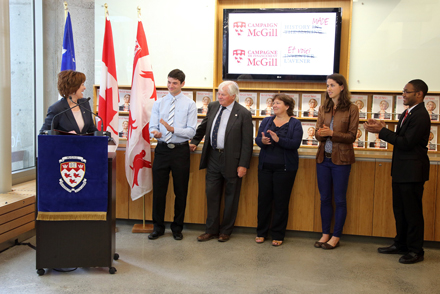 Most of the funds headed to student support
By Neale McDevitt
There is no getting around it; the numbers of the recently completed Campaign McGill are impressive. But, as announced in a press conference early Tuesday, the one number that is truly astounding is the Campaign's bottom line: $1 billion-plus raised to support students, faculty and researchers.
In announcing the final tally, even the people closest to the multi-year campaign seemed surprised by the record-breaking amount.
"Today, I am extremely proud to announce that our Campaign – thanks to our alumni; our students and their families; and our friends from Quebec and around the world – has exceeded all our expectations in a most extraordinary way," said Campaign McGill Co-Chair Yves Fortier in announcing the total. "I offer my sincere thanks to almost 96,000 donors… who gave so generously to Campaign McGill and allowed us to amass $1,026,000,000.
"Yes, you heard it right, $1,026,000,000."
Publicly launched with an initial goal of $750 million, the Campaign attracted support from 95,619 donors around the world, the majority of them McGill alumni. The Campaign also attracted unprecedented support from people outside of the University community – more than 10 per cent of the Campaign total came from individuals who are not alumni, parents, students or McGill staff, but who were moved by the cause of McGill to contribute to the Campaign.
Munroe-Blum touted as "face of the Campaign"
The Campaign also added an emphatic exclamation mark to the decade-long tenure of Heather Munroe-Blum as Principal and Vice-Chancellor, a mandate that will end on June 30. Introduced by Fortier as the "face of the Campaign" and as the person most directly responsible for its ground-breaking success, Prof. Munroe-Blum quickly deflected the praise in thanking the "army of devoted people" who kept the machinery running smoothly throughout the long Campaign.
"No great achievement happens – and certainly not one of this magnitude – without thousands of people being committed to having a strong University that serves at the highest level," said Prof. Munroe-Blum.
"These gifts make an extraordinary contribution to McGill's students, our research and the communities we serve," said Prof. Munroe-Blum in McGill's statement announcing the results "University philanthropy is taking off in Quebec, and the campaign's success speaks to the overwhelming generosity of our alumni, parents and friends from Quebec, all of Canada and internationally. They all have a strong conviction that, by supporting McGill's accessibility to all deserving students while strengthening its academic excellence, they can make a meaningful contribution to our city, Quebec, our nation and our world."
More than 60 per cent of the money raised during the Campaign has been designated to support students through increased scholarships and student aid, as well as enhanced programs and new teaching and learning spaces. The remainder of the funds has gone to support special faculty opportunities and research.
Of note, campaign funds have allowed more than 600 new student bursaries, scholarships, fellowships and awards to be created, supporting more than 3,700 students to date. Donors have also contributed support for the creation of 46 new faculty chairs, enabling McGill to recruit and retain outstanding researchers. Campaign gifts have also contributed nearly $300 million to support cutting edge research and to create new and renovated teaching and learning spaces, helping to address the University's significant deferred maintenance.
"Through their outstanding support for this Campaign, McGill's unique community of alumni, parents, friends and supporters has sent a clear and powerful message: they believe in our students, they believe in McGill and its place in Quebec, and they believe in the incredible things that can happen when a world-class public university is fueled additionally with the vision and generosity of donors. Simply put, philanthropy changes lives," Fortier said in McGill's statement.
A student's story
Sarah McCuaig agrees wholeheartedly. "It's amazing to see what philanthropy can do for students," said the McGill track and field and cross-country star who graduated just a few weeks ago with a BSc. in Immunology.
Come late-September, McCuaig, one of the most decorated student-athletes at McGill in both the classroom and on the track, will pack her bags for the University of Oxford as McGill's 134th Rhodes Scholar. "I am a direct product of philanthropy," said McCuaig at today's announcement.
McCuaig was the beneficiary of a Greville Smith entrance scholarship to McGill in 2009, valued at $10,000 per year. She admits receiving the scholarship was an important factor in her choosing McGill.
"One of my apprehensions about coming to university was how was I going to be able to balance my finances and the expense of coming to university with everything else I wanted to do. Being a full-time student and a full-time athlete can be very demanding," said McCuaig. "Receiving this scholarship helped ease this financial burden."
The scholarship also allowed her to pursue research opportunities in the summer months – opportunities that are sometimes hard to come by for undergrads.
"Research jobs aren't the highest paying but [immunology] is my passion. Being able to take these research jobs knowing I didn't have to worry about finances meant that I could do what I loved," she said. "It was a wonderful learning experience and hopefully I'm helping to contribute to the advancement of knowledge in this area."
Having benefitted directly from philanthropy, McCuaig thinks the success of the Campaign will be a catalyst for new generations of donors. "I hope seeing people giving back to the University they went to 50, 60, 70 years ago inspires recent graduates. Personally, I hope to have the opportunity to pay it forward in the future and give back to students here."
No substitute for operating budget
Today's announcement comes as universities across the province wrestle with massive, government-imposed cuts to their operating budgets made last fall. McGill is adopting a variety of measures to deal with this drastic budgetary shortfall, including salary freezes and early retirement packages.
But as Prof. Munroe-Blum and Board of Governors Chair Stuart H. "Kip" Cobbett made clear, the money brought in by the Campaign cannot be used to shore up McGill's operating budget.
"The money raised through this extraordinary campaign is entirely devoted to activities not financed by the operating budget of the university. Our donors are providing a powerful example of the absolutely essential role private giving plays – not as a substitute for adequate public funding, but in ensuring that, to the best of our abilities, we can continue to serve our students and our community at the highest level," Cobbett said in McGill's release.
"These are very challenging times for McGill financially," said Munroe-Blum in a statement released to the McGill community on Monday. "Philanthropy allows us to provide that extra support for our students and special academic and research programs, but it does not substitute for operating budget, nor is it treated as operating budget."
In the question period following the announcement, the Principal emphasized a point that she has been making throughout her 10+ years at the helm of McGill; namely that if Quebec universities are to remain competitive with the rest of Canada and the world, they can't rely on a single agency or funding method.
"I hope [Campaign McGill] sets a high water mark… There are a number of university campaigns in Quebec and it is time for philanthropy to help us raise the quality of education and research to the very highest levels. Why should Quebecers get less than others elsewhere?" she said. "But you can't do that on philanthropy alone. You can't do that on government support alone. And you can't do that on tuition alone. You need all three to come together and each to stay the course to the best of their ability."