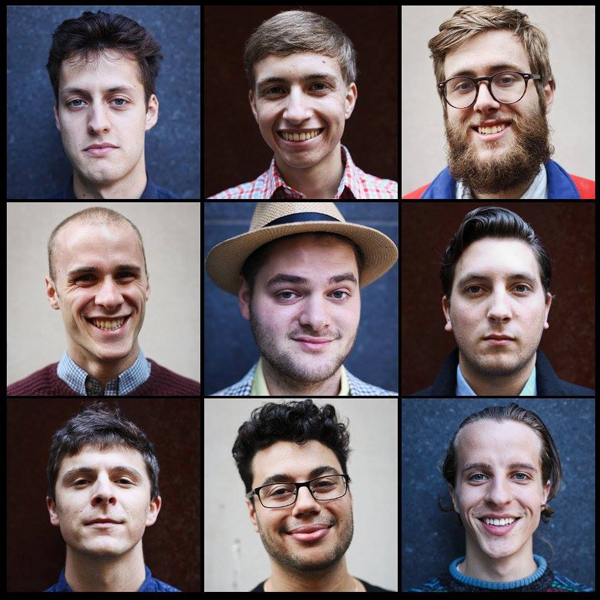 By Neale McDevitt
This year alone, McGill has produced everything from a Nobel Prize-winning researcher to Olympic gold medalists. You can now add Canada's top university band to that list.
As announced on Oct. 27, Busty and the Bass, a nine-member electrofunk band comprised entirely of musicians from the Jazz Performance program, won CBC's Rock Your Campus contest. The competition, a nationwide talent search looking to discover the "next big campus music act," was open to anyone enrolled at a Canadian university that received hundreds of entries.
"It's hard to put into words," said Milo Johnson, Busty's bassist, immediately after the announcement was made on CBC radio. "Needless to say, we're all pretty thrilled. It really validates all our work."
When Johnson and the band got the call giving them the good news on Monday morning, he said it was pretty much bedlam. "We were jumping up and down screaming our song in the living room. It was pretty loud."
Johnson says that it looks like a significant portion of the $10,000 prize money will go to a tour van – symbolic of just how far the band has travelled since its early days as a bunch of McGill jazz students who played at local house parties. "Our first mini tour (a two-day trip to Kingston and Toronto) was last November," said Johnson. "With a van, we'll be able to tour in style and, more importantly, in comfort."
And that van will come in handy. Having just produced its first EP, Bustified, less than a week before winning the CBC competition, Busty and the Bass is a band on the move.
"I can't believe these guys are only in university," said judge Max Kerman, frontman of the Juno Award-winning band, The Arkells. "Their musicianship is killer, the guy has a great voice… there is a million great hooks… I am very, very impressed."
"I love the soulfulness, love the edgy lyrics, love the horns," said Henry Walter, known professionally as Cirkut, a music producer and songwriter who has worked with everyone from Miley Cyrus and Katy Perry to Rihanna and Britney Spears. "Their sound is spot on."
"The musicianship is epic… It kills," said the third judge, Talia Schlanger, CBC Radio host. "I want to see them live and dance my face off."
Members of the McGill community will have the chance to dance their respective faces off to Busty's beat. CBC will pay for and produce an upcoming concert on campus. The date of the concert has yet to be determined.
Not ones to rest on their collective laurels, the members of Busty and the Bass are just days away from shooting a new video in collaboration with Effusion A Capella, a McGill a capella ensemble.
When asked if principal Suzanne Fortier was going to make another dance cameo, as she did in the band's recent video Tryna Find Myself (which you can download for free here), Johnson laughed. "I don't think so. She's a busy woman – something about having to run a university."
Editor's Note: Another of the five finalists also has McGill connections. Cash Chalice, is the creation of Computer Science student , Justin Stander. Pretty much a self-taught, one-man, band, Stander has been teaching himself music production for a little over a year and does all his own composition, production, mixing and mastering.
To watch the Rock Your Campus judges go through their deliberations and comment on each of the five finalists, go here.
Go to the band's website here.
https://youtu.be/hXjT5RlQuAw