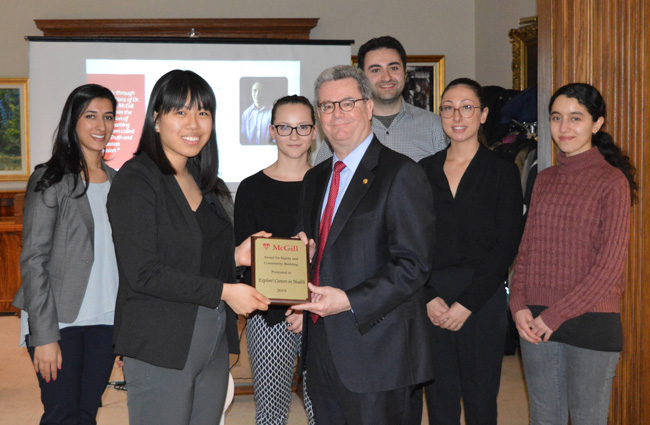 Provost and Vice Principal Christopher Manfredi and Professor Angela Campbell, Associate Provost (Equity and Academic Policies) handed out the annual Equity and Community Building Awards at a reception at Royal Victoria College on May 1.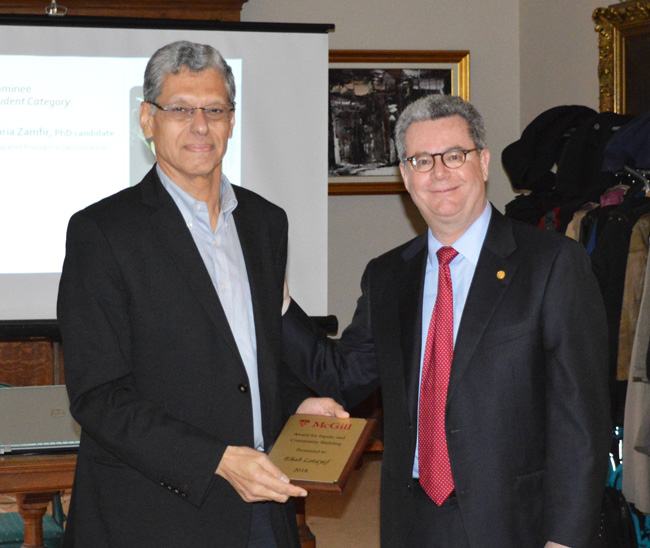 Before a full and festive room, Prof. Manfredi opened the proceedings saying "Since the beginning of my term as Provost, I have named equity and inclusion as explicit priorities, knowing that the pursuit of these goals is crucial to the intellectual openness and academic excellence for which McGill constantly strives."
The Equity Awards highlight achievements or initiatives that have the potential for long-term impact in keeping with McGill's equity building objectives. These activities include such things as teaching and mentoring, with specific reference to populations under-represented at McGill; promotion of policies and practices that reinforce inclusivity; raising awareness of issues relating to equity and diversity; facilitation of recruitment and retention of staff and students from a diversity of backgrounds and perspectives; enhancing the working or learning environments of people from diverse backgrounds; and the development and implementation of projects promoting equity, diversity and/or community engagement.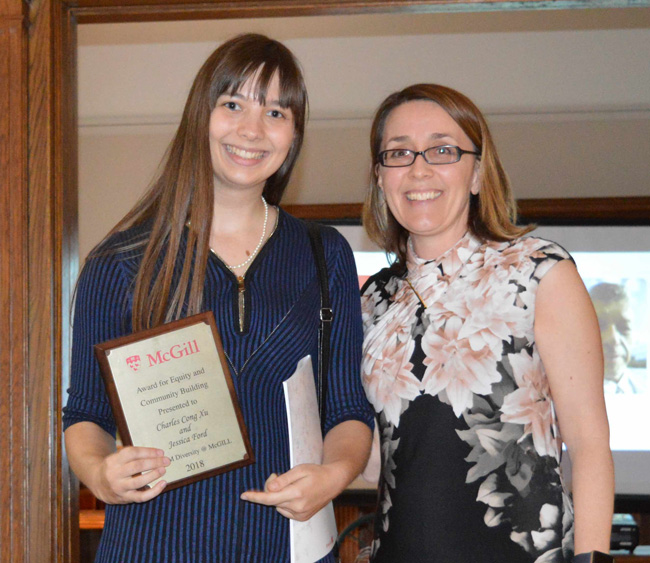 Awards recognize people in four streams: McGill students; McGill academic staff; McGill administrative and support staff; and teams consisting of members of any of the above groups or any combination.
Professor Campbell, who MC'ed the event, said that the Awards are part of a larger movement that is only gaining momentum across the University. "I would signal the wonderful progress we have made on our campus, in the realm of equity and inclusion," said Professor Campbell. "I want to thank everyone who nominated and wrote reference letters for our most impressive nominees. Each year we are seeing the deepened quality of the dossiers presented for this prize."
Winners of the 2018 Equity and Community Building Awards:
Student Category: the duo of Jessica Ford and Charles Xu Cong, leaders of Diversity in STEMM @ McGill 
Diversity in STEMM @ McGill was founded by Charles Xu Cong, a PhD student in Biology. It features an online and touch screen exhibition, as well as series of banners of diverse people working in STEMM at the Redpath Museum, showcasing women and minorities. Jessica Ford, MSc in Biology, created the 32-page bilingual Diversity in STEMM Colouring and Activity Book which has been distributed to elementary schools in Québec and Ontario.
Nominees in this category included:
Maria Zamfir
Daniel Almeida
Yasmin Beydoun
Mehrgol Tiv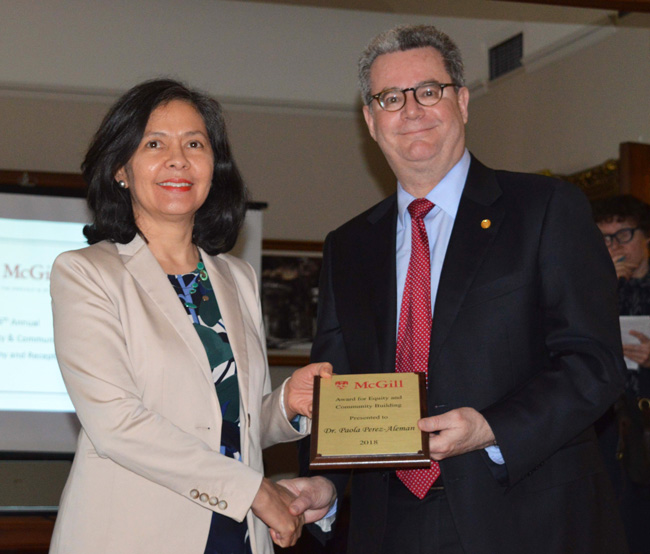 Academic Staff category: Paola Perez Aleman, Associate Professor of Strategy and Organization in the Desautels School of Management
Professor Perez-Aleman's work focuses on the intersection of management, strategy and international development. She mentors and inspires under represented students, especially women and racialized people studying business. Her experience in developing countries and the Institute for the Study of International Development (ISID) promotes the teaching of business with a global perspective.
Nominees in this category included:
Ada Sincore, Associate Professor, Department of Educational and Counselling Psychology,  Faculty of Education
Allan Downey, Assistant Professor, History and Classical Studies
Administrative Staff category: Ehab Lotayef, IT and Technical Services Manager in the Electrical and Computer Engineering Department.
In the months following the murders at the Centre culturel islamique de Québec, which left six people dead and 19 injured in 2017, Lotayef organized a series of events entitled Conversations with Muslims to break down barriers between Muslims and non-Muslims. Lotayef also organized the one-year anniversary commemoration and was involved in setting up a bursary for a McGill student, not necessarily a Muslim, who contributes to encouraging Muslim inclusion on campus.
The other nominee in this category included:
Renjie Butalid, Associate Director, Dobson Centre for Entrepreneurship
Team category (two winners):
Explore! Careers in Health
Explore! Careers in Health is a bilingual, three-day student run interprofessional program that encourages high school students in Grades 9-10 from under-represented groups to consider careers in the health professions at McGill. Explore! Careers in Health is run by co-presidents Amanda Try and Kelly Hennegan.
Women in Physics at McGill
Women in Physics is a group of faculty and students working with the department to improve parental leave options for graduate/post-doctoral students, and organizes events to raise awareness of diversity in the field.
Nominees in the Team Category included:
The Chemical Engineering Equity and Diversity Committee
The Homework Zone (The Homework Zone)
McGill Science, Technology, Engineering and Math (STEM) Support Committee
Sarah Baldwin, Michelle Gros, Emma Hudgins, Logan Smith of the Biology Department