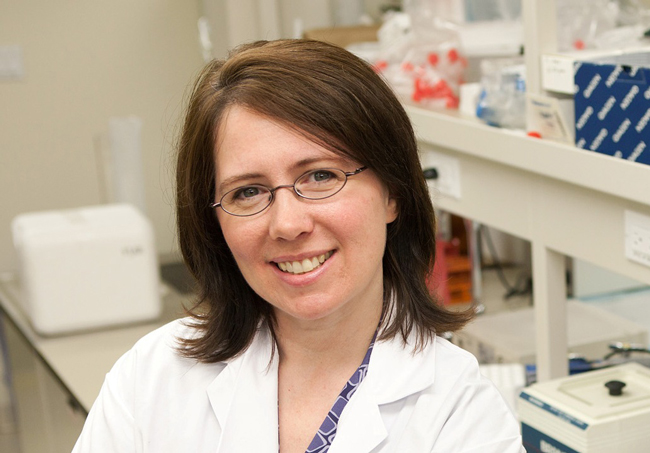 By Neale McDevitt
We know that idiopathic pulmonary fibrosis (IPF) is a fatal disease that causes scars to form in your lungs. Over time, the scarring makes your lungs increasing stiffer, making it more and more difficult to breathe. Eventually, usually within three to five years of diagnosis, IPF patients die of suffocation.
We also know that IPF is a rare disease that affects less than 15,000 Canadians. We also know that most people who get IPF are over 50, more men have IPF than women and many people with IPF used to smoke.
But that's it. Other than that, we don't know much.
"We don't really know why some people get IPF and others do not because we don't know what causes it," says Carolyn Baglole, who is cross-appointed in the Faculty of Medicine's Department of Pharmacology and Therapeutics and the Department of Pathology. "There are no biomarkers that tell us if someone has IPF or will eventually develop it."
But Baglole hopes to shed some light on the mysteries of IPF, thanks, in large part, to the recent announcement that she has been awarded a portion of a $1.2-million grant from Boehringer Ingelheim (Canada) Ltd to study the disease.
The grant is part of the Boehringer Ingelheim Innovation in Understanding ILD (BUILD) program. BUILD supports Canadian investigators doing research interstitial lung disease (ILD) with the hope of improving the understanding, treatment and patient outcomes in ILD, a group of nearly 200 rare lung diseases – including IPF. The cause of ILD is often unknown, and accurate diagnosis can be extremely challenging and treatment decisions are complex.
Like all good detective work, Baglole's research started with a strong clue – the human antigen R protein, or HuR protein.
"We want to try to understand at a fundamental level, at a cellular and molecular level, why IPF develops in some people and we are very interested in this particular protein that occurs in our cells," says Baglole. "This is a protein that is implicated in cancer but that has never been studied in pulmonary fibrosis. But based on some of the current literature it seems like it may play a very important role in the development of this disease.
"It could be that there is too much of this protein in the lung, for example, but it could also be that it is not behaving in a normal way," continues Baglole. "If we can take tissue from somebody that has pulmonary fibrosis and identify that there is more of this protein in certain regions of the cell, maybe this is indicative of the disease and of somebody who will have a faster decline of lung function."
Baglole's lab will study the role of the HuR protein in models of pulmonary fibrosis with hopes of determining the role it plays in the development of pulmonary fibrosis. "If we prove that this protein drives the disease we can develop an inhibitor, a drug for example, that can prevent this protein from behaving abnormally," says Baglole. "Of course, in a perfect world we can stop the progression of pulmonary fibrosis and help people who have this disease live a better and longer lives."
One of the challenges of working with diseases like IPF is that, because it is relatively rare, much of the focus – and funding – goes toward cancer, or other more common illnesses. "Even if IPF is relatively rare, it is still very important for us to understand how to help these individuals do have it because the survival for someone with IPF is very poor as is their quality of life," says Baglole. "That's why the BUILD grant is so important. It helps bring to the forefront a disease that is as deadly as lung cancer and it allows us to move quickly on a project that we think has enormous translational potential for IPF."