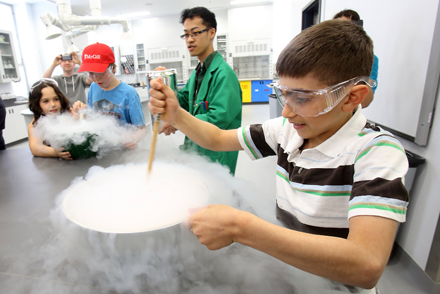 By Jim Hynes
More than 200 children whose parents, other relatives or family friends work at McGill flocked to both campuses last Friday to take part in the University's first ever Bring a Child to Work Day.
Children 8-15 had the pick of some 50 or so events to take part in, everything from examining dinosaur bones and prehistoric tools to taking a Music master class and getting lessons in managing a Zombie apocalypse.
Most children, like 15-year-old Yocoyani Badillo-Amberg, took part in three activities. Badillo-Amberg accompanied by his mother, Veronica Amberg, Manager of the Social Equity and Diversity Education (SEDE) Office, enjoyed a mentoring games activity and an Anatomy 101 workshop, but he said his favourite activity was the mock trial he took part in at the Faculty of Law.
"It was fun. It was interactive and you got to be part of a real situation, said Badillo-Amberg, a Grade 9 student at FACE. "It was very creative."
Organizers also encouraged the adults taking part to introduce their young charges to their workplaces and what they do at McGill. And when the rainy day that was forecast was turned away by a co-operative Mother Nature, the participants and the adults who accompanied them were able to enjoy a hot dog lunch on lower field, where a number of sporting and cultural activities were also held. It turned out to be a glorious day all around.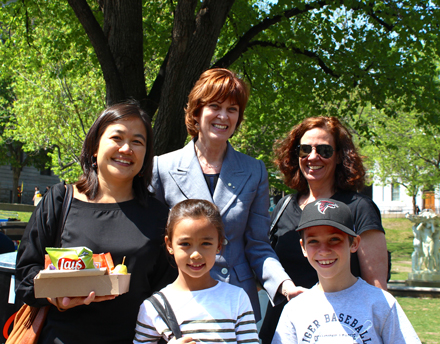 "I couldn't be happier. I'm just delighted to see all these enthusiastic young people and their friends and parents and grandparents and aunts and uncles," said Principal Heather Munroe-Blum, who joined the participants during the lunch break, meeting a number of McGillians of all ages in the process.
"It took a couple of years, because there hadn't been a model here for doing it," Munroe-Blum said of the Bring a Child to Work concept. "I'd seen it elsewhere, and when I had a little girl, I could bring her to a Bring a Child to Work Day, and it made a whole difference to her sense of pride and understanding in what I did at work. And meeting all the kids today who say 'maybe I'll like school better' or maybe I'll come to McGill'… I love it. I'm just very happy, and I want to thank the team that took a leap of faith to make it happen. I also want to express my deep appreciation to the Faculties for jumping on board with this. I think people are saying it's a great success."
Judging by the smiles on young and older faces across the campus on Friday, the activity appears to have been just that.
Click here to view a gallery of Bring A Child to Work Day photos.