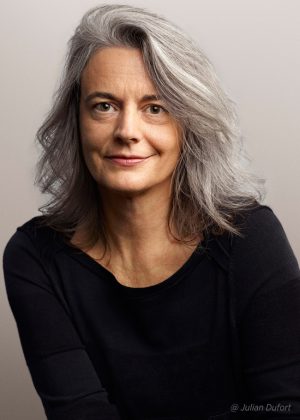 Dr. Brigitte Kieffer, Professor in the Department of Psychiatry at the Faculty of Medicine at McGill and Scientific Director of the Douglas Mental Health University Institute, was appointed an officer of the French National Order of Merit during a ceremony held in Montreal on May 19. The National Order of Merit recognizes the distinguished service of French citizens in translating the dynamism of society, being a positive role model and recognizing diversity.
"This distinction is a great honour for me," says Dr. Kieffer, who is also the holder of the Monique H. Bourgeois Chair in Pervasive Developmental Disorders at McGill University and the Canada Research Chair in Neurobiology of Addiction and Mood Disorders. "It is also a tremendous recognition of the efforts made by all the members of my team, past and present, over the course of 25 years of research. Our work has already had important implications towards our understanding of the molecular mechanisms involved in pain, addiction and depression and will, I hope, have concrete implications for the treatment of these diseases."
Dr. Kieffer's research on opioid receptors is recognized internationally. By isolating the first gene encoding such a receptor, it opened up the field of exploration of the molecular mechanisms underlying nociceptive responses, as well as behaviors related to reward processes and responses to stress.
After completing a doctorate in organic chemistry and biochemistry in 1983 at the University of Strasbourg and postdoctoral research at the Friedrich Miescher Institute in Switzerland, Dr. Kieffer joined the faculty of the University of Strasbourg in 1989. She has been a visiting professor at the University of California at Los Angeles since 1998. In 2001, she began her research at the Institute of Genetics and Molecular and Cellular Biology (IGBMC) in Strasbourg, an institution she led from 2012 to 2013. She was appointed Scientific Director of the Douglas Institute and Professor of Psychiatry at McGill University in 2014.
In addition to this most recent recognition, she has received numerous prestigious honours during her career, including the Lamonica Prize for Neurology (Academy of Sciences) and the L'Oréal-UNESCO Prize for Women and Science. She was named Knight of the French Legion of Honour in 2012 and a member of the French Academy of Sciences in 2013.