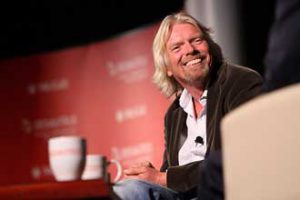 By Chris Chipello
Sir Richard Branson brought his irreverent flair to McGill Feb. 16, as he shared his thoughts on leadership and corporate responsibility as the featured speaker in the Desautels Faculty of Management's Peter Brojde Leadership Lecture series.
The maverick entrepreneur, known for his Virgin Group of companies, told the nearly 900 people packed into Centre Mont-Royal – and hundreds of McGill alumni watching via live webcast – that the past two years "have been some of the most turbulent and surprising I have encountered in my 40 years in business."  But "at times like these, business leaders need to show calm leadership and remain focused on ways to grow their companies … A good entrepreneur will weigh up the risks and rewards of expansion and find a way through."
He urged the audience of future leaders to "use these challenging times as a real opportunity to found a business, keep focused on your proposition and go for it!"
Branson has never been known for playing it safe – or conventionally.  At the Virgin Group, "we have never followed the business models of the marketing and financial gurus," he said.  It took three years to get the company's brand name accepted by the patent office, "as they felt it was too 'rude.'"  But artists found the name "sexy and off the wall" and Virgin Records took off.  The launch of Virgin Atlantic airlines in 1984 struck many business journalists as bizarre, but British and American travelers "didn't seem to mind that the same company had just signed the Rolling Stones."
Today, Virgin Group includes businesses in sectors ranging from mobile telephony to transportation, travel, financial services, music, leisure, publishing and retailing – and there are plans for commercial space flights and underwater travel.  The group employs almost 50,000 people in 30 countries.
"If one is running a company," Branson said, "there's not only an ethical responsibility but importantly there are human responsibilities. I fear that the majority of major companies forget this fact or hold it very low on their list of priorities… People who work for a company have got to feel passionately about their jobs and feel as though they're involved in what the company's trying to achieve."
Following his lecture, Branson fielded questions from Barbara Dourley,  BCom student and President of the Management Undergraduate Society; Chris Lannon, MBA student and host of the Desautels CEO Speaker Series, and Desautels Professor Karl Moore.
How does he decide to go into a new industry?  "There's no point in us going into anything unless we can really shake up an industry, make a major difference.  And because life's short, we want to enjoy the experience. Only rarely have I actually sat down and thought, 'Can we really make a lot of money by going into this industry?'" Branson said.  "Almost every venture we've gone into, we've seen a gap in the market … and then we try to make sure we can get the bills paid.  Actually, I think that's the better way of doing it … It's got to be from your heart, and something which you're passionate about, which is going to be your hobby, and then it's likely to be successful."
Asked to name the best of his various initiatives to tackle societal problems, Branson cited the formation of the The Elders – a group of 12 "very wise women and men" led by Nelson Mandela.  "Their role in the world is to go into conflict regions and use their moral authority to try to bang heads together and to make sure that wars that might be about to happen don't happen, or conflicts that are happening cease happening  … They've been up and running for a couple of years, and they've done some pretty wonderful things."
The Peter Brojde Leadership Lecture series provides a public forum that challenges students, faculty and the general public to understand how businesses can be a force for confronting and overcoming societal and economic problems of global scope.  Through a gift from the Peter Brodje Foundation and support from the Brojde family, the series was inaugurated in 2007 with a lecture by former U.S. Secretary of State Madeleine Albright.
Born in 1945 in Moscow, Peter Brojde later moved to Poland and eventually to Canada. He co-founded Eicon Technology Corp., a pioneer in computer and network connectivity. He passed away in 2005, but "his commitment to the highest ethical standards and his focus on success through old-fashioned hard work, perseverance and community commitment lives on" through the lecture series, noted Desautels Dean Peter Todd.