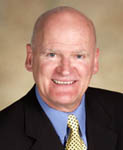 New ombudsperson for students begins five-year term
By Neale McDevitt
Although he came into his new job as Ombudsperson for Students armed with a wealth of professional experience directly applicable to the position, Spencer Boudreau figures he may have learned his most valuable lessons at home. "When you're the father of four, you learn how to negotiate pretty well," he said with a chuckle. "I have a daughter who should have been a lawyer."
Boudreau's five-year mandate as Ombudsperson, which began on Sept. 1, is to provide confidential, informal, independent, and neutral dispute-resolution services to all members of the student community by providing information, advice, intervention and referrals.
"The office has no decisional power, but there is the possibility of discerning how to help the student and what mediation may be necessary in order to resolve an issue with a professor or administration," said Boudreau. "Often, however, they really just need someone to listen to them and give them information."
Boudreau speaks from experience, having spent the better part of three decades working with students, advising them and helping them resolve conflicts.
A former high school teacher, the New Brunswick native is celebrating his 20th year at McGill where, in addition to his regular duties as a professor in the Faculty of Education, he's also served as Director of the Office of Student Teaching, and Associate Dean (Teaching, Learning, and Students). On top of that, he's spent time as a member of the Committee on Student Affairs and as Chair of the University Grievance Committee.
"Ideally, I'll be able to defuse issues so they don't snowball to the point where it goes to the Secretariat," said Boudreau. "[As a Chair of the University Grievance Committee] I've seen the tremendous amount of time and energy it takes to prepare these dossiers on the part of the students and the student advocates. If we can avoid that process, all the better."
While Boudreau will help undergraduate and graduate students alike deal with academic and administrative issues, he says that some of the problems extend beyond the Roddick Gates. "Some of our students are coming right out of high school and it's their first time away from home," he said. "Many are very young and sometimes they get overwhelmed dealing with being homesick and adapting to Montreal."
"McGill offers students a lot of support services but many new students don't know where to turn. That's where we can be of help."
Perhaps Boudreau's greatest asset as Ombudsperson is his great admiration for students. Like many of the best teachers, he sees his relationship with them as a mutually beneficial one. "I so admire our students here because I know how tough it can be to get into McGill," he said. "I walk through campus sometimes and I see them congregating, playing sports, talking about their research… and I feel energized."
You can contact the office of the Ombudsperson for Students by phone at 514-398-7059 or by email: ombudsperson@mcgill.ca. For more information go to www.mcgill.ca/ombudsperson