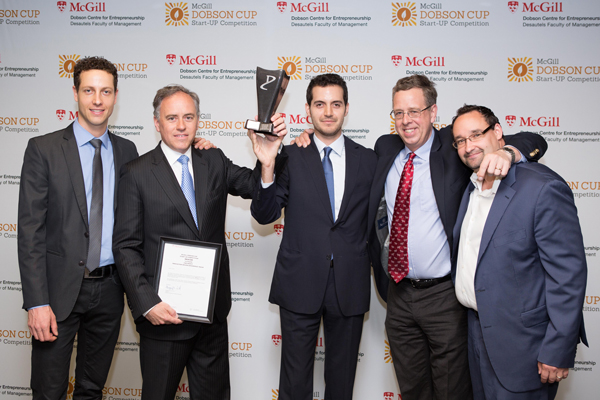 By Leilani Ku
One June 5, four teams were crowned victors of the 2014 McGill Dobson Cup, the annual start-up competition hosted by the Dobson Centre for Entrepreneurship at the Desautels Faculty of Management. The Centre provides resources and support to all entrepreneurs across McGill and Montreal communities.
With $93,000 worth of total start-up funding on the line and access to prominent industry mentors, the competition has welcomed significant growth since its humble beginnings in 2009. This year's competition attracted over 150 entries and nearly 400 participants from across McGill. While the majority of competitors came from the faculties of Engineering and Science, there was substantial representation from Management, Arts and Continuing Studies. New for this year was the split of competitors into three different tracks: Innovation Driven Enterprise; Small & Medium Enterprise; and Social Enterprise.
Taking first place in the Innovation Driven Enterprise track was Meacor, a company looking to create a less invasive heart valve repair device to treat valvular disease. Meacor co-founder Toufic Azar, a PhD student in Biomedical Engineering, was grateful for the learning experience he received throughout the competition. "The McGill Dobson Cup is extremely valuable, especially to those coming from non-management backgrounds," said Azar. "There was such a big transformation between our initial pitch and our pitch at the finals. The mentorship we received was extremely helpful. We learned how to present to real investors."
Winning the Small & Medium Enterprise track was ISENCORE, a software development firm that specializes in the creation of simulation software for the personal manufacturing market. Zouya Zarei of ISENCORE noted that "the most valuable aspect of the McGill Dobson Cup is how it brings exposure to McGill students who have big ideas."
Two winners were crowned in the Social Enterprise category. Tied for first place was MyLegalClinic.ca – Canada's first free bilingual online legal information clinic, linking the public to local legal information clinics to inform them of their rights and to help them find the right lawyer for their case.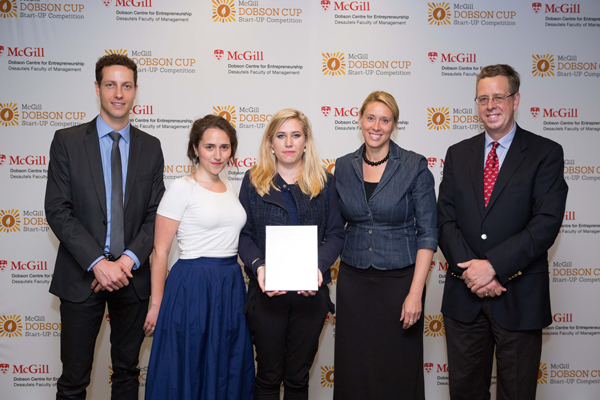 The other Social Enterprise winner was Centre Magnétique, an initiative that aims to build a business incubator centre in Lac-Mégantic that would offer entrepreneurial support and affordable working spaces to local enterprises. The team's idea originally stemmed from a class project about community economic development for Social Entrepreneurship & Social Innovation, a course they took at the Desautels Faculty of Management.
"Since the [2013 derailment] accident, the Lac-Mégantic community has stood together like never before and it is our vision to make this synergy last for the benefit of innovation and entrepreneurial diversity in that region," said Centre Magnétique co-founder Cécile Branco-cote.
Since they came up with the idea, the team has visited the region a few times to meet with potential collaborators. "We never thought the community of Lac-Mégantic would have been that supportive. As someone once told us 'Combien de fois dans une vie a-t-on la chance de construire une ville?'"
McGill Dobson Cup judge Chris Thierry, President at EteleSolv, was impressed by the competing teams and how investable their ideas are. "McGill is one of those great schools in Canada that is just going to continue to drive a lot of great ideas and a lot of great companies," said Thierry. "As a technology entrepreneur myself, when I see the type of entrepreneurs we're turning out and the quality of their ideas, I get really excited about the future."
The McGill Dobson Cup Start-Up Competition is open to students, alumni, faculty and staff of McGill University. For more information, go here.