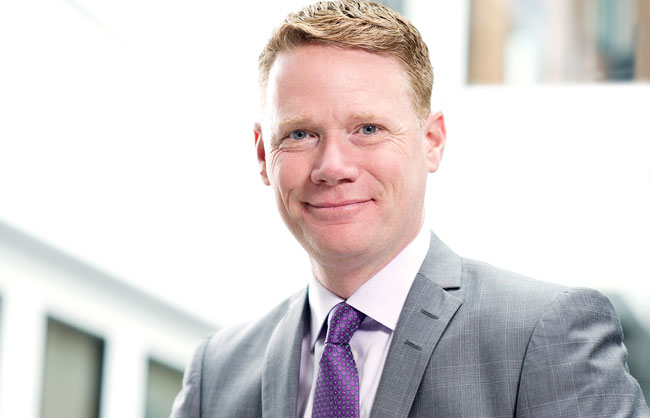 On the recommendation of the Advisory Committee for the Selection of a Vice-Principal (Communications and External Relations), McGill's Board of Governors has approved the appointment of Louis Arseneault as the University's new V-P (CER). Arseneault's term begins February 1, 2017, and runs until June 30, 2022.
Louis Arseneault replaces Olivier Marcil, who left the University for the private sector at the end of September. Marc Weinstein, Vice-Principal (University Advancement), has been serving as Interim V-P (CER) since last October.
In an e-mail sent to the community earlier today, Principal Suzanne Fortier welcomed Arseneault to McGill. She cited his "more than 20 years' experience in strategic and marketing communications, public affairs, government and media relations, and issues management."
Arseneault served as Vice-President (Talent Attraction, Promotion and Communications) at Montréal International from 2011 to 2016, after six years as the organization's Communications Director. Montréal International is a non-profit economic development agency that attracts foreign direct investment, international organizations and talent in the Greater Montreal area. During his time there, Arseneault's team developed Contact MTL, an international ambassador network that promotes the region as a world-class site of post-secondary education, research, innovation, culture and business. McGill is one of 20 partners involved in Contact MTL.
"Throughout my life, I've been attracted to universities for their great mission: developing knowledge, teaching, research, and service to the community," Arseneault says. "Universities shape our future and help us to understand the world around us. Throughout my career, and particularly at Montréal International, I collaborated on many projects with universities – and particularly McGill – so I've got to know many people in those worlds. I'm looking forward to dedicating myself to promoting the great institution that is McGill, and the Montréal university community in general. The calibre of our universities – our students, our faculty, our staff – is one of the things that really sets Montreal apart."
Prior to joining Montréal International, Arseneault worked as senior director of corporate communications, with various responsibilities including media relations, at Bell Canada (1997-2003), and as assistant director of public affairs at CAA-Québec (1992-1997).
Arseneault grew up in Sainte-Foy, Quebec, and moved to Montreal to study. He graduated with a Bachelor's degree in communications from UQAM. He then moved to France, earning a Master's degree in sociology (information and communications) from Université Paris VII.
He characterizes himself as "a true Montrealer at heart." "I chose to study, work and live here, and it's clearly my city," he says. "I'm very passionate about this great city for all the reasons that Montrealers, and visitors, love it: it's open to the world, it's multicultural, multilingual, it's creative and progressive. There's a great work ethic and a drive for innovation, but at the same time an appreciation for art and culture, and a balance between work and pleasure.
"It's a big year for the city, with the 375th anniversary. It's an occasion to look back on what has made Montreal so great, but also to look into the future. It resonates very well with McGill, which is also ramping up to its own big anniversary, the bicentennial in 2021. That's something I'm really looking forward to working with the University community on."
Although he counts swimming, gardening and cooking among his pastimes, Arseneault's primary hobby is learning new languages. He is fluent in French, English, Italian and Spanish – with some German, Portuguese and Russian – and holds two language certificates earned at McGill's School of Continuing Studies.
"Language is a key whereby you can understand a culture, a country, a people," he says. "And, when you've mastered a language, you have the ability to read the great authors in the language they were writing in."
But there's another reason behind his love of language.
"One of my passions is opera, and most of them are in foreign languages," says Arseneault, who sits on the board of directors of Opéra de Montréal. "I'm pretty eclectic in my tastes. Of course, I like the Verdis and the Puccinis, but also Massenet and Wagner. And I know that McGill has an extraordinary music school and a great opera company – the Principal has spoken highly of McGill's skills in opera."
He is a board member of the United Nations Association in Canada of Greater Montreal, vice-chairman of Les Fourchettes de l'espoir, a social economy organization dedicated to support communities in Montréal-Nord, and honorary president of Visages d'Outremer, an initiative aimed at gathering and promoting the community of new Montrealers coming from Guadeloupe, Martinique, La Réunion and other French-administered territories outside Europe. He is a member of the International Economic Development Council, the Association des professionnels en développement économique du Québec, the Canadian Public Relations Society and the Société québécoise des professionnels en relations publiques.
"I'm eager to get started," he says of his new position. "For me, McGill embodies the best of what Montreal, Quebec and Canada have to offer: excellence in teaching, research, innovation and diversity – it's very cosmopolitan with students, professors and researchers coming from the four corners of the world. The magnificent campuses, the University's personality…. I'm very happy to be joining the McGill community."