McGill's third annual Black History Month (BHM) got a head start on festivities, with its Opening Ceremony event taking place on Thurs., Jan. 31 at the McGill Faculty Club. With esteemed writer, artist and scholar George Elliott Clarke as the keynote speaker, it was no surprise that the event was sold out. However, organizers say there are plenty of other outstanding events on tap for people to take in throughout February.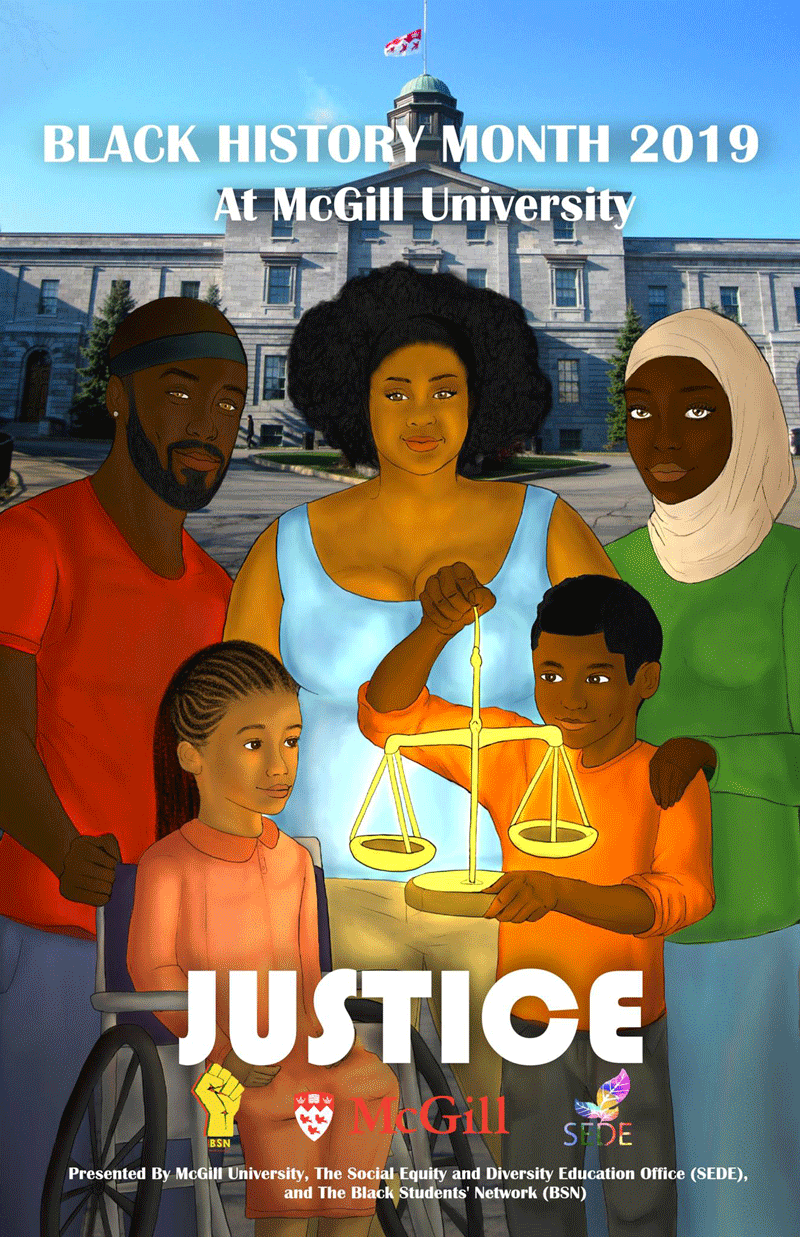 "We have a full slate of activities that promises something for everyone," says Shanice Yarde, Equity Education Advisor (Anti-Oppression & Anti-Racism Education). No one knows BHM at McGill better than Yarde, who didn't just start with BHM on the ground floor, she laid the foundation.
"For the first year, I was coordinating everything. But it's great to see people take ownership and create their own events that I have added to the program," she says, noting that BHM is a co-production between McGill, the Black Students' Network and the Social Equity and Diversity Education Office. "It's really helped us grow and gain momentum."
This year's BHM theme is Justice and Yarde says it's a concept that invites any number of interpretations. "We want to explore what justice is in a broad sense and not exclusively around the legal idea," she says. "What does justice mean in society and in different areas of our lives?"
Yarde notes that the idea of justice is built into the format of BHM, which gathers people together to meet, talk and exchange ideas. "We want BHM to bring people together so they can see each other and be seen – in particular, Black folks at McGill, who have been invisiblized. For me, that idea of justice is also to step into the forefront and take up space."
Some of the highlights of Black History Month 2019 include:
Black Talk 2019 (Feb. 1)
Tune into CKUT 90.3FM for 12 hours of Afrocentric programming that will highlight black achievements at McGill and will look at how the history of prejudice toward black people informs contemporary Black struggles.
Racism and Systemic Discrimination: The Canadian Context (Feb. 4)
A panel discussion on systemic racism and discrimination in the Canadian context ahead of the public consultation on the topic organized by the City of Montreal.
Commemoration of the Congress of Black Writers (Feb. 6)
A celebration of the historic Congress of Black Writers that was organized over 50 years ago to explore the ongoing consequences of colonialism and the afterlife of slavery for people of African descent. (Sold out)
Community & Family Day (Feb. 10)
A day of fun for the whole family that will include storytelling, a collective art project, dance lessons, a community lunch, black vendors and more.
Celebrating the Legacy of Dr. Kenneth Melville (Feb. 18)
A celebration of the life of Dr. Kenneth Melville (1902–1975). Born in Jamaica, he graduated at the top of his class in medicine in 1926 and went on to become Chair of Pharmacology at McGill from 1953 to 1967. Dr. Melville was an accomplished scientist and was deeply involved in his community.
Black Students, Staff and Faculty Gathering (Feb. 19)
Informal networking event at Thomson House
Cannabis Legalization Teach-In (Feb. 25)
The legal coordinator at Head and Hands will lead this information session to answer questions regarding cannabis legalization.
Yarde is hoping to hear from more people with programming ideas of next year's BHM, asking that interested people contact her via email.
Get the full slate of Black History Month activities, both on and off campus.