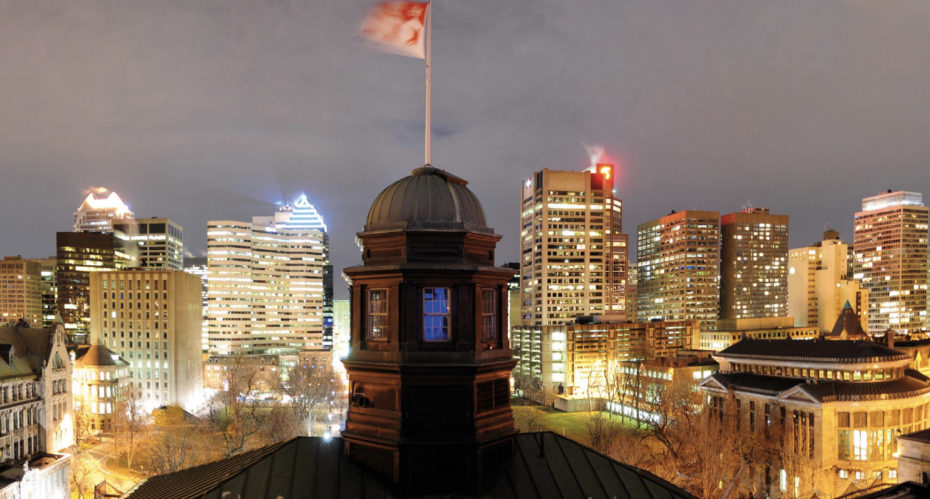 Inviting French-speaking students in Quebec to attend French literature courses at a primarily English-speaking institution like McGill is just what you'd expect – a bit of a challenge.
So, Pascal Brissette met the challenge. The Director of McGill's Department of French Language and Literature reasoned that the best way to attract francophone students is to give them reasons to want to study French at a predominantly English-speaking university. Reasons they might not have expected.
In the spring of 2018, Brissette contacted French literature teachers at about 15 Cegeps across the province inviting them to inform their students of a "creation" retreat that would be held at McGill's downtown Campus from April 26 – 29. The retreat would involve writing workshops, discussions, presentations and public readings, all centred on fiction writing or literary critique. One promising student would also receive the Marc Angenot Award, named for the McGill Professor of French literature and holder of the James McGill Chair of Social Discourse Theory.
"We have the Mordecai Richler Writer-in-Residence Program to pay for a writer," Brissette said, "which is quite an extraordinary resource that few departments have."Audrée Wilhelmy, Quebec author and alumna of the Department of French Language and Literature,  went to the Cegeps and talked with students and teachers who expressed interest in the retreat.
"We received texts from about 40 candidates," said Brissette, eight of whom were chosen for the three-day retreat, which was held this past weekend. The idea so appealed to students in Brissette's own department that he opened up candidacies to them as well, retaining four of them.
Creating lasting bonds
Over the course of the weekend, instructors worked with groups of four students each in round-robin style, and Mordecai Richler Writer-in-Residence Catherine Leroux held a workshop for all participants on the topic of re-writing – how to turn a first draft into more polished prose. Another focused on character construction – how tall is the protagonist, does he have a mustache, how old is she, do they have children, etc.
The event was capped with public readings – coached beforehand by Lise Vaillancourt, professor at l'École Nationale de Théâtre du Canada and president of the Centre des auteurs dramatiques – by the students of their own literary creations over the weekend.
The retreat was part of a wholesale overhaul of the department's program. The links to Cegeps "is not just a charm operation," said Brissette. "We want to establish the foundations of a long-term cooperation. We're not just going to hand them a nice brochure and tell them how interesting we are. This is kind of a service we intend to maintain and expand for many years. The 15 Cegeps are the embryo. I'm pretty sure it will take two, three, four years to take hold, but I want to make it last."
Attracting French students to McGill
"When Cegep students start wondering where they will study French literature, McGill does not automatically spring to mind," said Brissette. We have quite a bizarre status – we work in Quebec's official language within an English-speaking institution which is itself in a francophone province. So, we are in a doubly blind spot."
But two factors, notably, play in favour of McGill's French program, he said.
One is the abolition, coming later this year, of the requirement for minors in English.
"In the multitrack system, students specializing in French Lit were required to take a minor in another department. Except that all other departments work in English," said Brissette. "Some francophone students may like that, but those who do not think: 'It's an ultra-competitive race for bursaries and on top of that, I have to take one-third of my courses in English?' They won't choose us. It would be difficult.
As of the fall 2019 term, that requirement is being dropped for the French Department.
The other asset his department can play up, Brissette said, is size – in reverse.
Because McGill's French Language and Literature Depratment is relatively small, says Brissette "we have the time to interact with our students. Each faculty member has between three and 10 students, max."
Esprit de corps
At the three-day retreat, Elissa Kayal, a 19-year-old student at Cégep St. Laurent – and published author – was named winner of the Marc Angenot Award.
"Literature is my great passion," said the aspiring novelist whose mini-novella Le mangeur de lettres was published in the literary review Zinc.
"In fact, I was thinking of going to UQAM but Audrée Wilhelmy came to talk to us about the McGill department and the retreat, and everything she said about them struck me," said Kayal. "That's what I was looking for. I visited McGill with two friends. I loved the small groups, the esprit de corps. I was convinced."
She wrote a 1,500-word meditation, a "great metaphor about disillusionment" that won the prize, which includes $500 in cash.
Brissette said the retreat "surpassed my expectations. The people were dynamic, and our students mixed well with the Cegep students.
"The instructors did a superb job, the quality of students was great, and the diversity was amazing: The diversity of the writers, of experience, of work methods," continued Brissette. "One work was very avant-garde, another wrote in a popular novel style and another student wrote thriller-style. Incredible. I was very, very proud."