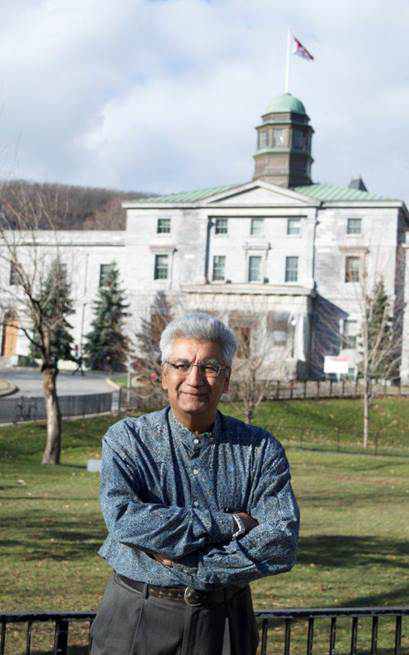 By McGill Reporter Staff
Architecture professor Vikram Bhatt has won the 2014 Margolese National Design for Living Prize, the University of British Columbia School of Architecture and Landscape Architecture announced this week.
Bhatt was recognized for his decades-long work on minimum-cost housing and more recent work on urban agriculture. The $50,000 prize is awarded annually to a Canadian who has made and continues to make outstanding contributions to the development or improvement of living environments for Canadians of all economic classes. The prize was created by a generous estate gift made to UBC by Leonard Herbert Margolese.
Born and raised in India, Bhatt graduated from the School of Architecture, CEPT University, Ahmadabad, in 1973 and obtained his Master of Architecture from McGill in 1975. After briefly working for the International Development Research Centre in Ottawa, he joined the faculty of the School of Architecture at McGill. Bhatt has received numerous awards including an AD Architectural Design Research Award, an American Institute of Architects' Sustainable Community Design Ideas Competition Prize, two Shastri Indo-Canadian Institute's Faculty Research Fellowships and two Graham Foundation for the Fine Arts Grants. In 2008, his team won the National Urban Design Award of the Royal Architectural Institute of Canada, Canadian Institute of Planners and Canadian Society of Landscape Architects.
"I feel honoured that the committee acknowledges my work and design approach," Bhatt said, "and by doing so, the award also recognizes that designers should pay an equal degree of attention to the needs of all – particularly the other half.
"I am grateful and eager, because this prestigious prize will allow me to further my urban agriculture and food-security interests and also venture into new areas such as the synergy of built and aquatic environments."
The jury – comprised of Marta Farevaag, principal at Vancouver-based planning, urban design and landscape architecture firm PFS Studio; Robert Freedman, former director of urban design for the City of Toronto; Lisa Rochon, author and architecture critic at the Globe and Mail; and Bing Thom, Vancouver-based architect and urban designer and 2013 Margolese winner – praised Bhatt for embodying the spirit of humanity, generosity, equality and social and environmental justice that distinguish Canadian values internationally.
"Vikram Bhatt has dedicated his life to the application and teaching of appropriate technologies for the improvement of community life, not only for Canadians but for communities throughout the developing world," said Thom.
"His work on edible gardens and productive rooftops over the last decade has focused not only on the need for self-sufficient villages in the developing world but, also, for a critical re-evaluation of the bucolic lawn-scape in Montreal," noted Rochon.
Currently noted for his work on transforming neighbourhoods through urban agriculture, Freedman called out Bhatt's extraordinary accomplishments over the past four decades in the area of minimum cost housing. "In his own modest and incremental way, Professor Bhatt has had, and continues to have, an enormous and positive impact on Canadian architects, urban designers and urbanists."
"In a world increasingly obsessed [with] eye candy architecture," Rochon praised Bhatt's patient and meticulous enquiry on ways to create practical, low-cost domestic interventions as well as the design of culturally meaningfully communities around the globe.
Bhatt has done much to make urban environments more livable. Farevaag added that "the Margolese Prize will bring well deserved attention to the quiet and creative work that Vikram Bhatt has done on behalf of livable and sustainable urban environments throughout his career."
As part of the award, each prizewinner is invited to give a public lecture on their work. Bhatt will give his talk at 6:30 p.m. on Monday, Jan. 19, at UBC Robson Square in downtown Vancouver.
To read a Q&A Professor Bhatt did with the McGill Reporter, go here.