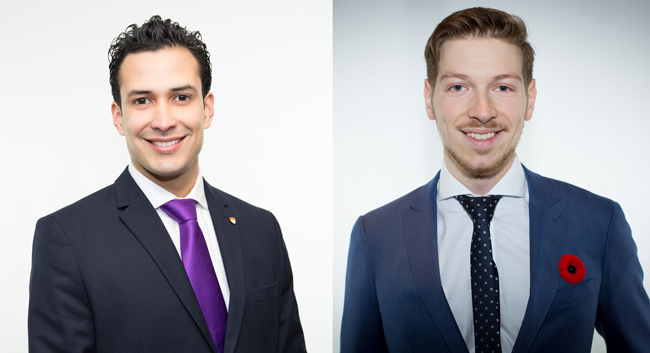 By McGill Reporter Staff
On December 4, 2017, the Schwarzman Scholars program announced its third cohort, which includes one McGill grad and one soon-to-be grad. Next August, Jordan-Nicolas Matte (BA'15) and Jonathan Lopez Naranjo (BA'18) will begin one-year Masters' programs in Global Affairs at Beijing's Tsinghua University.
More than 4,000 candidates from around the world competed for 142 scholarships. Matte and Lopez Naranjo are the first McGillians accepted into the program. (Matte was accepted into last year's cohort, but deferred.) The scholars will live and study together at Schwarzman College, a LEED gold-certified facility at Tsinghua University. Scholars are chosen based on academic achievement, as well as leadership potential and strength of character.
Inspired by the Rhodes Scholarships, Stephen A. Schwarzman founded the Scholars three years ago, with an aim to promote international understanding and peace. Schwarzman is the CEO of the Blackstone Group, a global private equity firm.
The grandson of war refugees from Romania, Montrealer Jordan-Nicolas Matte holds a first class honors degree in Political Science, with a minor in Hispanic Languages. "Ever since I started reading books, I have always been passionate about international relations, travels and different cultures," he wrote in an essay about his experiences interning at the Canadian Embassy in Washington, D.C. "With time, this passion has extended to history and political economics as well, as I am confident these are crucial subjects to understand in order to be a good citizen." Matte is currently a Chevening Scholar at the University of Oxford, where he is completing a Master in Public Policy. He has served in the Canadian Armed Forces and worked in the Parliament of Canada.
Jonathan Lopez Naranjo, 24, will soon graduate with joint honours in International Development and Political Science, with a minor in Social Entrepreneurship. Born and raised in Medellin, Colombia, he moved to Montreal in 2012. Passionate about international relations and entrepreneurship, he participated in academic exchange programs with the Netherlands and Australia, and co-founded Moniversity, a project that offers accessible financial knowledge to university students in Montreal. As a Queen Elizabeth Scholar, he worked with Monash University to improve the primary health care system for refugees and asylum seekers in Australia. In 2015, Lopez Naranjo interned with the UN High Commissioner for Refugees in Ecuador, during which time he was "fascinated by the idea of having the means to cause a real impact in people's lives at a scale that only large international organizations like the UN can afford to do. Additionally, I was able to strengthen my passion for international relations, diplomacy, and social work."
In addition to studying a core curriculum—developed by academics from Harvard, Oxford, Princeton, Stanford, Tsinghua and Yale—each Schwarzman Scholar will specialize in one of three academic disciplines: public policy, economics and business, or international studies. The program also promotes cultural immersion, offering the students travel opportunities to help them develop their understanding of contemporary China.
Robert Garris, Global Director of Admissions for the Schwarzman Scholars program, calls Matte and Lopez Naranjo and their cohort a "group of young leaders who have the demonstrated ability to bridge differences in background, professions, and perspectives through their leadership on campus and in the workplace. They will be a dynamic part of the Tsinghua community and through their very different career paths will help ensure peaceful and prosperous relationships between China and the rest of the world."