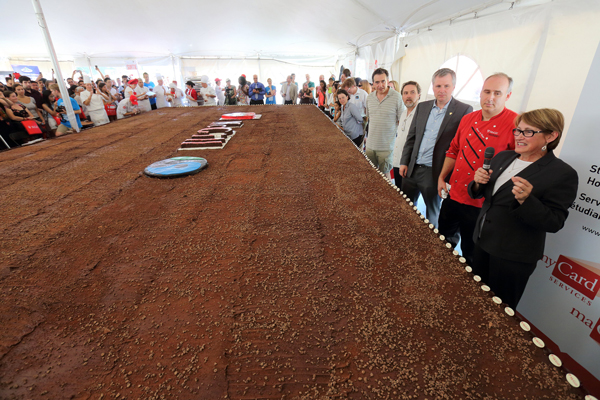 Made from Fair Trade ingredients, giant dessert weighs in at whopping 4,419 pounds
By Neale McDevitt
Yesterday was a bad day to start your diet if you were on McGill's lower campus. But, if you have any kind of a sweet tooth, it was a day for the record books.
In what is turning into a real tradition, the people from Student Housing and Hospitality Services (SHHS) helped kick off the fall semester with another feel-good – and taste-great – McGill à la carte event, this time baking the world's largest Fair Trade brownie. The giant dessert, which was cooked in batches in the kitchens of student residences, was assembled in a tent on the field over a three-and-a-half hour period beginning at noon. When the cocoa powder finally settled, the behemoth brownie topped the scales at 4,419 pounds of cavity-inducing sweetness, or almost 8 million calories.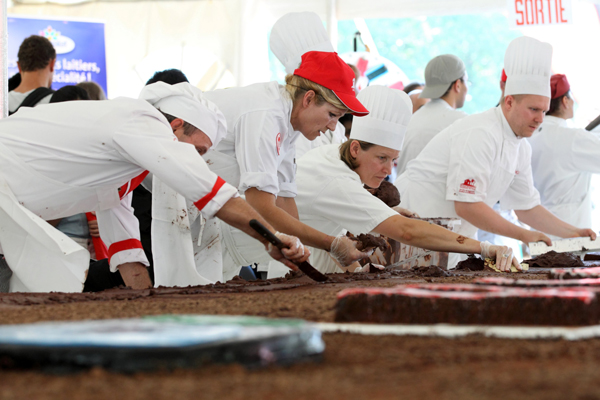 "It has been an amazing day," said Mathieu Laperle, Director of SHHS, in front of the tent, during a break from handing out free samples of the record-breaking brownie to thousands of students, staff, faculty and hungry passersby. "I am so impressed by my colleagues from SHHS. This was a total team effort and everyone worked so hard to make sure it would be a success."
Now in its third year, McGill á la carte has quickly become a flagship event signaling the beginning of a new fall semester at McGill. In 2012, the SHHS team shattered the Guiness World Record for the largest fruit salad by making an 11,197-pound mountain of freshly cut fruit. Last year, the team hosted the Tomato Fest in which thousands of people feasted on a five-course tomato-themed meal that included salsa, gazpacho, Greek salad, pizza with fresh tomato sauce and a 500-pound tomato cake.
After a typically quiet summer on campus, yesterday's McGill à la carte event – which was timed to coincide with Discover McGill and Open Air Pub – injected a whole lot of life and laughter into the University. "I look around and all I see are smiling faces," said Laperle, gesturing at the hundreds of people milling about the tent, happily sampling the brownie. "And, at the end of the day, about one-quarter of the brownie will be donated to various local agencies like the Old Brewery Mission. What more could we ask for?"
Although he wasn't asking for more, Laperle and the SHHS team certainly offered more, as the event also featured kiosks of no fewer than 27 of McGill's food providers who dished out free samples of their fare all afternoon.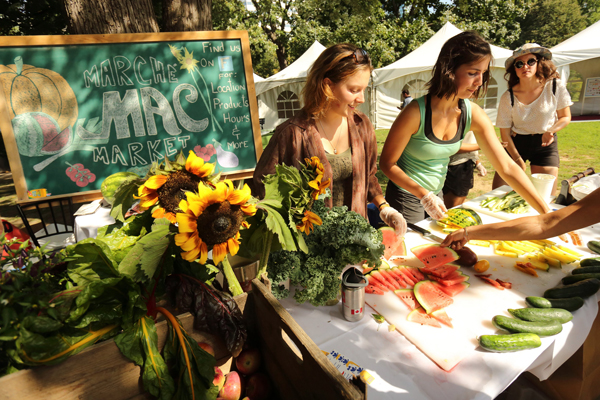 If two tons of brownie fun was the main course, people were able to whet their appetites on everything from goat cheese canapés, bagels and lox and surprisingly refreshing cucumber smoothies, to fresh sushi and sashimi, boccocini and tomato (grown at Macdonald Campus farm) skewers, and chicken burritos.
"We really wanted to highlight our vendors and show people the wide variety of food that is available on campus," said Oliver De Volpi, McGill's Executive Chef, and one of the masterminds behind the annual McGill à la carte event. "I think we were victims of our own success and we got a little overrun there for a bit. But our vendors and the public really seemed to enjoy the whole day."
Just how big was the brownie? At more than 30 x 15 feet, the brownie was so big it actually had to be built around one of the tent poles in order to fit inside. So big that one of the biggest challenges was icing the distant middle section once assembly had begun. "Thank god I have long arms," said Juliette Brun, a McGill finance and economics grad who founded the popular Juliette et Chocolat chain and who had been invited to help with the brownie as a guest chef. "When Oliver asked me to take part in this I said of course! I live for brownies. They're part of my food pyramid."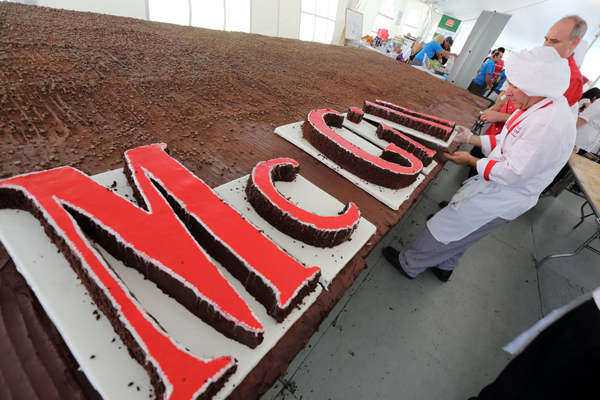 Unlike the huge fruit salad of 2012, McGill's humongous brownie is unlikely to make the Guinness Book of Records as that organization only recognizes brownies that are baked in one piece at the same time. "The Guinness mark is 220 pounds," said De Volpi with a shrug. "Ours is over 4,400 pounds – 20 times the Guinness record."
While the size of the brownie added to the spectacle – and attracted a lot of local media outlets – the real message was contained in its ingredients. "Brownies contain a lot of cocoa, sugar and chocolate. [As an officially designated Fair Trade campus] we wanted to highlight those Fair Trade products," said De Volpi. "All the ingredients in this brownie were Fair Trade, something that isn't necessarily true when you buy brownies at the supermarket or at your local coffee shop."
The mountain of ingredients included 1,440 pounds of Fair Trade sugar, 360 pounds of Fair Trade cacao powder and 420 pounds of organic Fair Trade dark chocolate. Some ingredients were also very local, including 540 pounds of Quebec-grown and milled flour and more than 8,400 eggs from Macdonald Campus farm. "People don't have to worry, our hens lay about 3,000 eggs a day," Paul Meldrum, the farm's General Manager, said with a laugh. "We didn't have to put the hens on a treadmill or anything like that."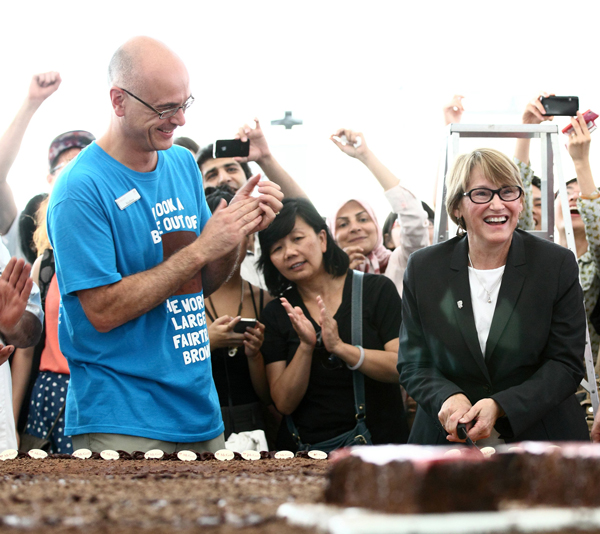 By the time Principal Suzanne Fortier was ready to cut and serve the first piece, the tent was packed with people. Like the biggest Hollywood celebrity, McGill's monster brownie was immortalized over and over as people snapped countless selfies in front of the beast on their cell phones and tablets.
And while the Principal's speech was all but impossible to hear thanks to a technical glitch (the only noticeable stumbling block of the day), her smile said it all. Flanked by Laperle and De Volpi, Principal Fortier expertly cut the first piece as Pharrell Williams' megahit Happy blasted from the loudspeakers, just adding to the party atmosphere. Judging by the hundreds of people dancing, singing and applauding, you couldn't have asked for a more perfect song.
Click to watch the video