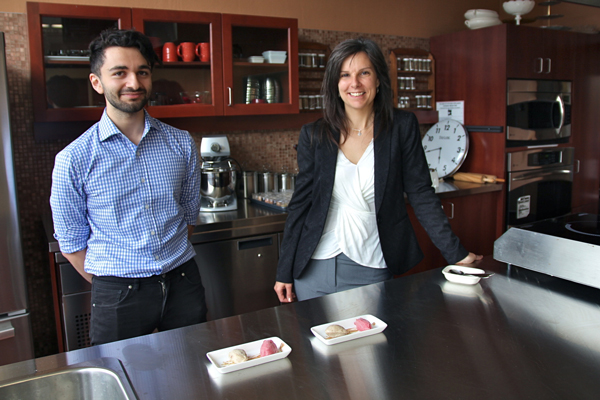 By Neale McDevitt
The coolest innovation of the summer may just be a frozen dessert that you can store at room temperature.
The brainchild of a 16-person team from McGill's Food Science program, the dessert is a unique, sorbet-like dessert that is both delicious and healthy for you and can sit on your shelf until you get a craving for a refreshing treat.
McGill's shelf-stable frozen dessert has been selected as one of 16 finalists in the prestigious Institute of Food Technologist Students' Association, annual Food Product Development Competition sponsored by MARS. This marks the first time in over twenty-five years that a Canadian team has been selected to participate in the finals. The team is in New Orleans this weekend where it will present its product to judges, including the all-important taste test.
"We are really proud of the product," says Karine Paradis, team leader who graduated with a BSc(F.Sc)/BSc(Nutr.Sc) just last week. "We've been working day and night on this project since September, as well as keeping up with our regular class loads, so to see it reach this point is really rewarding."
The dessert's most innovative quality is that is can be stored at room temperature in its original liquid form. This means no drippy containers at the end of a hot summer day of grocery shopping and, because it can sit on a shelf, it will reduce the clutter clogging so many people's freezers.
When one is struck by a craving for either flavour – hibiscus and ginger or almond and pistachio – all they do is pop and replace the lid to let a little air in, give a little shake and put it in the freezer. A few hours later, they'll be enjoying a melt-in-your-mouth delight that is as good – or better – than the standard frozen fare found at your local grocery store.
There is no wizardry behind the frozen dessert's remarkable transformative properties, just good, old-fashioned science.
In it's original liquid form, the product remains stable as long as the seal is not broken. Once the package is opened, nitrous oxide (more commonly known as laughing gas) stored inside will activate and, when the package is placed in a freezer, will generate tiny bubbles in the mixture that, when frozen, helps create a light, creamy texture.
"We've used a complex combination of different ingredients in our product, so that when you freeze it, it will not just become a block of ice," says Paradis. "It has the smooth texture that you want when you eat ice cream.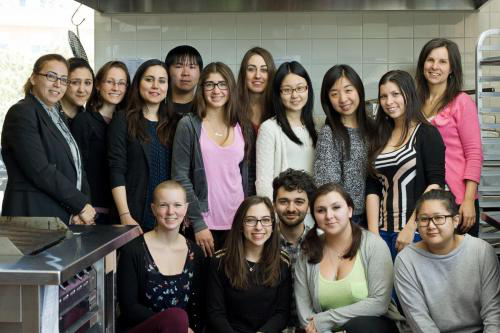 One of the key components is the combination of natural sugars – including agave syrup, corn syrup and arrowroot starch – that have been carefully selected for their various properties, individually and when working in conjunction with the other ingredients. "It really is a complex combination of long chain and short chain sugars – and each has a different influence on the things like the rate of freezing, the rate of melting, how much water is retained by the product," says Paradis.
And while people may worry about the chemical content of a product that can be stored safely on a shelf for months at a time, the truth is McGill's shelf-stable frozen dessert is healthier than most ice creams. "We meet a lot of requirements of people who are on restricted diets," says Paradis. "This product is pasteurized, vegan, dairy-free, gluten-free, and it has zero cholesterol. It also has a high-fiber content which is very unusual for frozen deserts."
Originally, a project for the undergraduate Food Product Development course led by Professor Salwa Karboune, the dessert has undergone numerous transformations since the project started in the fall.
Once the basic formula was determined, the team had to develop, test and tweak the recipes for the two flavours – a long and winding process that involved almost 500 people tasting samples and answering questionnaires.
Of course, like the mad scientists in movies, members of the team always were the first guinea pigs to test new versions of their product. Paradis winces at the recollection of some of those early samples. "Honestly, some were just awful – the taste, the colour, the texture," laughs Paradis. "But we are really happy with the end result. We were looking for something that is refreshing; and a flavour that people are not used to but is not too challenging for consumers. We think we got it. Let's hope the judges this weekend think so too."