All the world's a stage*  –  including the lower field on McGill's downtown campus. That's where the Dept. of English's Early Modern Conversions research group will present a free outdoor performance of Repercussion Theatre's production of Much Ado About Nothing on the evening of Tuesday, August 1.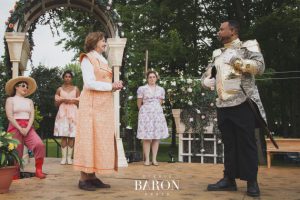 In William Shakespeare's tragic romantic comedy, a group of Sicilian nobles become entangled in a web of deception, infidelity and mistaken identity. Repercussion Theatre is staging the play in Montreal parks throughout July and August. (The full schedule is here.) The event begins at 6:30 pm with a special pre-show presentation by McGill English literature professors Fiona Ritchie and Paul Yachnin. The play starts at 7:00.
Repercussion Theatre began its annual Shakespeare-in-the-Park summer productions with A Midsummer Night's Dream in 1988. The first year attracted 800 spectators; more than 10,000 people now attend each summer's performances.
In 2011, Repercussion Theatre began an ongoing collaboration with McGill's Institute for the Public Life of Arts and Ideas (IPLAI) in an effort to further "connect interdisciplinary academic research with the public world of art, policy and culture."  The McGill performance of Much Ado About Nothing is a presentation of IPLAI's Early Modern Conversions research group, which brings together an international team of scholars and artists to study the first great Age of Conversion (1400-1700), during which Europeans converted their religious, social, political, and even sexual identities. The Repercussion Theatre website has more information about its collaborations with IPLAI.
The performance is free, but donations will be gratefully accepted.
*Yes, we realize the quote is from As You Like It, not Much Ado About Nothing. The McGill Reporter regrets nothing.