By Neale McDevitt
On Nov. 25, four different people who have led four distinct career paths – a crystallographer, a hockey coach, a lawyer and a business leader – came together to deliver similar messages to the graduating Class of 2013: this day marks the beginning, not the end, of something very special.
"Over three years of my undergrad [in Education at McGill] I had a professor who cared for me. I visited him regularly. He was a great man," Mike Babcock, Detroit Red Wings' head coach, told the audience that filled Salle Wilfrid-Pelletier, as he accepted an honorary Doctor of Laws. "When I went to his office to get my final grade he said to me 'Mike I'm going to give you the highest grade I've ever assigned. That means you've got potential but… potential is a dirty word unless you do something with it.'
"Life for me is about squeezing every ounce out of yourself, out of your potential. It's a journey. It takes time," said Babcock. "When you embrace what McGill stands for, when you embrace lifelong learning there's lots of room for growth."
Babcock received his Doctor of Law, honoris causa in the afternoon Convocation ceremony.
Something bigger
Suzanne Fortier, taking part in her very first Convocation ceremonies as Principal, echoed Babcock's sentiments, telling graduating students that while earning a degree from McGill is a great accomplishment, it is but a springboard to something bigger.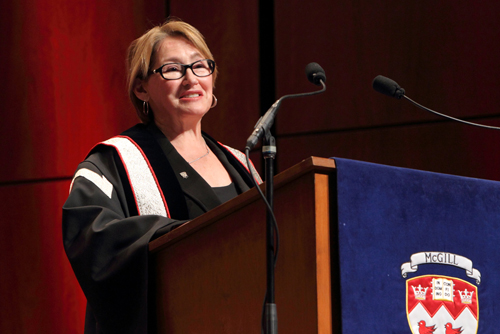 "Today marks an important milestone. Savour it. Enjoy it. Then take a deep breath, because you are not finished," Fortier told the Class of 2013. "Today marks the beginning of something, not the end. You have a mind that is ready to learn, and there is much more learning to be done. Certains de ces apprentissages se feront dans un établissement universitaire, peut-être même ici, à McGill, mais la plupart d'entre eux se feront tout au long de votre existence, où que vous soyez."
Richard A. Walls took a slightly different tack on the theme after he and his wife Carolina each received a degree of Doctor of Science, honoris causa, in the morning ceremony. A geologist who became a leader in the energy industry, Wall told graduating students to maximize their potential by staying open to opportunities, no matter how far-fetched they may seem at the time.
"I never set out to be a geologist," Walls the audience. "I was the second of five children raised in an Irish Catholic household in Kentucky. Neither of my parents went to university. They stressed education though. And they stressed how we were going to pay for it because we didn't have much. But four out of the five of us ended up with PhDs.
"But I was never as good a student as my siblings unfortunately. I was too busy doing too many Huckleberry Finn adventures and that type of thing."
Initially, Walls had his mind set on being a writer and enrolled to do his undergraduate degree in journalism at a small local university. Needing a science course to fill his curriculum, he chose geology after seeing a movie in which Brigitte Bardot fell in love with a geologist. "I liked it so much that I switched majors," said Walls. "I didn't know it at the time, but that movie changed my life."
During his address, Walls referred to another film, Frank Capra's classic 1946 movie, It's a Wonderful Life. Walls drew parallels to the Class of 2013 and the characters of George (played by Jimmy Stewart) ("like George we are the sum collection of all our choices in life") and Clarence the angel sent down to guide George in his moment of distress, and, in so doing, is finally granted his wings.
"If you're at the fork in the road, as you will be many times, disconnect yourself from Facebook and Twitter and social media and step back and think about what it is you're going to do… You have to be engaged in your opportunities – don't be passive observers. Now go earn your wings, listen for the bell and have a wonderful life."
Join in or get left behind
Fortier, and Monday's honorary doctorate recipients understand the impact a McGill education can have on a person's life. The Principal earned a BSc here in 1972 and a PhD in Crystallography in 1976; Richard Walls received his PhD in Geology in 1978; Carolina Walls earned a BSc in Psychology in 1985; and Babcock, received a BEd in 1986.
"In 1983 when I left Saskatoon to attend McGill University I had no idea how McGill was going to affect the rest of my life. I had no idea," said Babcock, who will coach Team Canada in its quest to defend its Olympic title at the Winter Games in Sochi, Russia in February. "The standards of the institution, the commitment and expectations of the professors and the students around you were way different than the ones I had for myself at that time. They pushed themselves and they pushed one another for excellence. It was real simple for me; I either joined in or I'd be left behind.
"The young man who left Saskatoon to come to McGill to play hockey soon found himself a student with high expectations for himself," continued Babcock. "Believe in yourself. Be strong mentally. Bring it every day."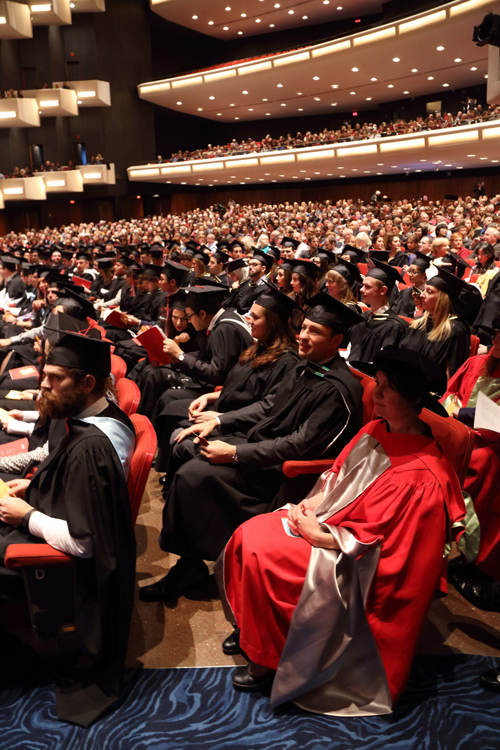 Fortier challenged the University's newest alumni – some 1,800 students graduated at Place des Arts on Monday – telling them that with their degree comes responsibility. "The world needs people of action. It is easy to Tweet from a distance, to comment and criticize. It is much harder to do," said the Principal. "This is your time. This is your turn. Resist the temptation to watch from the sidelines. We have seen how engaged you have been as students, how you have initiated and led so many great projects. Please carry that drive forward."
Babcock ended his seven-minute address ("As an education student at McGill I learned early that you had to… keep it short to be appreciated"), with some heartfelt words of advice to the Class of 2013.
"Laugh a lot, it's a great medicine for the soul. Love. Share yourself with others. Live. There's lots out there – grab onto it," said Babcock. "Enjoy your family. All the successes you are going to achieve are much better when you have family to share with. Be confident. Push through your momentary self-doubt – your dreams wait for you on the other side."
To see a photo gallery from the Fall Convocation ceremonies, go here.