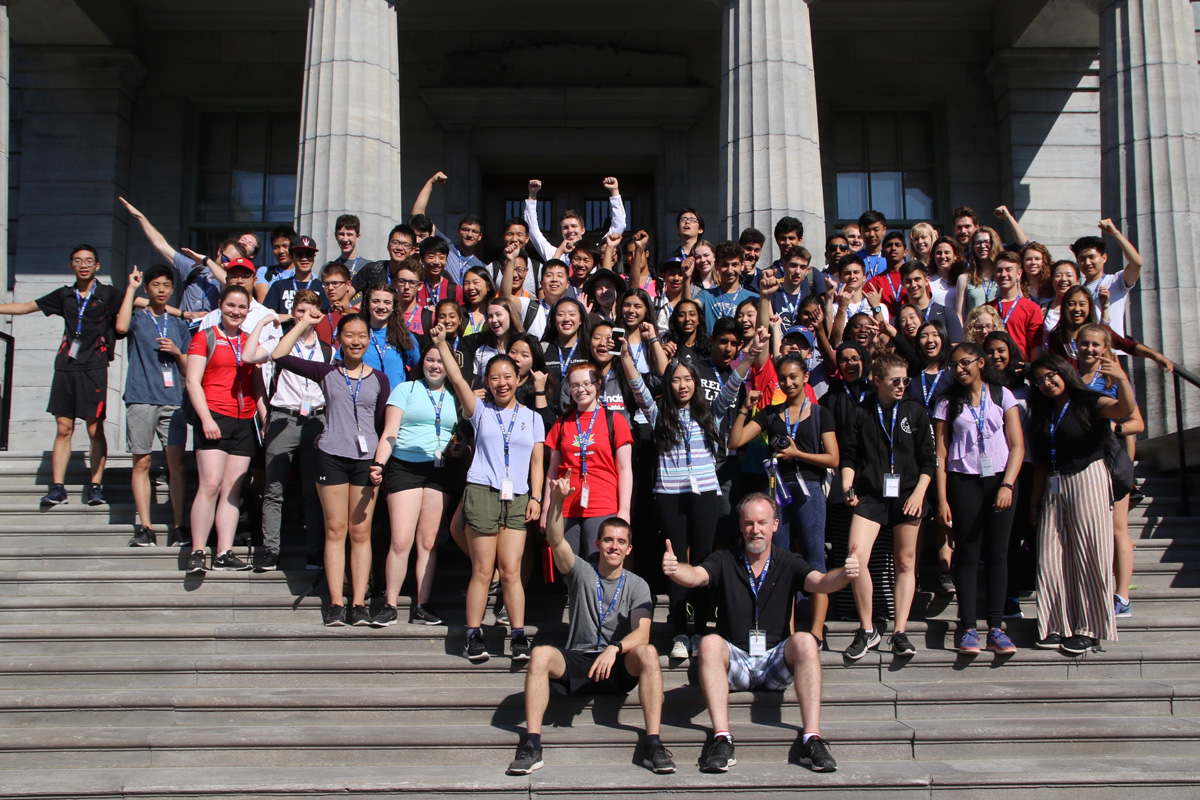 Grade 11 student Ruma Ruma of Kitchener, Ontario, has experienced more hardship than many young people in Canada. Having been shot at in Myanmar along with others in the Rohingya community, she sought safety in refugee camps in Bangladesh before eventually coming to Canada.
Ruma's life was saved when her friend jumped in front of a bullet. It was an act of heroism that cost Ruma's friend her own life. But it was an act of selflessness that has inspired much of what Ruma does today. "I promised that I will do whatever it takes to fulfill my dreams of becoming a doctor in order to save lives," Ruma said.
Today, Ruma is one of 64 students being hosted by McGill for the month of July, as part of the award-winning SHAD program, a pan-Canadian enrichment platform for high school students. Every year, SHAD helps almost 1,000 young Canadians tap into their full potential through an innovative month-long program at one of 16 partner university campuses. There, students apply STEAM (science, technology, engineering, arts, math) disciplines to real-life public policy and entrepreneurial challenges, forging insights and valuable relationships for life.
Ruma is one of 14 students attending this summer thanks to a new partnership between SHAD and Pathways to Education where young leaders from lower income communities are selected to attend the program.
"These exceptional students from all parts of Canada spend the month of July together with their peers and mentors. We hope they end the month not only dreaming big but empowered with the tools and passion they need to take risks, roll up their sleeves and get going," said SHAD President and CEO Tim Jackson.
The SHAD students began their McGill experience with a week at Macdonald Campus, where they met with some of the University's top agricultural researchers. Now staying downtown at New Residence, the Shad students have a full slate of activities ahead of them, including lectures, workshops and a visit to the Montreal Neurological Institute and Hospital.
Extreme weather challenge
One of SHAD's unique elements is hands-on experiential learning through a design engineering challenge. Each year, participants are presented with a complex and topical global issue. They then set out to find solutions by devising an original product or service and learn the ins and outs of creating a start-up.
This year, the theme was announced in a very special way when NASA astronaut, and proud McGill dad Drew Feustel announced it via video from the International Space Station on July 4 (see video below).
"Canadians need to be ready for extreme events," Feustel said. "This year's challenge at SHAD is to come up with some kind of solution to help Canadian communities be more resilient in a natural disaster. Humans over the years have found solutions to big problems.  As I look down at Canada, I see many opportunities for each of you participating in the SHAD program."
Feustel's son Ari (BA'17) is one of the organizers of the SHAD program at McGill.
The students will spend the next month working in small teams, collaborating to design and engineer a new solution that addresses the problem. As part of this challenge, the teams will conduct market research, write business and marketing plans, and design and build digital prototypes showcasing their solutions on SHAD's Open Day July 26.
"It's timely for SHAD youth to think about extreme events which are happening more often and taking a bigger toll than ever before," said SHAD President and CEO Tim Jackson.  "Whether it's people in their homes or planning for a community, we are challenging our top youth to find ways to help us better prepare."
Serving others
Victoria McMahon is an Indigenous student from Barrie, Ontario who hopes her SHAD McGill experience will help her become a leader in her community. Like her fellow SHAD participant Ruma Ruma, the Grade 11 student wants to be a doctor – specifically to serve Indigenous communities.
"I see the need for more Indigenous doctors in Canada," McMahon said. "I want to give back and work in remote Indigenous communities to help improve the health and wellbeing of these communities."
A competitive athlete, McMahon experienced a significant setback when she had to have surgery on both ankles. She was in and out of casts and wheelchairs for two years but was inspired by the doctors that treated her. She took the opportunity to focus on her academics.
"During my lengthy recovery, I got very interested and serious about my studies as opposed to taking pity on my inability to play sports," McMahon said. "It was at this time that I realized that I wanted a career where I would make a positive impact on people's lives and help them like the doctors helped me. I want to advocate for Indigenous people and help to create change in Canada's health care system for Indigenous people."
SHAD 2018 began on July 1 and will wrap up on July 27.