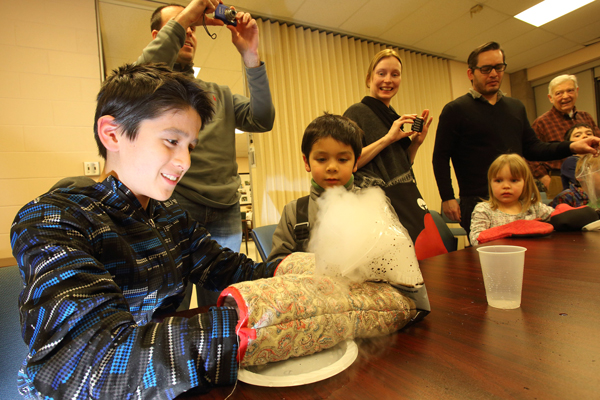 By Neale McDevitt
On Feb. 27, the Rutherford Physics Building was filled with sounds not usually heard there – children's laughter – as some 100 kids took part in the AstroMcGill's first-ever AstroKids Night. Truth be told, however, sometimes the laughter turned to tears.
"A number of kids started to cry when their parents told them it was time to go home," says Sebastien Guillot, a PhD candidate in astrophysics and one of the coordinators of the Astrophysics and Cosmology Group's outreach activities. "They really didn't want to leave because they were having so much fun."
That fun included a series of hands-on activities, including making comets out of water, dirt and dry ice; and donning special masks in order to observe ultraviolet light that people normally can't see.
"We do a lot of outreach events in schools, so we had a good variety of educational activities that we knew kids would like," says Guillot, noting that it isn't easy to keep everyone happy when dealing with children from two and three years old to their mid-teens.
Undoubtedly, one of the most popular activities was the chance to scan the night sky through the big telescope on the rooftop observatory. "We had a lot more kids than we expected, so there was a bit of a wait for each turn, but by the end everyone had a chance to use the telescope," says Guillot.
But for Guillot and the other volunteers, the highlight was watching kids get turned on to science. "Astronomy is something we love to see so many young children be so enthusiastic about it was incredibly rewarding. It makes all the effort well worth it."
While AstroMcGill's montly AstroNights are designed more for adults – the hour-long lecture beforehand isn't exactly kid friendly – Guillot says AstroKids will become a regular event. "We will definitely host one AstroKids Night per semester," he says. "Next time, however, we'll be sure to have more volunteers on hand to help with all those children!"