By Neale McDevitt
Six months ago, Geneviève Hill, was in the home stretch of her academic year and getting ready to work as a language lab supervisor for McGill's School of Continuing Studies. Good for paying the bills, for sure, but perhaps not the most horizon-broadening work experience for a Political Science and International Development Studies undergrad.
However, Hill's plans changed significantly when she won an Arts Internship that enabled her to spend the summer in Accra, Ghana, interning at the Women's Initiative for Self-Empowerment (WISE). Instead of working 9 to 5 at 688 Sherbrooke, Hill did everything from revamping WISE's social networking presence and helping organize a major conference for young female African leaders, to working at a daycare for homeless children.
"At McGill I hear all about the theories and challenges of development. But I was able to sit down with people in Ghana and talk to them about their problems – I feel like I've learned so much more than I would in a classroom," said Hill. "The professional experience was invaluable."
Call Hill another happy customer of the Arts Internship Program.
Dramatic expansion
The program began in 2002, formally bringing together several similar but smaller initiatives already operating within the Faculty of Arts. According to Anne Turner, Internship Officer, that first year saw the office coordinate approximately 25 internships for students. The following decade has seen the program explode. "This past summer we had 270 student interns in 41 countries," said Turner. "And of those, 82 earned an Arts Internship Award."
The Awards are a critical component to the program, as the majority of internships are unpaid. This means interested students have to come up with funds for travel, accommodations and their living expenses. The harsh economic reality means not all students can pursue these valuable opportunities.
But, thanks to the generous support of McGill's friends and alumni, the Arts Internship Awards help selected students defer a large portion of those expenses.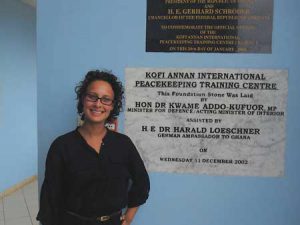 Lloyd Darlington (BA'67) is one such alumnus. Two years ago he and his wife established the Carol and Lloyd Darlington Arts Internship Award with the purpose of giving aid to McGill students looking to improve the economic or social welfare of the poor in a developing country. This year, nine students – including Geneviève Hill – benefited from the endowment.
Darlington said the decision to create the award came as a result of lessons he had learned in his 50 years in business.
"Over that period I saw how a person's early experiences in business and university often have huge implications for the career choices," he said. "These young people learn enormously by virtue of getting out of the normal Canadian experience and working in countries and environments that are often significantly disadvantaged. They learn an awful lot about the real world and about their own capabilities in dealing with the challenges one faces in these environments, where so many of the resources that we take for granted in affluent countries like Canada just aren't available in these poorer countries."
 Big and little pictures
Darlington's assumption that a three-month internship can influence a student's choice of field of study and, eventually, their career path, is supported by the first-person accounts of returning interns.
Gabriel Devlin, a U3 student in Biology, Social Studies in Medicine, and Political Science, spent the summer interning in Nairobi, Kenya, at Liverpool VCT, an organization that researches issues related to the social effects of HIV/AIDS.
Devlin says one of the best aspects of being an intern is that "you get to float around from one project to another," giving each participant a broad range of experience over a relatively short period of time. Over the summer, Devlin was involved in everything from promoting HIV testing among inhabitants of the country's most populous slums, to conducting research on the causes of sexual violence in rural Kenya, to helping local NGOs build their respective strategic plans to attract more funding.
"It was really a big picture/little picture experience for me," said Devlin, recipient of the Brenda and Morrison Hurley Award. "On a micro scale I got to see how people are effected by HIV in their everyday lives. But on a macro scale I helped with planning various services and strengthening the relationships between organizations and donors.
"Having had this practical experience I can now really see myself working in this field for the rest of my life."
 Taking the plunge
While interns like Devlin pursue opportunities in fields they have some prior experience in, others, like Ariana Collas, are more than willing to cast off in uncharted waters.
"Prior to this summer, I was certainly no expert on the Western Balkans," said the U1 Political Science student, "and I would have never thought to work for an energy and environment agency because it just isn't in my background."
And yet in May, the co-winner of the Dean of Arts Award, found herself in Pristina, Kosovo at the Kosovar Institute for Policy Research and Development (KIPRED). There she helped launch KIPRED's new Energy and Environment Program, whose mission is to ensure the accountability and transparency of the privatization process of the energy sector in Kosovo.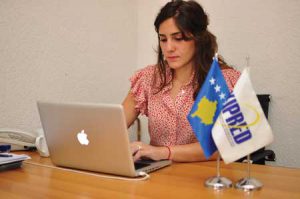 "Kosovo is one of the most polluted countries in Europe and it is running on outdated power plants built back in the Communist era," Collas said. "The constant power outages have serious negative effects on every day life and deter foreign investment.
"I did research for a report on KIPRED's energy strategies that was published two days ago."
Collas, who has also done volunteer work with an animal rescue centre in the Ecuadorian Andes and in an orphanage with Mother Theresa's Mission of Charity in Calcutta, says that despite her inexperience going into the internship, she was inspired. "Now I'm taking courses based on what I learned there, such as a class in the politics of Eastern Europe and transitions from Communism. I'm just trying to keep the momentum going so I can get even more out of my time in Kosovo."
 Influential experience
Sally Lin is ready to take her summer internship experience spent at the Association for India's Development (AID) in Chennai, India to the next level in her academic endeavors. While at AID, an organization promoting sustainable, equitable and just development, the winner of the Bryan Cooke Award worked on a variety of public health projects, including helping design and conduct a dietary survey in rural villages.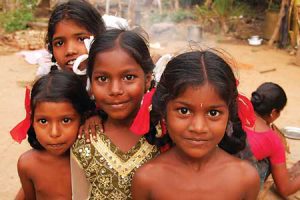 "It was a big adjustment, but it was good to go somewhere far away from McGill " she said. "I had an absolutely amazing summer."
Now in her final year of a double major in Anthropology and Psychology, Lin has begun applying to grad school – a process that has been heavily influenced by her time in India. "My main objective for this internship was to get a feel for public health," Lin said. "The wealth of practical experience I got while I was in India was incredible, and now I'm leaning toward doing my graduate studies in international public health based upon that experience."
But even though she is back in Montreal, Lin is still keeping close ties to AID. In August, the NGO launched a monthly health newsletter for which she wrote a number of articles and designed and laid out the final product. She's volunteered to continue helping them design the newsletter in the coming months. "It's just a little something," she said. "I'm very close to my colleagues there and I'm glad to do anything to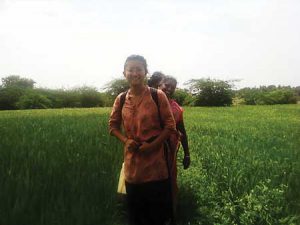 help."
 On Sept. 21, Faculty of Arts students from diverse academic backgrounds, work placements and countries will share their summer 2011 internship experiences. The Arts Internship Office invites everyone to come hear their stories, see their photos and join them at a reception afterwards. The event runs from 12:30-1:30 p.m. in the Leacock Building, Rm 232. All are welcome. For more info go to www.mcgill.ca/arts-internships/