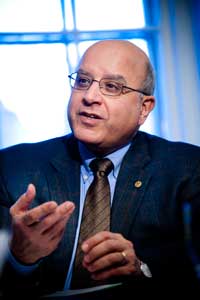 Planning for uncertain times
By Chris Chipello
As McGill's Provost, Prof. Anthony C. Masi serves as chief academic officer after the Principal for the University. He is also responsible for strategic planning, the preparation of the University's budget, and co-ordinating the work of the other Vice-Principals around those themes. These tasks have been complicated greatly by the recent economic turmoil.
Global financial markets have tumbled. The world's major economies are slumping. And even as central banks slash interest rates and governments pour hundreds of billions of dollars into industry bailouts, the ripple effects of the market debacle keep spreading.
As universities take stock of their own assets at the start of the year, many are beginning to gird for an extended period of financial uncertainty.
Against that backdrop, Masi sat down with the McGill Reporter to discuss how McGill is preparing to navigate this tumultuous economic environment while continuing to pursue its long-term academic goals.
How are the financial-market turmoil and economic slump affecting McGill?
It is definitely NOT business as usual anywhere. We are doing our best to manage through very difficult and unpredictable economic times. It would be imprudent and useless for us to make believe that McGill, Quebec and Canada will not be affected by the turmoil that exists with regard to the economic uncertainty in financial markets.
I want to emphasize uncertainty and unpredictability, the "what we don't know" part … Uncertainty and unpredictability force us to think through different scenarios. Fortunately, we have our mission, our vision and principles, our academic priorities, our goals and our objectives, our multi-year budgeting plan and its link to our academic plan to help us and to guide us.
The thing is, amid the uncertainty, there are things we are certain about. We remain publicly purposed and committed to academic excellence; we remain research-intensive; we remain centred on students, their life and learning. While we are committed to remaining publicly funded, we want to continue to grow and diversify our revenue sources. McGill's strategic plan has identified seven particular areas in which we are making strategic, targeted investments: neurosciences, including pain research; language, culture, and literatures; public policy, including health policy; environmental science and studies; high-performance computing, statistical inference, and modelling; nanoscience, and nanotechnologies.
In fact, we have some advantages: a couple of years ago we went through an important exercise to determine McGill's top academic priorities. The "white paper" has become the strategic plan for the University; it outlines what we stand for, what we want to do and where we are going. It is even more important to stick to our priorities in an economic downturn than when resources are flowing more freely.
How will the University continue to invest in those areas while dealing with the volatile financial environment?
It is time to take a new look at how we are spending and how best to continue to grow excellence while taking the tough decision to balance our budget – a commitment we have made in any event – and to do so aiming for the best while preparing for the worst.
We have launched a special administrative task force on economic uncertainty that will assist me and other members of the senior team from Finance and Administration to Research and International Relations to Student Life and Learning to continue to refine budgeting at McGill. We have to take stock and while staying the course academically, working together, examine ways to deal with financial uncertainty. One way is to find areas where we can cut expenditures. Another way is to diversify and enhance our revenue streams.
McGill is a relatively lean operation, and we are careful with the way in which we manage all of our funds and research dollars. But there are still areas where we can save. I am not talking about saving on paper clips, but I am sure that the Task Force with significant input from the community will help us to see areas in which we can save even more, on top of what we have already been doing.
What will be the agenda of the Task Force?
The Task Force has two phases: in the first phase, taking place now, we will get input relevant to the budget for FY2010, but afterward, based on the input received I would like to develop a final report that will provide ideas and insights regarding longer-term planning.
Some top U.S. universities have recently signaled that their endowments could fall by 25 per cent to 30 per cent for the current fiscal year. Of course, no one knows what will happen with markets over the next six months, but can you give a sense of how McGill is faring?
I think we should place some numbers in context. About 10 per cent of McGill's annual operating budget is drawn from interest income from our endowment fund. So, McGill is not anywhere near the private universities in the U.S., which depend on for between 35 per cent and 50 per cent of their expenditures off of endowments.
But for us, as a publicly under-funded university, if we had to cut between $45 million to $50 million, which is what we currently draw from the endowment, it would represent a 10 per cent decline in our operating budget … We'd be faced with a very difficult budget cut… That would be the worst case scenario: that we would actually not be able to pay out anything.
Our endowment has been conservatively managed. And that comes with an upside and a downside. The downside is when the markets are booming, we boom a little bit less. The upside is when the markets are falling, we fall a little bit less.
So it gives us some comfort (that the drop may be less than at some other top universities) …but we are expecting a decline in the 20 per cent range. That begs the question: Can we sustain a 5 per cent payout, without jeopardizing the future value of the endowment? I will know better, only after we see the first-quarter results.
What is the timetable for deciding on the numbers for the operating budget?
Usually during the first week or two in January I begin to talk to the Deans about what their expectations and priorities are … By March, VP (Administration and Finance) François Roy and I should have the penultimate version of the budget done and we will go to Senate for consultation and bring it to the Board for approval in May.
So what happens with markets and the economy in the first quarter of 2009 is going to have an influence…
It will have a relatively big influence: we will have to look at the results from the first quarter, and then aim to be in a position to judge what payout from the endowment we should propose to the Board Investment Committee, then we have to decide on potential cuts based on the work of the "task force on dealing with economic uncertainty" and our public consultations and private deliberations. Let's remember that the administration has had the approval of the Board of Governors to run budget deficits for the last five years as an investment in maintaining McGill's international reputation … However, according to our agreement, which now has resonance with MELS, for FY2010, I am only supposed to propose a budget for FY2010 with a maximum deficit of $5 million, down from $10 million this year and about $16 million last year. And the year after, for 2011, the budget is supposed to be balanced – zero deficit. The world has certainly changed since we first proposed these arrangements, but they at least provide some parameters and our strategic plan and other actions give us some solid starting points. It is not going to be easy, but we'll get there.