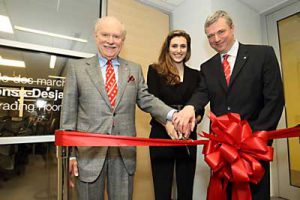 By McGill Reporter Staff
Students at the Desautels Faculty of Management are now able to deepen their understanding of financial markets by learning to use sophisticated analytical tools, thanks to a state-of-the-art trading room provided by Desjardins Group, Canada's leading cooperative financial group.
The Alphonse-Desjardins Trading Room is the centerpiece of a sleek Business Intelligence Centre that has taken shape in recent months on the second floor of the Desautels building, supplanting the Faculty's conventional business library.
Desjardins is providing a total of $1 million in funding for the Trading Room and is sharing its expertise in design, securities trading and technology to support the facility, which was inaugurated in a ceremony Thursday evening, March 1.
McGill Chancellor H. Arnold Steinberg said Desjardins Group's generous support "provides our management students with a cutting-edge learning facility that will be enormously valuable in preparing them for successful careers in today's financial-services sector." Around 300 of the Faculty's students graduate from the finance program each year.
The Trading Room partnership builds on an existing relationship in which Desjardins Securities experts have collaborated with Desautels to offer innovative finance courses, noted Desautels Dean Peter Todd. "It also complements Desautels' Honours in Investment Management program, which combines rigorous academic work with real-world experience in investment management through Desautels Capital Management," the first registered investment management firm founded by a university in Canada.
Louis Daniel Gauvin (BCom78), a Senior Vice-President at Desjardins, explained that the partnership with Desautels fits with Desjardins's strong commitment to support Quebec's educational sector and to help develop the next generation of financial professionals.
Following the ribbon-cutting ceremony, Desautels Prof. Sebastien Betermier and several students explained to visitors how the trading room is being used by finance classes. Valeria Safonova, a U3 Economics student minoring in finance, said the facility adds a new dimension to academic work, helping students learn about investing "not just theoretically, but practically." With several big screens lining the walls and trading desks equipped with analytical tools, the facility offers "the feel of what it's like to work in a trading room."