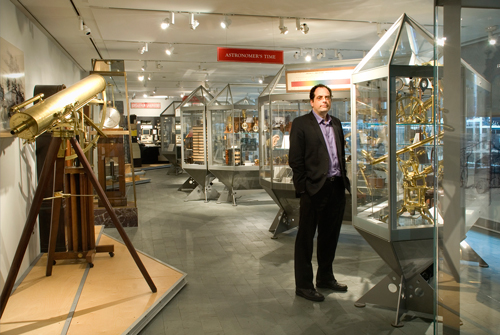 By Judith Ritter
Surrounded by Harvard's collection of centuries-old scientific instruments, Montrealer Dr. Jean-Francois Gauvin – the official guardian of these treasures – looks as if he longs to stroke their shiny brass and mahogany surfaces. "I love them. Each one has a such a special story," he says with the smile of a very happy historian.
And Gauvin's story is special too. It's one that led from UdeM to the Stewart Museum (now merged with McCord) via a post doc at McGill, to the venerable halls of Harvard where he is now a Lecturer and the Director of Administration of Harvard's Putman Gallery Collection of Historical Scientific Instruments.
The Putnam Gallery's world-famous collection of more than 20,000 objects ranges from the military compass Galileo invented to electrical instruments collected by Ben Franklin to medical devices like the perfusion pump co-invented by Charles Lindbergh. Despite the fame of such rare objects, Gauvin's favourite is a humble 18th-century single-barreled air pump designed by the abbé Jean Antoine Nollet for use in pneumatic experiments. "I love it. It has a tie to my past in Montreal." The tie he is referring to is that Gauvin fell in love with historic scientific instruments at the Stewart Museum while studying for his Master of History degree at Universié de Montréal, and the Stewart, here in Montreal, has a singular collection of Nollet's physics equipment.
While working on his MA in History of Science at UdeM, Gauvin researched the Stewart Museum's collection of Nolett's instruments and got a big a surprise. No one had ever really looked at or catalogued the entirety of the collection that was stashed in a storage area. "It was and is the best collection of early modern scientific instruments in Canada and there it was, just sitting in storage," he says with a lucky me smile. "Everything I learned about science in high school was right there in front of me, "he explains. "The demonstration apparatus, pulleys, planes and pumps, from the 18th century, haven't fundamentally changed. They are still used in science classrooms."
Dr. Gauvin's stint at the Stewart led to PhD studies at Harvard, and he says he enjoyed those, but, then as now, he missed Montreal and was thrilled to return in 2009 to become a Mellon Postdoctoral Fellow at McGill. While he researched, he taught the history of science, created a course on scientific instrumentation, and worked with the Maud Abbott Medical Museum. "I love everything about McGill – the students, the professors, and the fact you can meet people across departments. It's a very convivial place."
And what about McGill's own collection of scientific instruments? McGill does have important pieces of equipment, Gauvin says, but for now they are all over the campus and few people have seen them. Some are at the medical school, some in the Physics and Architecture departments. Some are displayed in cases in various buildings and others are hidden away. "The objects are not well known, but they are interesting and they are there."
One of the things Gauvin loves to do at Harvard is take his students through the Putnam Gallery, not just to show them the instruments, but also to allow them to handle them and see how they actually work. As he says, "touching the instruments, playing with them, tells you things about science you just cannot learn from reading alone."
Gauvin has great hopes for the new merger of the Stewart and McCord museums. He believes the combined collections can greatly enhance university students' experience. The merger, he says, is also a potential treasure trove of research. "With McGill's already rich collections, the possibilities are limitless!"
Gauvin, whose family still lives in Montreal, commutes back and forth to Harvard. And while it is a pleasure and privilege to be at such an excellent university, his heart is still in Montreal. In fact, he says, one of his favourite reveries is walking from the Roddick Gates up the path to the Arts Building with a view of an idyllic small campus and historic buildings in front of him, but then, mounting the stairs of the Arts Building, turning around, and seeing a second view — the modern skyline of his favourite city. "When people say McGill is one of the best universities in the world, I know it is. I'd come back in a flash!"