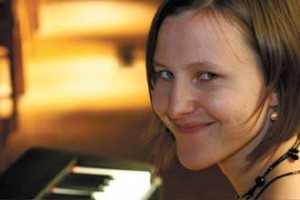 Schulich's graduate program hitting all the right notes
By Chris Chipello
Jazz.
It may not sound very academic, but the swinging, improvisational genre is a vibrant part of McGill's Schulich School of Music.
Of Schulich's 850 students, 96 specialize in jazz –15 of them at the graduate level. The program mixes theory and practice, with the accent on practice.
"The theoretical courses are project-oriented," said Joe Sullivan, one of five full-time jazz professors at Schulich. "The students do a lot of composing and arranging, so theory gets put into practice immediately."
For students seeking to develop an artistic voice, the opportunity to interact with a wide range of talented young musicians is a big draw.
"It's so awesome," said Marie-Claire Durand, a jazz pianist in the master's program. "It's a great school for developing your ideas."
Durand, who is from the Quebec City area, said coming to McGill "opened a door onto the rest of Canada and the States," since so many students come from outside Quebec. She and vocalist Mireille Boily formed part of an ensemble that performed a set of original tunes in a concert at the school's Sherbrooke St. building on Thursday, Nov. 13. The pair, who both did their undergraduate music degrees at Université Laval, said they are influenced by European jazz. Durand is "interested in exploring different ways of improvisation," beyond building on basic chord progressions. Yet the cool, melodic riffs in Thursday's performance – by a septet that included guitar, bass, trumpet, saxophone and drums – never strayed too far from traditional lines for the untrained ear.
McGill launched its jazz program in the early 1980s, making it one of the first Canadian universities to do so.
A number of noted performers have since come through the school, including John Stetch, Christine Jensen, Kelly Jefferson, Brian O'Kane, Tilden Webb and Steve Kaldestad.
The graduate school segment has been expanding of late. Since Université Laval, Université de Montréal and Universitè de Sherbrooke have all developed undergraduate jazz programs, there's now a large pool of high-quality candidates for the master's program. Sullivan said.
Sullivan, a trumpeter, continues to perform regularly with his own 17-piece big band, which serves as the main outlet for his compositions.
"I see jazz as being very much like a language," Sullivan said. "It just continues to evolve," drawing ideas from pop, classical and other kinds of music. "Young artists are just naturally picking up those things."