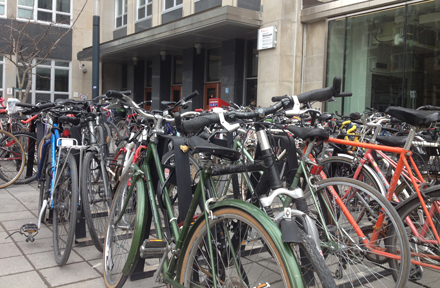 Montreal is recognized as a global bike centre, and McGill is proud to encourage active transportation among its community. McGill has approximately 1,800 official bike parking spaces on campus for members of the McGill community and visitors; these bike racks are intended for short-term use, NOT long-term storage.
During the week of Oct. 26 all bikes suspected as abandoned on campus will be tagged. Please remove your bike within seven days of being tagged, or it will be removed by University Staff.
Upon being removed, owners will have 90 days to reclaim their bikes. Unclaimed bikes will be disseminated back to the McGill Community through The Flat Bike Collective OR donated to a charity/non-profit organization. To inquire if your bike was removed by the University, please contact F.C.C. at (514) 398-4555 with your name, McGill ID and phone number.