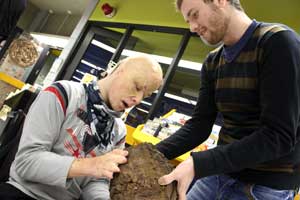 By Michael Woloschuk
Some are in wheelchairs, while others sit in specialized seats. They are disabled in a variety of ways, but the most evident thing the eight children in the library at l'école secondaire Joseph-Charbonneau share on this particular day is the look of astonished wonder in their eyes.
At the head of a long table, Philippe Taylor, BA&Sc'09, holds up a rock the size of a football and explains that the object in his hands is in fact a volcanic bomb from the Pyrenees mountains in southern France that was ejected during a violent volcanic eruption millions of years ago. Later, when the McGill School of Environment graduate walks around the table allowing the children to touch the rock, the kids add words to their expressions of wonder.
"Wow, cool—is it really a million years old?" asks one.
"It's more than a million years old," answers Taylor. "In fact, its age is closer to 20 million years."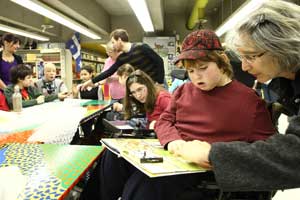 Taylor's hour-long, hands-on presentation, which also features ash from the ancient Roman city of Pompeii and strands of Pele's Hair—thin, brittle threads of volcanic glass formed during lava flow as it enters the ocean from Mount Kilauea in Hawaii—is part of the Faculty of Science's Hands-on Science: Outreach for Schools program. Administered by Ingrid Birker, a scientist who was responsible for invertebrate fossils and plants at the Redpath Museum for 24 years before being appointed Science Outreach Coordinator in 2006, the Faculty Outreach Program is responsible for bringing McGill's vast science knowledge base to the public.
In the case of l'école secondaire Joseph-Charbonneau, a school for the disabled in northeastern Montreal, it was a question of bringing a sampling of scientific wonders to children who would not otherwise be able to sample exhibits normally contained at the Faculty—and in particular, the Redpath Museum.
Like a magician dipping into a bag of tricks, Taylor pushes his hand deep into a boxful of rocks, minerals, lava flows, and other volcano-related objects and presents them to the students. Each specimen comes with a story and an opportunity for the kids to touch—which is clearly the highlight of the show. Later, once he has passed around the exhibits, Taylor explains the science behind volcanoes—a lecture the students would not normally receive in a typical high school curriculum.
Over the next two days, Taylor delivered four such presentations to a total of 48 students, each featuring a different theme. His exhibit of dinosaur bones, chosen from the Redpath Museum's magnificent collection, was—as always—the hit of the series of talks. "Kids always love the dinosaurs," says Taylor with a smile.
One student who enjoyed the visit was Mario "Junior" Lemire, a 15-year-old boy and one of Québécois diva Céline Dion's 12 "heroes" or brave children from around the world who have overcome life's most challenging hardships. In Lemire's case, his life was transformed when he was seriously burned in a fire at the age of nine months and had to undergo 30 operations to save his life. Both of his legs were amputated and he spent two years in the hospital.
Now, Lemire's eyes widen as Taylor allows him to touch the hunk of volcanic rock. The joy and wonder on his face is clear.
"The children loved the exhibit," said Joseph-Charbonneau teacher Eugenia Acettuno. "They got to participate in an activity that would normally be off limits to them."
The Faculty of Science's outreach program was made a priority in 2005 by Dean Martin Grant to disseminate the Faculty's scientific expertise to a wider community through programs and activities such as talks, lab visits, family workshops, classroom presentations, and documentary films. Besides allowing McGill to fulfill its key social mission, the outreach program makes science education accessible and interactive for students, teachers, and the community.
The Faculty has worked hard over the past two centuries to maintain its relevancy to the public. These efforts include:
•    Freaky Fridays, in which McGill scientists confront popular scientific myths and misconceptions through lectures that allow for audience interaction. Each lecture is followed by a popular science fiction film.
•    Hands-on Science: Outreach for schools, a suite of science outreach handling sessions for elementary schools: Minerals, Fossils, Dinosaurs, Shells and Bones. Delivered by trained educators from the Redpath Museum Student Club.
•    Hot Science—Cool Talks, wherein McGill scientists share their research and discuss scientific issues with the wider community.
When schools can't—for any number of reasons—participate in Faculty-based lectures, the Faculty takes it show on the road, using exhibits and enlisting professors and undergraduates as travelling classrooms. These mobile lectures have included presentations at such places as Westmount High School, the Tyndale St-Georges Community Centre in Montreal's working-class neighbourhood of Little Burgundy, and most recently, l'école secondaire Joseph-Charbonneau.
"The reason the l'école secondaire Joseph-Charbonneau visit stands out is because these kids can't get to the Museum because we aren't wheelchair accessible yet," explains Birker, who assisted Taylor in his presentation. "They probably never saw or handled this type of material in their lives, so it's a very important moment for them—and for science in general because who knows what these children will go on to do?"
Taylor, who chose work over further study following the awarding of his Science degree this year, now works as a brewmaster at Les Trois Brasseurs on Ste-Catherine Street. He believes that the Redpath Outreach program is not only a key component of the Faculty of Science mission but a valuable learning experience as well.
"You learn to explain things in really detailed ways and learn the benefits of using clear examples from everyday life," said Taylor. "In the case of the school visits, I feel this is even more important because the kids there seem not to have been exposed to any of this stuff before. The message I got from them was they were very grateful and fortunate that I was there."
It takes more than vision, however, to sustain the Faculty's outreach program. The young students touched by lectures and presentations are the scientists of tomorrow. It is essential that the Faculty continue its critical mission to nurture the future by taking care of the past.
This article originally appeared in the Faculty of Science blog at http://blogs.mcgill.ca/science