By John Murray
What can a pair of hands express?
A clenched fist. Two fingers interlocking. Thumbs and forefingers forming a heart.
These are a sampling of the hundreds of hand images taken at an interactive photo activity at the YAHAnet (Youth, the Arts, HIV & AIDS Network) booth in the Global Village during the XVIII International AIDS Conference in Vienna, Austria, in July 2010. Each of these hand photos was printed at the booth, and participants wrote personal messages directly on their photos about rights to expression related to sexuality and HIV & AIDS. Photos were then strung up across the booth to form a "Wall of Hands."
Initiated by professors in McGill's Faculty of Education (Claudia Mitchell, Bronwen Low, and Michael Hoechsmann), YAHAnet is an innovative social networking website for youth that connects youth groups and individuals around the world that are addressing, or would like to learn how to address, HIV and AIDS issues through arts and media. YAHAnet members can use newly gained knowledge, strategies, and techniques from the website to develop or improve their own organizations/groups and become leaders in their communities. On the website, members can show creative talent in a virtual Gallery, share ideas within specific Workgroups and on the site-wide Forum, learn from a variety of How-To Guides and resources, and plan and advertise events in a Community Calendar.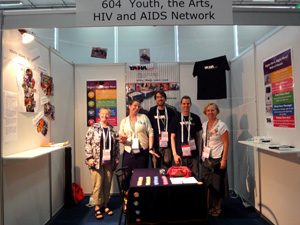 The YAHAnet team was honoured to be selected to run a booth during the main conference in Vienna, which was attended by over 19,000 delegates. YAHAnet was also privileged to facilitate a collage workshop at the YouthForce Pre-Conference, a week-long event planned by a youth council and attended by youth delegates from across the world. Entitled "Rights to Expression: Social Networking Spaces, Advocacy, and the Arts", the workshop was run by two members of the YAHAnet team, Katie MacEntee and Lukas Labacher – doctoral and masters students, respectively, in McGill's Department of Integrated Studies in Education – and myself, YAHAnet Coordinator and a McGill alumnus with a degree in International Development Studies.
In Vienna, the "Wall of Hands" photo activity attracted participants from a diversity of backgrounds, including a young female Kenyan actor, an Argentinean sex worker, and a team of four young Hungarian lab technicians with their supervisor. All were eager to share their hand messages on the necessary steps to a successful AIDS response. Eighty-three countries were represented in what resulted in an impressive photographic display at the conference – a display that continues to spread awareness and attract international recognition and support for the effectiveness of arts-based initiatives as a virtual 3D gallery on YAHAnet.org.
The collage workshop attracted participants from thirteen countries, many of whom had no previous experience using collage. Participants individually chose several magazine images before forming small groups in which they discussed their reasoning for choosing their images and their personal understandings of the workshop theme of "youth rights to expression in the age of AIDS."
Completed collages were shared with the other groups and follow-up video interviews with some of the workshop participants were conducted at the YAHAnet booth, where the collages were also put on display for all conference delegates to see. Interviewees emphasized that they would be introducing collage as an important awareness-raising technique in their own HIV & AIDS organizations or projects in Bolivia, Lebanon, and Bosnia-Herzegovina.
To view photos and video from the collage workshop and to take a virtual walk along the "Wall of Hands", go to www.yahanet.org. Membership on YAHAnet is free, and members can comment on any of the work produced at the Vienna conference.
The development of the YAHAnet website was funded by UNESCO in partnership with McGill University, the Gendering Adolescent AIDS Prevention (GAAP) project at the University of Toronto, and the Centre for Visual Methodologies for Social Change at the University of KwaZulu-Natal in South Africa. The partnership now includes Nelson Mandela Metropolitan University in South Africa. YAHAnet is currently supported through Professor Claudia Mitchell's research funding and is maintained, promoted, and expanded by a student team of graduate and undergraduate student volunteers.
To find out about internship positions in the fall or winter semesters or for any other queries, please contact John Murray at yahacoordinator@gmail.com or Claudia Mitchell at claudia.mitchell@mcgill.ca.