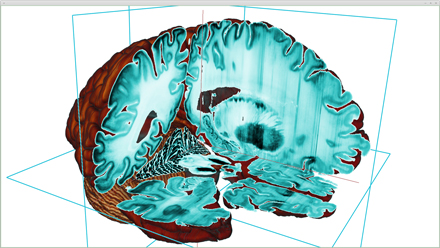 By Anita Kar
Imagine being able to zoom into the brain to see various cells the way we zoom into Google maps of the world to look at houses on a street. Although the brain is considered the most complex structure in the universe with 86 billion neurons, zooming in on it is now possible thanks to a new brain atlas with unprecedented resolution.
BigBrain is the first 3D microstructural model of the entire human brain, and is free and publicly available to researchers world-wide. The results of the BigBrain model, created at the Montreal Neurological Institute and Hospital of the McGill University Health Centre in collaboration with researchers at Forschungszentrum Jülich, Germany, are published in the June 20 issue of Science.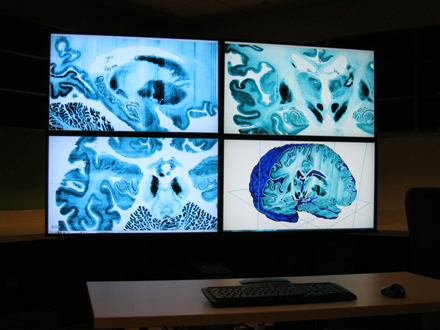 "The BigBrain atlas offers nearly cellular resolution, that is detail close to the level of the cell, a capability that has not been previously available in 3D for the human brain," says Dr. Alan Evans, researcher at The Neuro, co-founder of the International Consortium for Brain Mapping and co-creator of the atlas. "To put BigBrain in context, we can consider present day MRIs which have a 3D spatial resolution of 1mm. In comparison, the BigBrain data set is 50 times smaller in each dimension providing unmatched spatial resolution. The BigBrain data set is 125,000 times (50 x50 x 50) bigger than a typical MRI, and has a volume of 1 terabyte, which is equal to 1000 GB."
Researchers world-wide will be able to download brain sections from the BigBrain website bigbrain.loris.ca. Big Brain is reconstructed from 7,404 histological brain sections which were stained for cell bodies, and then digitized, taking advantage of recent progress in computing capacities, brain images analysis, and the teams' experience in processing complete histological sections of the brain.
The advance in resolution is analogous to the transition from older line maps to Google satellite images. Zooming into older maps provides no more detail or information. Similarly, zooming into an MRI scan provides no further detail – it just reveals the blocky 1mm pixellation. The BigBrain brain atlas is the equivalent of Google street view, zooming in provides a new level of information that hasn't been offered before in 3D.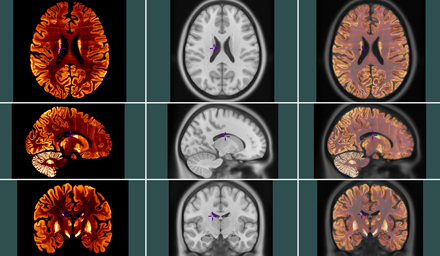 Current atlases based on histological slices are in 2D. BigBrain redefines these traditional neuroanatomy maps such as those of Brodmann by providing an ultra-view of the brain using fully automated 3D techniques. Atlases based on MRIs do not allow for the integration of information at the level of cortical layers, columns, micro circuits, or the larger cells. BigBrain enables researchers to see at 20 micron resolution (1,000 microns in a millimetre) throughout the brain.
The implications of BigBrain to explore and analyze the human brain are innumerable. It can be used to integrate and correlate data from a wide range of modalities: genetic, molecular neuroscience, electrophysiological and pharmacological among many. It will enable and accelerate computational modelling for simulation of brain functions, normal development and degeneration caused by disease.
BigBrain will vastly improve the importance and interpretation of low-resolution dynamic in-vivo data obtained by MRI and PET, by combining the data with the enormous detail and spatial resolution of the static BigBrain atlas. It will enhance neurosurgical procedures, for example placing deep brain stimulators and will advance clinical research, for example, localizing the site of intractable epilepsy to certain specific type of nerve cells.