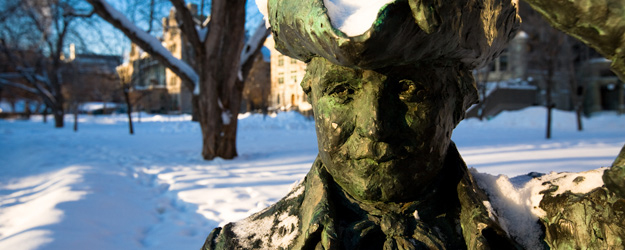 By McGill Reporter Staff
It was a very eventful year, both here at McGill and around the world. How closely were you paying attention to events?  Here's a year-end quiz to test your knowledge of the University and global events in 2014. Answers can be found at the bottom of the page.
1. You will have heard the name Kevin Vickers this year. What does he do?
2. "You know how to whistle, don't you Steve? You just put your lips together – and blow." For two points, name the actress who died this year and the movie in which the line was spoken.
3. Another two-pointer: who hosted the Giller Prize gala this year? Who was supposed to host it?
4. This man won the Nobel Prize for Medicine.
5. Brian Gallant got a new job this year. What is it? A bonus point if you know where he went to university. A second bonus point if you know what is distinctive about him relative to his peers.
6. Who is the backup goaltender for the Montreal Canadiens?
7. Name four candidates for the leadership of the Parti Québécois. Yeah, the first three are easy….
8. What do Wade Davis, Wayne Riddell, Kristina Johnson and Robert Winsor have in common?
9. What movie won the Oscar for Best Picture in 2014?
10. Without decimal points, what was the margin of victory for the No side in the Scottish referendum on independence?
11. What work involving McGill prof Alan Evans made MIT's Top 10 list of technological breakthroughs for 2014?
12. What's a GROOC? Bonus point if you know a McGill prof involved with it.
13. What was the Oxford English Dictionary's word of the year this year?
14. The creator of Adam Dalgliesh died recently. Name the author.
15. The Royal Victoria Hospital has been uppermost in many McGill minds of late. In 1958, doctors at the hospital performed the first of this kind of transplant. What was transplanted?
16. James Brady, Charles Keating and Bob Hoskins all did what this year?
17. A well-known Montreal public relations figure, who has worked for both McGill and the MUHC, failed in a bid to win a federal Liberal Party nomination recently. For two points, name the PR person and the riding.
18. Another two points: 2014 marks the 100th anniversary of the start of which military conflict? In what city did the event that triggered the war take place?
19. Which McGill Redmen team won its fourth national title this year?
20. Who won American Idol in May 2014?
21. How many McGill grads are ministers in the provincial cabinet?
22. Who did the winner of the Vanier Cup defeat at Molson Stadium this year?
23. What job did Dimitrios Berk add to his workload at McGill this year?
24. Gary Bass won a big prize this year. Which one?
25. This Institute celebrated its 20th birthday in 2014 with an event called Canada Remix. For two points, name the Institute and its Director.
Bonus tiebreaker question: How were Peter McGill and James McGill related?
A Quickie Year-end Quiz Answers
1. He's the Sergeant-at-Arms in the House of Commons; the man who shot and killed an armed intruder on Oct. 22.
2. Lauren Bacall; To Have and Have Not
3. Rick Mercer; Jian Ghomeshi
4. McGill alumnus John O'Keefe
5. The new Premier of New Brunswick is a McGill grad who happens to be Canada's youngest premier.
6. Dustin Tokarski
7. Here's the full list: Pierrre-Karl Péladeau, Bernard Drainville, Jean-François Lisée, Alexandre Cloutier, Martine Ouellet, Pierre Céré
8. They were all awarded honorary degrees by McGill in 2014,  Johnson and Davis in the spring, and Winsor and Corber in the fall.
9. Twelve Years a Slave
10. 55 per cent to 45 per cent
11. Brain mapping
12. A Group Open Online Course; Prof. Henry Mintzberg is developing one.
13. Vaping.
14. P.D. James
15. A kidney
16. They died
17. Jonathan Goldbloom lost his bid to be Liberal candidate in the riding of Mount Royal.
18. World War 1; Sarajevo
19. The Redmen baseball team
20. Caleb Johnson
21. Three: Finance Minister Carlos Leitao; Immigration, Diversity and Inclusiveness Minister Kathleen Weil; Native Affairs Minister Geoff Kelley
22. The Université de Montréal defeated McMaster University.
25. Will Straw is the Director of the McGill Institute for the Study of Canada (MISC).
Bonus tiebreaker question: They were not related