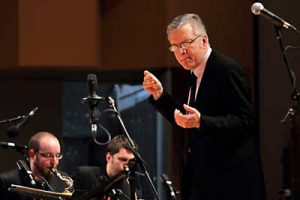 Scoring Schulich's future: eyeing strategic hiring, finding ways to build the band, er…brand
By Chris Chipello
McGill's Schulich School of Music has many reasons to celebrate its accomplishments. It is widely considered one of the top music faculties anywhere, known for producing world-class performers and cutting-edge, interdisciplinary research.
In his new role as Interim Dean at the Schulich School of Music, Prof. Gordon Foote is laying groundwork for a number of initiatives that will help shape the School's development in the years ahead and build on the many accomplishments of outgoing Dean Don McLean.
Schulich is the largest university-based school for professional musical training and music research in Canada, with more than 600 undergraduate and 200 graduate students.
The teaching staff includes 57 tenure-track staff, along with more than 140 part-time members drawn from places such as the Montreal Symphony, Orchestre Métropolitain and the city's remarkable early-music, jazz and percussion communities.
At this important juncture, Foote is overseeing a revamping of the school's strategic hiring and research plans. The main goal right now, he said, is stabilizing the faculty numbers and direction – "who is teaching what, how many in each area" – at a time when tight financial constraints are a fact of university life.
"We're going to have a number of people retiring in the next five years," Foote said in an interview with The Reporter. "Hopefully these posts will remain as tenure-track slots that we'll be able to fill.
"We're going to have to decide what programs are our strengths, and cater to them."
"There are so many gorgeous areas in this school. Jazz is one. But we've got an amazing string program here," as well as opera, sound recording, music technology, early-music research and more, he added. "It was described once as a very big family, with a lot of mouths to feed – and it's true."
Finding more physical space remains another top priority. The New Music Building is devoted to research, offices, library, a recital hall and the big (and still unfinished) Multimedia Room recording studio.
"We need rehearsal space; we need studio space," said Foote, who previously was Associate Dean, Academic and Student Affairs. Currently, it's "almost impossible to get studio space at specific times" for one-on-one lessons, he says – a problem when many part-time instructors have to fit their teaching into busy performing schedules.
There have been some discussions about Schulich perhaps being able to convert a portion of the current Royal Victoria College residence hall to studio and classroom space.
Another challenge is boosting the still-young Schulich brand name, so that people identify it more readily with the McGill music school. Foote would like to see more of the school's high-quality performing groups travel to festivals and concert venues outside Montreal – as his jazz orchestra has done for years.
The School was renamed in 2005 for philanthropist Seymour Schulich, a McGill alumnus who built a fortune in the mining industry and has become one of Canada's leading benefactors of higher education.
One other way Foote hopes to raise the brand profile: capitalize on the School's marquee location on Sherbrooke St.,by installing far more eye-catching signage than the small, unlit sign planted discreetly near the statue of Queen Victoria.
A computer-programmed video screen, for example, could provide very visible information on the hundreds of concerts offered in Schulich's halls every year.
An estimated 400,000 people a day pass by the School every day, Foote notes, but the lively, high-quality concert scene inside the halls "might as well be a secret" to many of them.