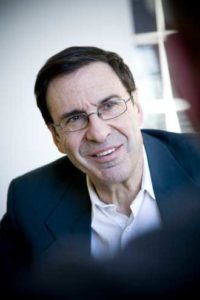 By McGill Reporter Staff
Dr. Mark A. Wainberg, Director of the McGill AIDS Centre and head of the HIV/AIDS research axis at the Lady Davis Institute (LDI), has been awarded the 2012 Killam Prize in Health Sciences by the Canada Council for the Arts.
The Killam Prize is among Canada's most distinguished research awards and is conferred to a scholar of exceptional ability whose outstanding achievements are clearly demonstrated, and who is expected to make further contributions to the scholarly and scientific heritage of Canada. Five prizes of $100,000 are awarded each year in recognition of outstanding career achievements (one prize in each of the five fields).
"I am very honoured yet humbled to receive this recognition and to be in the company of so many of Canada's elite scientists who have received this award before me," said Dr. Wainberg. "It has been a privilege for me to have worked in the HIV field. I hope that political leaders at all levels of government in Canada will understand the need to maintain strong funding for medical research toward the conquest of all human disease and suffering."
Dr. Wainberg, who is also a Professor of Medicine and of Microbiology and Immunology at McGill, is well known for the initial identification of 3TC as an effective anti-viral drug, along with multiple contributions to the field of HIV drug resistance. A member of numerous international advisory committees in the field of AIDS, his current research focuses on novel concepts in preventing HIV infection in developing countries. He continues to publish the results of his findings in the world's most influential scientific journals.
"I am absolutely thrilled that Mark has received this extraordinary, and most deserved, honour," said Dr. Roderick McInnes, Director of the LDI. "His research has made a valuable contribution to treating, and preventing the spread of, HIV/AIDS throughout Canada and around the world. We are just extremely proud that our Institute has served as home to his accomplishments."
"We are tremendously proud to count Dr. Wainberg among our researchers and we congratulate him for this prestigious recognition," said McGill Principal and Vice-Chancellor. Heather Munroe-Blum. "Not only is he an eminent scientist whose research has saved countless lives, he is also a tireless AIDS advocate on the international scene whose dedication is an inspiration to us all."
Dr. Wainberg has been recognized with a number of distinctions over the course of his career, including fellowships in the Royal Society of Canada and the American Academy for the Advancement of Science. He is an Officer of the Order of Canada and of the Ordre national du Québec, an honorary fellow of the Royal College of Physicians and Surgeons of Canada, and a Chevalier in the Légion d'honneur of France.
The other 2012 Killam Prize winning scholars are Jean Grondin of Université de Montréal, Geoffrey Hinton of the University of Toronto, Louis Taillefer of Université de Sherbrooke, and John Whalley of the University of Western Ontario.