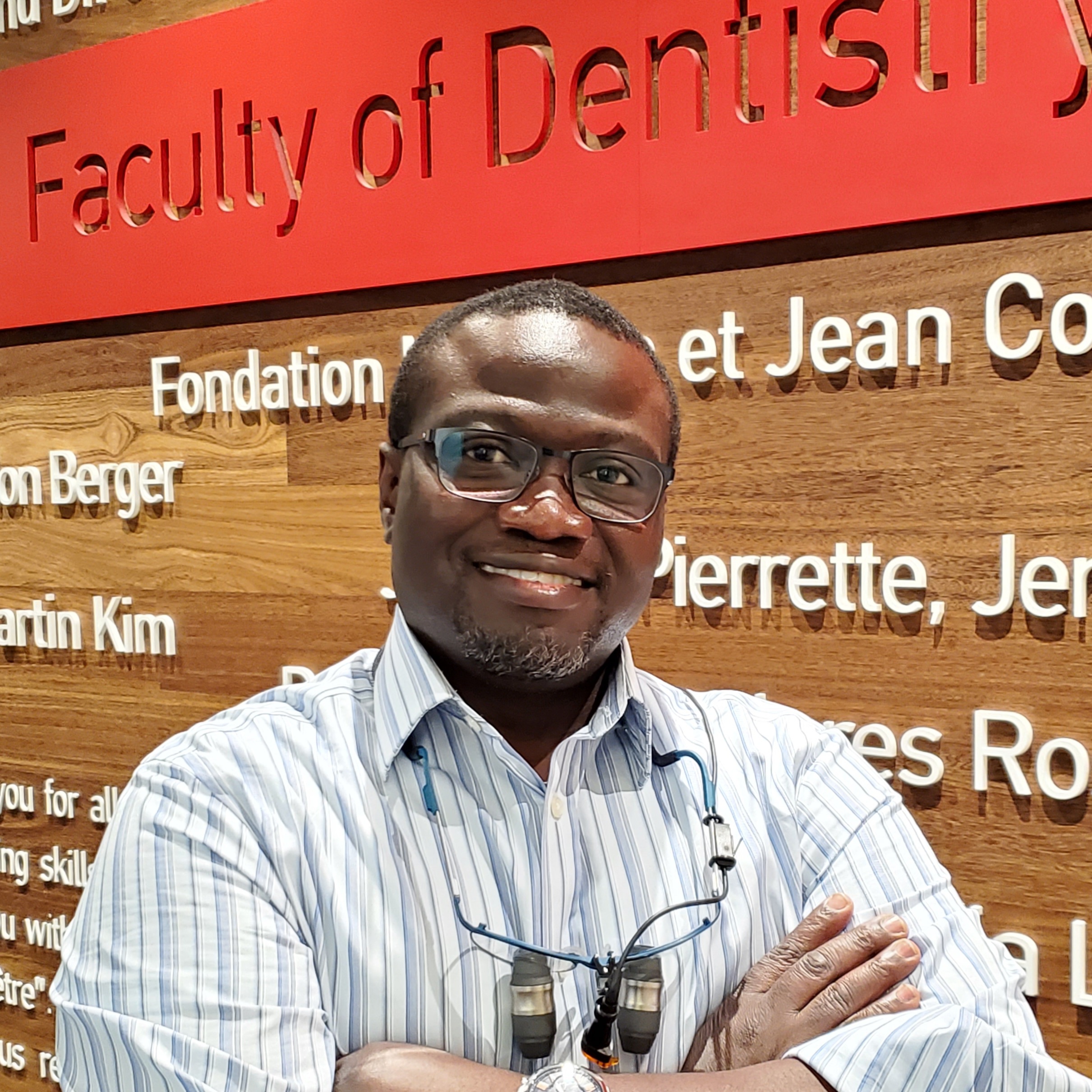 A university in Nigeria will be receiving a gift this month from the Faculty of Dentistry and Oral Care Sciences.
More than 20,000 assorted burs (metal instruments used for cutting teeth), four ultrasonic scalers for teeth cleaning, and disposable protective face shields and gowns are among the equipment soon traveling to Obafemi Awolowo University in Ile-Ife, Nigeria – a part of the world where quality dental education and care is badly needed.
The donation is largely thanks to the efforts of Dr. Dipo Ajayi, who completed the four-year Undergraduate Dental Program (DMD) program at McGill in 2021, and currently works at a dental clinic in Fort Qu'Appelle, Saskatchewan. He also earned a Bachelor of Dentistry degree from Obafemi Awolowo University in 2005.
"I have been privileged to have studied dentistry in two different countries," said Dipo Ajayi. "I experienced the differences in the quality of equipment and materials available for training. My motivation was to enhance the quality of training received in dental schools in Nigeria and across Africa."
A technician from global dental equipment provider Henry Schein inspects and repairs the equipment at the Faculty's clinic on a regular basis.  Ajayi took the lead in asking whether the technical staff could repair and collect some of the equipment for a possible donation. The technician discussed the request with Dr. Jeffrey Myers, the chair of the Faculty's purchasing committee, who gave his approval.
Bridging the technology gap
The World Health Organization estimates Africa had just 3.3 dentists for 100,000 people between 2014 and 2019, almost less than one tenth of the global ratio of 32.8 dentists per 100,000 population. In Nigeria, a country of 200 million people, the vast majority don't have access to regular dental care. While quality care does exist, the cost puts it out of the reach of all but a privileged few. Government-funded hospitals do provide reduced-fee services, but are usually overwhelmed because of the demand.
Quality dental education in Nigeria is still relatively new. The oldest dental school in the country, at the University of Lagos, was established in 1964 – 11 years before the The Faculty of Dentistry at Obafemi Amowolo University was created. Like many other areas of education on the continent, dental education is significantly underfunded.
"Most countries in Africa are either not rich enough, or more often than not, lack the political will to commit the necessary funds to education," Ajayi said. "Academics have had to resort to creative ways to pass knowledge and keep abreast of best practices. Despite their greatest effort and ingenuity, there still is a need of modern equipment and dental materials."
The donation of the equipment won't solve the chronic shortage of dentists in the region, but it will go a long way toward improving the quality of training for new dentists.
"Dentistry is both a science and an art which is increasingly more dependent on technology," said Nathalie Morin, Associate Dean of Clinical Affairs at the Faculty of Dentistry and Oral Health Sciences. "Projects such as this will help bridge a huge technology gap in training in these African institutions who often are heavy on theory and too light on hands-on experiences."
Partnerships and exchanges
The donation has raised the possibility of partnerships and exchanges between McGill and African universities.
"It would be interesting to see this project get richer and grow bigger so we can reach more dental schools in more countries in Africa," Morin said. "Exchange of ideas and interaction of academic cultures will help enrich the body of knowledge that presently exists."
McGill has memoranda of understanding (MOUs) – non-binding statements of goodwill between institutions that provide an umbrella for the development of activities such as joint research and publications as well as faculty and student mobility – with African universities in Burkina Faso, Ethiopia, Ghana, Kenya, Morocco and Namibia. In her thank-you letter to Morin, Morenike Ukpong, the Dean of the Faculty of Dentistry at Obafemi Awolowo University, expressed an interest in developing a similar partnership with McGill.
"The Faculty of Dentistry is open to exploring partnerships that can promote capacity development for its staff and students," Ukpong said.