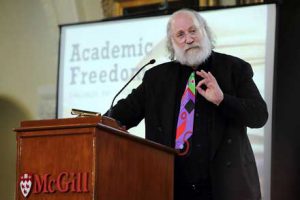 By Jim Hynes
On Friday, Sept. 28, some 120 people from McGill and other area universities and representatives of the Canadian Association of University Teachers and the Association of Universities and Colleges of Canada, came to Redpath Hall to attend the conference Academic Freedom: Challenges and Opportunities.
The event was preceded by a pre-conference lecture the previous evening by Pericles Lewis, President of Yale's NUS College, and Professor of English and Comparative Literature, Yale University. The main event, meanwhile, featured a pair of panel discussions on Academic Freedom and the Individual, and Academic Freedom, the Institution and Economic Drivers. The conference concluded with a number of breakout sessions and group discussions.
In her words of welcome to the event, McGill Principal Heather Munroe-Blum spoke of the important "opportunity to join as a community to talk about academic freedom and some of the contemporary themes that are arising around it, and as well to interact with colleagues from elsewhere in the country on this theme.
"This maybe is the McGill story," Munroe-Blum said, "does it or doesn't it go without saying that academic freedom is the fundamental value on which all else in the academe is based? We certainly assume it. And the fact that McGill has not had a formal statement on academic freedom should not be taken as a sign of neglect or indifference. In fact we've had about 190 years of engagement on the theme and expression of the theme.
"I guess as Principal, and when I look at what McGill has done in supporting professors and academics to follow their ideas and their interests and their curiosity in the work that they do in the context of the academy, my wish would be that however we land, we make it our own at McGill, and we own it going forward and we stay deeply engaged on it," she said.
McGill Provost Anthony C. Masi, who hosted the event, said he hoped it might be the first of a series of conferences organized by his office on themes of real importance to the University.
Masi called academic freedom "a topic of fundamental significance, not only to McGill but to all universities and especially to large research universities."
"The chance to host this event, that will give us the opportunity to discuss academic freedom represents for me one of the most satisfying aspects of my job," Masi said.
"I'd like to be clear about one thing…we in the academy must ensure and sustain our commitment to the concept and practice of academic freedom as key to our mission and central to our core values, and we must find practical protections for the expression of academic freedom on our campuses. Academic freedom is a vast and complex topic with a history of scholarly and popular debate that continues to this day," he said. "It has possible applications to countless distinct and sometimes unforeseen circumstances. A discussion of academic freedom therefore necessarily includes a discussion about the purposes and the functions of the university itself. Every time we in the academy address the issue of academic freedom, we take on a big responsibility."
The Conference's opening address was delivered by Cary Nelson, Jubilee Professor of Liberal Arts and Sciences at the University of Illinois at Urbana-Champaign, and the author of Office Hours: Activism and Change in the Academy (2004), and No University is an Island: Saving Academic Freedom (2010).
In his opening remarks entitled, What are key considerations for a discussion of academic freedom, Nelson call the topic "an imperative subject, but also a difficult one, and I would only urge that you approach it by doing what you do in your own field, which is beginning by reading.
"You are confronted, however, with one very simple matter at the present time at McGill, which is: does the faculty or does the administration define academic freedom for this institution? Do I think both groups should be in dialogue with one another? Absolutely. But in the end it's the faculty's prerogative to do that job, and you should assert that prerogative," Nelson said.
You can hear Nelson's address in its entirety, the question period that followed it, and the rest of the conference in a video that will be available shortly here, where you can also find more information on the Conference, and on its speakers and panellists.