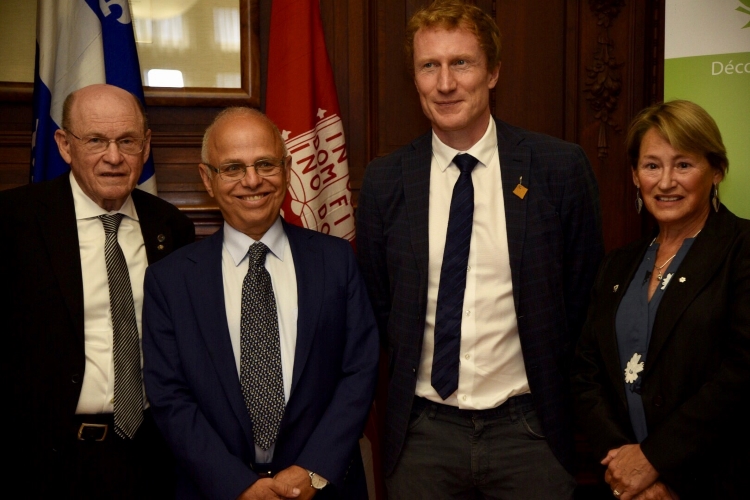 Marc Miller, Member of Parliament (Ville-Marie–Le Sud-Ouest–Île-des-Sœurs, Quebec) and Parliamentary Secretary to the Minister of Crown-Indigenous Relations, visited McGill University's downtown campus on August 12, 2019, to announce a federal investment of up to $6 million. McGill professors Nahum Sonenberg and Dr. Michael N. Pollak will lead the pan-Canadian Stand Up to Cancer (SU2C) Canada Metastatic Breast Cancer Dream Team, which will investigate new treatments to prevent breast cancer cells from spreading to other organs. Mr. Miller made the announcement on behalf of the Honourable Ginette Petitpas Taylor, Minister of Health.
Co-team leads Nahum Sonenberg, Professor of Biochemistry and member of the Goodman Cancer Research Centre, and Dr. Michael N. Pollak, Professor of Medicine and a clinical oncologist at the Jewish General Hospital, have assembled a multidisciplinary team of Canadian scientists from McGill, the University of Alberta and the BC Cancer Agency. The team includes world leaders in mRNA translation—a process that plays important roles in homeostatic cell growth and proliferation, and when dysregulated leads to cancer—experts in the pathophysiology of breast cancer, and medical oncologists with expertise in clinical research and breast cancer treatment.
The Canadian Cancer Society estimates that one in eight Canadian women will develop breast cancer during her lifetime, a statistic that accounts for 26 per cent of new cases of cancer and 13 per cent of all cancer deaths in Canadian women. The SU2C Canada Metastatic Breast Cancer Dream Team will work collaboratively to increase survival rates of patients with metastatic breast cancer, the most advanced stage of the disease.
The SU2C research model believes "that there is now sufficient knowledge of the basic science of cancer and that technologies are available to allow the focused practical application and rapid translation of even more basic science knowledge to patients with cancer." Central to this rapid translation is the idea of focused "Dream Teams," which bring together researchers from different universities or other research institutions to share resources and data, and to work collaboratively on developing new and innovative therapies.
Over the next four years, the Metastatic Breast Cancer Dream Team will develop a translational cancer research project that addresses prevention strategies for those at risk of metastatic cancer, and advances the mechanistic understanding of metastatic progression. They will also work toward designing and carrying out projects that accelerate the application of preventative, diagnostic, or therapeutic approaches for high-priority areas with a critical need for rapid progress beyond current medical care. The researchers plan to conduct clinical trials with approximately 40 patients.
"As we better understand the process by which the genomic code is translated into proteins, we also gain a better understanding of how this process can go wrong and promote cancer and metastasis," said Prof. Sonenberg. "We believe we can keep this aberrant process from occurring and thereby prevent metastatic cancer. The funding of our Dream Team makes it possible for us to investigate drug intervention very thoroughly."
"McGill is grateful to the Government of Canada for supporting this world-class team of researchers in the quest to solve critical problems associated with metastatic patient-care and to fast-track ground-breaking therapies," said Martha Crago, Vice-Principal, Research and Innovation. "The SU2C Dream Team, under the leadership of Drs. Sonenberg and Pollak, will carry on McGill's celebrated tradition of research excellence and innovation in health."
The SU2C Canada Metastatic Breast Cancer Dream Team is sponsored by the CIHR Institute of Cancer Research, in partnership with the Canadian Cancer Society (CCS) and Stand Up to Cancer (SU2C) Canada, and with scientific oversight by the American Association for Cancer Research (AACR).