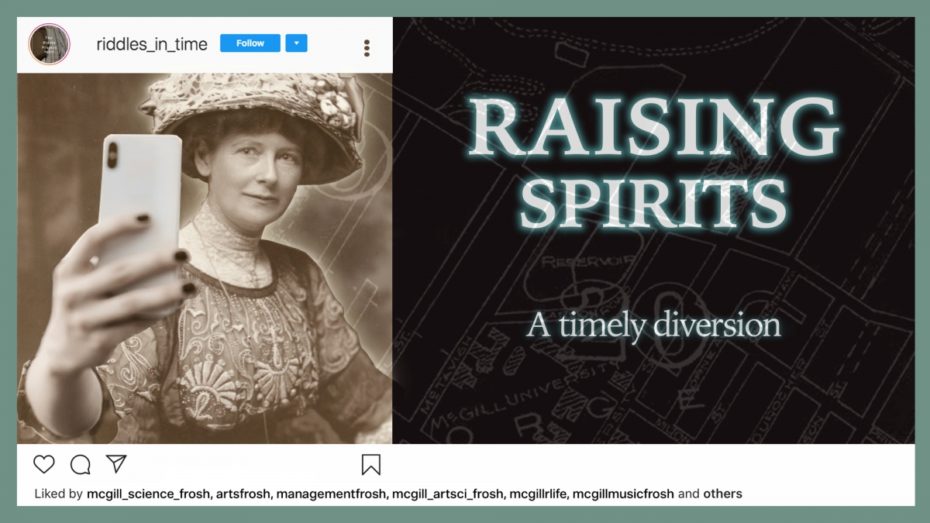 As Canada's travel ban from various countries remains in effect, students abroad and off-campus can still visit McGill University – sort of.
A detailed, fun – and very mysterious – orientation online game called Raising Spirits: A Timely Diversion has been crafted and launched by McGill Library and is designed to let players explore McGill's campus as well as its long history.
Open to anyone, Raising Spirits was devised in collaboration with Paul Darvasi, a McGill alumnus, educator and game developer, and is an alternate reality game that speaks to themes of disturbance and disruption drawing on the vast resources of McGill's libraries, collections and historical material. Featuring notable characters like Maude Abbott and Amy Redpath Roddick, spirits from McGill's storied past collaborate with players to solve a haunting true crime mystery, the details of which will be revealed in the game's next installment released in time for Hallowe'en. [Get more information on game developer Darvasi]
Disruptive time, disruptive game
English professor Nathalie Cooke, who is also Associate Dean, McGill Library (Archives & Rare Collections) and oversaw the project, said that "we did this at a time of disruption so we thought it would be fun to organize the game around the theme of disruption."
The game's clues, hints and dénouement are closely-guarded secrets to avoid spilling the beans for interested players. But one tantalizing inkling – whispered after much hesitation and deliberations – concerns the Roddick Gates' clock and constitutes one portal access to the game.
In some ways modelled on an escape-room game, where you have to solve one issue before being allowed into the next sequence, the game is "not just for people who love McGill," said Cooke. "It's for gamers, whether from Toronto, the U.S. or elsewhere."
No threat of failure
Hannah Deskin, a Grants, Outreach and Special Projects Administrator (ROAAr) who teamed up with two library archivists to think through the game's narrative thread from scratch, said that it allows students to "explore the University and its history in a way that is free from 'the formal threat of failure' of the classroom. We like to think of the Library as a space where people can explore all sorts of different topics – especially at this time when they can't explore the campus in person. We pivoted all of our events and orientation activities to go the digital route earlier than some other universities, which allowed us to develop something really quite robust."
"We worked with a team of very talented library archivists, graphic designers librarians, programmers, to think up this game that plays with our understanding and concept of time, history, and of our collective space here. It puts students in the position of saving the day through the game – to have access to that feeling of hope and efficacy at this moment."
Cooke – who advises taking your time to scrutinize the opening video given that it's not a beat-the-clock contest – said that going forward second by second (with the arrow keys) "will amaze you. You'll be shocked at what's buried in there."
Hallowe'en: Part 2
"The game empowers students to essentially rid the virtual campus of the unidentified scourge threatening it," explains Cooke. By the end of the game – which ends in a cliffhanger – they will "start healing the campus," she said.
"But not healing it completely – because part 2 is coming out just before Hallowe'en!"
In August, the initial target audience was incoming students. But the eventual audience is both current students and also high school students and their parents, who are interested in McGill but restricted from coming for a physical visit.
"They'll think 'hmm, this 200-year old Canadian institution can actually innovate in interesting ways'."
In fact, in the first week after launch, people from all over the world have played Raising Spirits – in Japan, the Netherlands, France, Hong Kong, as well as the U.S. and Canada.
Bite-sized pieces of history
Deskin said that "anyone with an interest in history" will take to the game, which includes bite-sized pieces of history, repurposed as puzzles – such as a medical student's schedule one century ago, for instance.
Cooke said that "I'm not a very good gamer so I was petrified" of playing the game at first. But she ended up being very proud of getting to the end, solving the puzzles along the way.
"You get this incredible reward – once you solve the clock, for example. But to do that, you have to align time and space. That's a hint. You go through the Roddick Gates and then you're treated to a journey, literally.  It's really a beautiful vista."
Cooke said that over time, students may gather virtually to play the game.
"At that point, we may put up a leaderboard."
Failure in class can be a serious setback, Cooke noted. But in gaming, it's a way to explore further, with no shame attached to it.
"It's a pretty exciting model in how we see learning progression."