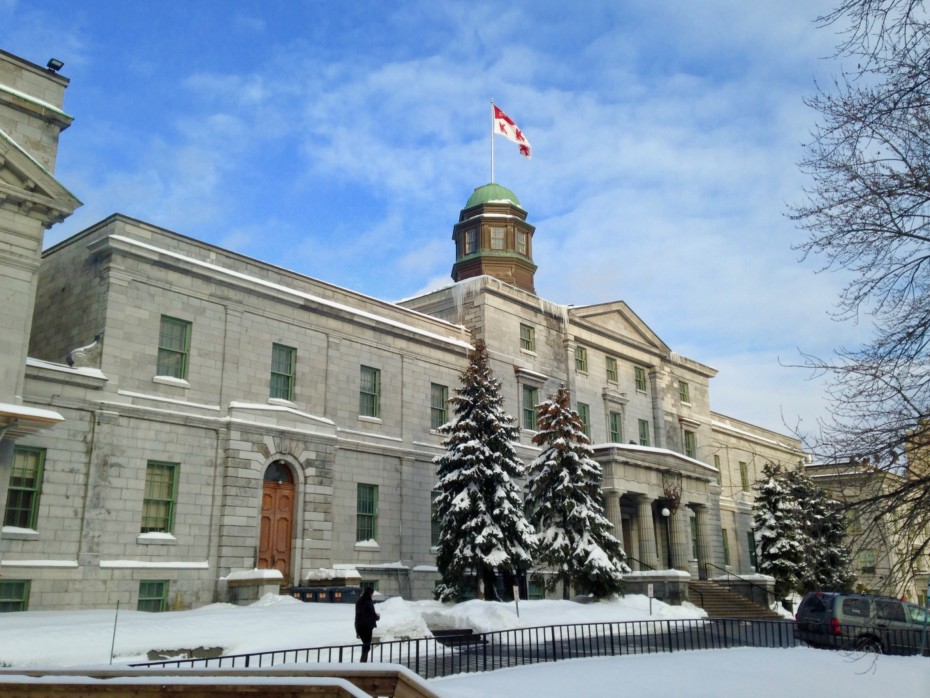 Updated Wednesday, March 11, 2020
Today, Fabrice Labeau, Deputy Provost (Student Life and Learning), sent the following message to McGill students, faculty and staff:
Dear members of the McGill community,
Today the World Health Organization classified the novel coronavirus (COVID-19) outbreak as a pandemic. In light of this development, I would like to assure you of our ongoing commitment to the well-being of our students, faculty and staff.
The University continues to diligently monitor the evolving situation. Working from the recommendations of Canadian public health authorities, members of McGill's senior administration have been meeting daily and proactively developing plans to prioritize the health and safety of the community, as well as to ensure the successful continuity of our academic mission.
Public health authorities are not currently recommending the cancellation of classes or other gatherings. As part of the University's extensive ongoing preparedness measures, the Academic Planning Group is examining distance-learning options and alternate modes for teaching and exams. We have also taken measures to simplify academic accommodations for students who are asked to self-isolate by health authorities. As for events, it is recommended that event planners conduct a risk assessment. The Public Health Agency of Canada has published guidelines to help inform such decision-making.
Addressing concerns relating to international travel continues to be a priority. Over the past several days, the University has recalled McGill students from China, the Daegu and Cheongdo regions of South Korea, and more recently from Italy. In addition, all McGill faculty and students in the health care fields are following travel restrictions established by the Quebec Ministry of Health and Social Services. My office continues to be in regular communication with McGill students who are currently abroad. I remind all members of the community who are considering international travel, or have recently returned from international travel, to consult the University's coronavirus webpage.
If you have questions, please write to COVID-19.info@mcgill.ca.
Sincerely,
Fabrice Labeau
Deputy Provost (Student Life & Learning)
_________________________________________
Chers membres de la communauté mcgilloise,
L'Organisation mondiale de la Santé a déclaré aujourd'hui que l'actuelle éclosion de maladie à coronavirus (COVID‑19) était une pandémie. Au vu de cette nouvelle donne, je tiens à réaffirmer que nous avons à cœur le bien-être de nos étudiants, de nos professeurs et de nos employés.
L'Université continue de suivre de près l'évolution de la situation. À la lumière des recommandations des autorités de santé publique du Canada, les membres de la haute direction se réunissent quotidiennement pour prévoir un train de mesures visant à prioriser la santé et la sécurité de la communauté tout en permettant à notre établissement de continuer de mener à bien sa mission universitaire.
Pour l'heure, les autorités de santé publique du Canada ne recommandent pas l'annulation des cours ni d'autres rassemblements. L'Université ne ménage pas ses efforts pour se préparer à toute éventualité; ainsi, le Groupe de planification de l'enseignement étudie diverses options de cours à distance ainsi que d'autres modes d'enseignement et méthodes d'examens. Nous avons également pris des mesures pour mieux accommoder les étudiants qui devront se mettre en quarantaine à la demande des autorités sanitaires. Pour l'instant, l'Université ne recommande pas l'annulation d'événements, mais conseille plutôt aux planificateurs d'évaluer les risques. L'Agence de la santé publique du Canada a publié des lignes directrices en vue de faciliter la prise de telles décisions.
La conduite à tenir pour les voyages à l'étranger demeure pour nous une priorité. À cet égard, tous les professeurs et les étudiants œuvrant dans le domaine de la santé observent les restrictions établies par le ministère de la Santé et des Services sociaux du Québec. L'Université a rappelé ses étudiants de la Chine, des régions de Daegu et de Cheongdo en Corée du Sud ainsi que de l'Italie. En outre, mon bureau est régulièrement en rapport avec les étudiants mcgillois qui se trouvent actuellement ailleurs à l'étranger. J'invite tous les membres de la communauté mcgilloise qui envisagent de se rendre à l'étranger ou en sont revenus récemment à consulter la page sur le coronavirus de notre site Web de notre site Web.
Pour toute question, écrivez à COVID-19.info@mcgill.ca.
Cordiales salutations,
Fabrice Labeau
Premier vice-principal exécutif adjoint (études et vie étudiante)