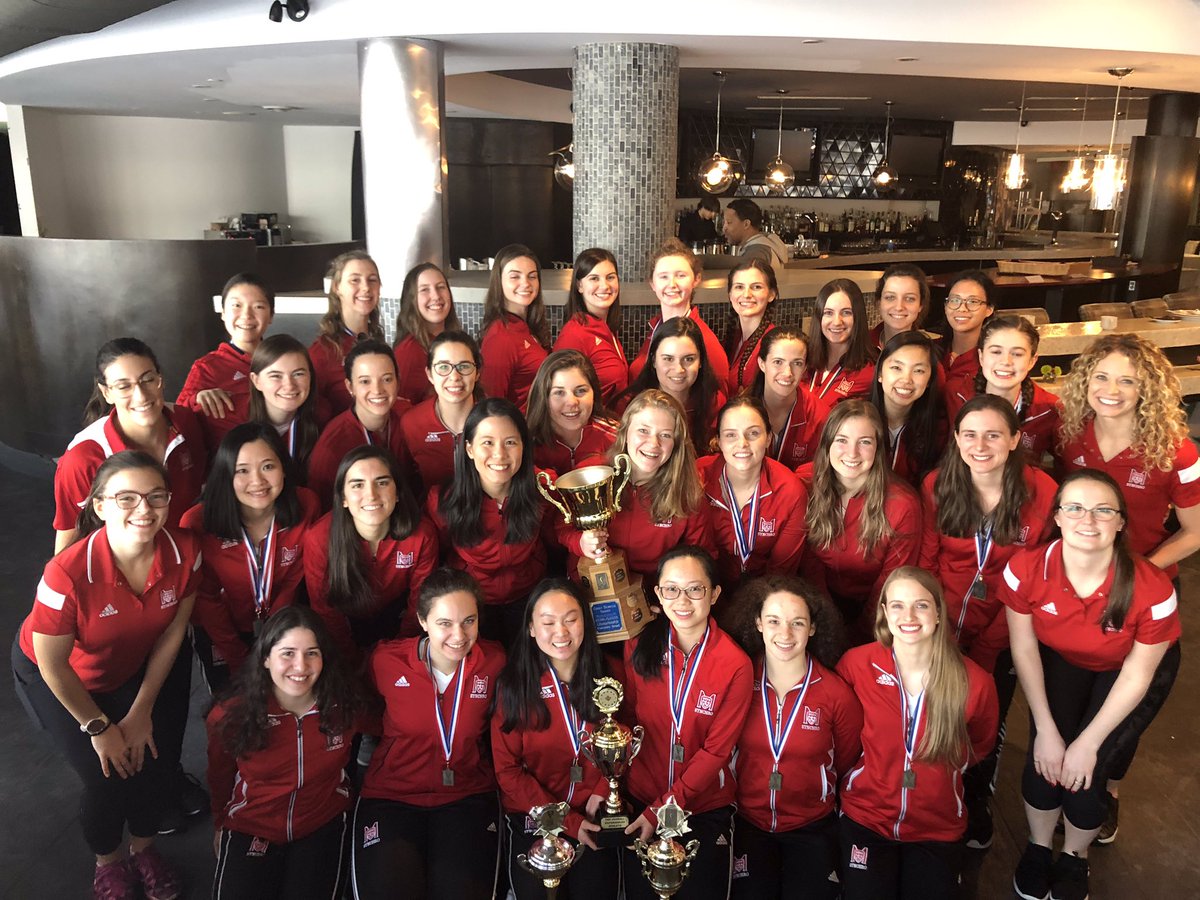 Freshman Maria Gheta was named the top overall athlete, leading McGill to a national championship in the Canadian University Artistic Swimming League, Sunday. It marked McGill's fifth title in six seasons and 15th in 18 years overall since the league was formed in 2001-02.
The Martlets, who rebounded nicely from last year's third-place finish, tallied 65 points to finish first of 13 schools and capture the Geraldine Dubrule Trophy at the three-day event held at the Carleton University pool. Ottawa was second with 50 points, followed by UBC (39) and Victoria (27) to round out the top four.
McGill captured three of the six categories overall, including the John Drake Trophy as gold medalists in the team routine. They also struck gold in the novice team routine and in the duet routine. It was the third time in as many meets that McGill swept those three disciplines. The Martlets also placed second (behind Ottawa) in the novice duet/trio category, second in the solo routine and fourth in the novice solo division.
"We faced steep competition in every category but our athletes stayed true to the training they did all season long and were able to swim to their potential," said head coach Lindsay Duncan, who also teaches in the faculty of kinesiology and physical education.
Gheta, a 20-year-old atmospheric science major from Timisoara, Romania, struck gold twice and garnered one silver. She led McGill's elite "White" squad to the team routine title, then joined up with her older sister Ioana Gheta, to place first of 10 finalists in the duet routine. The 5-foot-9 rookie also finished second in the solo routine with 74.6667 points, fractions behind Ottawa's Carlie Cholette (75.4333).
Joining Maria Gheta on the winning team routine was Genevieve Peel of St. Hyacinthe, Que., Montreal natives Gabrielle Cadotte, Lysanne De Broux and Emma Rispler, plus Emilie Charette of Oakville, Ont., Melissa Freed of Danvers, Mass., Isabella Vettese of Toronto and Lily Dong, who hails from Kanata, Ont.
The winning McGill novice team, coached by Carrie Mouck, was composed of Leah Birch from Hudson, Que., Michely Chen of Taiwan, Baylie Daghofer-Hawes of Beaconsfield, Que., Katharine Callahan of Kirkland, Wash., Taylor Hu of Vancouver, B.C., Lauren Chia of Windsor, Ont., and Christina Wang of Waterloo, Ont., plus Montrealers Palina Piankova.and Christina Wagner.
Formerly known as synchro swimming, the sport was renamed last summer by FINA, the international body that governs aquatic sports.