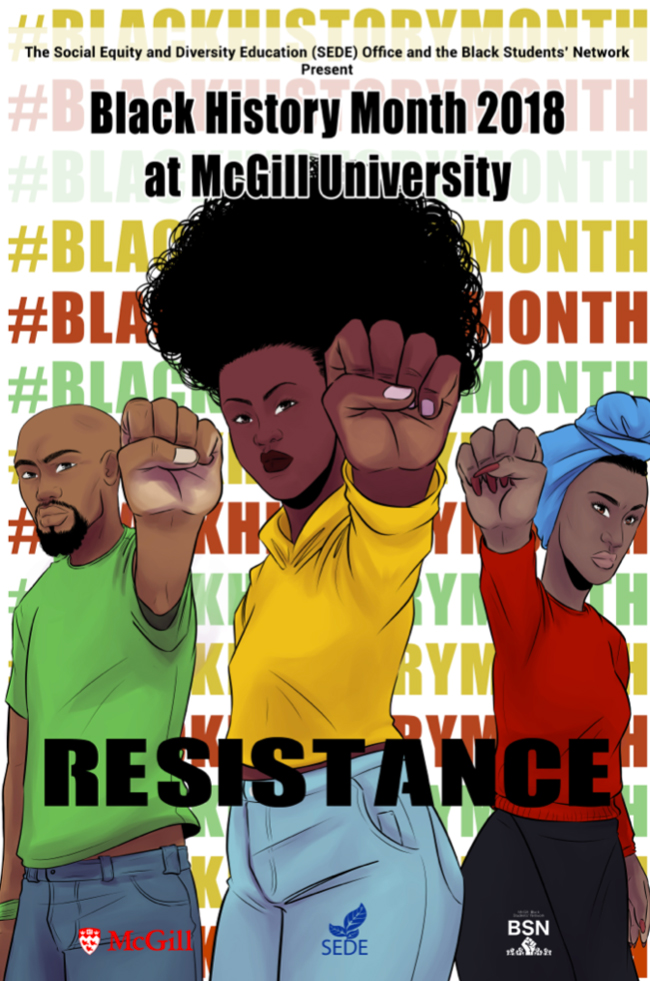 The second annual Black History Month (BHM) at McGill is around the corner. The Social Equity and Diversity Education (SEDE) Office and the Black Students' Network (BSN) will be co-organizing a month of exciting events under the theme Resistance.
"BHM has been institutionalized at McGill with a motion that was passed through Senate in 2017 as an annual celebration and we look forward to growing. For too long when Black people move around on campus, there is often an overwhelming feeling of being alone," says Shanice Yarde, SEDE's Equity Educational Advisor (Anti-Racism & Cultural Diversity). "BHM (and other race and/or equity based initiatives/projects/events) means working to break some of the isolation. BHM at McGill is also a critical time to recognize and honour the contributions of Black students, staff, and faculty at the University, as well as those making impact outside of McGill/Montreal/Canada. I feel that must continue post-February."
BHM began in the U.S. as Negro History Week, in 1926, and was created by Carter G. Woodson, an African American historian, educator, and publisher. It became a month-long celebration in 1976. The month of February was chosen to coincide with the birthdays of Frederick Douglass and Abraham Lincoln.
McGill's BHM will launch with an eye-opening presentation by Montreal-based feminist, author and community activist Robyn Maynard at the opening Ceremony on Thursday, February 1, from 5:30–9:30 p.m. at the McGill Faculty Club.
Maynard is the author of a new book entitled Policing Black Lives – State Violence in Canada from Slavery to the Present. "Every Canadian — black, white, Indigenous or otherwise — could benefit from reading Maynard's frank and thorough assessment of racism in Canada," said a recent review in the Winnipeg Free Press.
Maynard's speech will be followed by a Q&A session and an opportunity to buy a copy of her book and other important texts about black history and culture from Racines, Montreal's only Black-owned bookstore in Montreal North.
The Opening Ceremony and events throughout the month will honour the theme of Resistance and the diverse ways that Black communities have persevered in the face of multiple forms of oppression.
During the Opening Ceremony, there will be refreshments and childcare will be available. Entertainment will be provided by Mr. Pöng, steel pannist, and dance performers UpLift Official who will also be teaching dance workshops at the Community and Family Day on February 11.
Tickets are going fast, so reserve your spot before January 29! You can RSVP for the Opening Ceremony on the Eventbrite website.
For more about Black History Month 2018 at McGill check out the website and Facebook page.