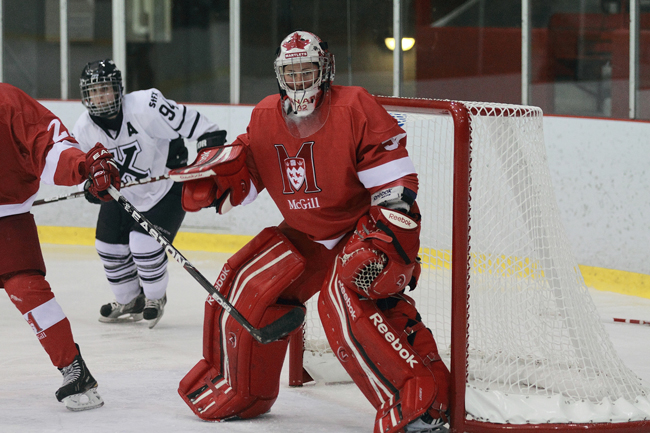 Four-time Olympic gold medallist Charline Labonté is retiring from the Canadian Women's Hockey League.
The 34-year-old McGill University graduate from Boisbriand, Que., made the announcement Monday at Les Demoiselles, a restaurant and coffee shop where she has worked part-time under chef Vanessa Trahan at the Ecole des Metiers de la Restauration et du Tourisme de Montreal, a top school for aspiring chefs.
"Last season there were a couple of times where I felt I wasn't sure if I wanted to do this anymore," Labonté told The Canadian Press. "Practices at 9 p.m. or long road trips on the bus and being away from my family. Everything that didn't bother me before started to bother me a bit so that was kind of like a cue to say maybe it's time to go."
In addition to her Olympic success, the veteran goaltender also won two gold and five silver medals with Canada at women's world championships and guided the McGill Martlets to three Canadian university titles, as well as silver and bronze-medal finishes.
Labonté was a five-time All-Canadian with the Martlets, where she played from 2006 to 2012. She finished her collegiate career with a stellar 160-17-3 overall record and 81 shutouts in 180 career starts, along with a 0.98 goals-against average and a .948 save percentage. Labonté – who graduated in 2012 with a chelor's degree in physical and health education, followed by a master's degree in sports psychology – owns virtually every McGill goaltending record except most saves in a game, season and career, which are still held by Kim St. Pierre, who played in an era where facing 50 shots a game was a common occurrence for McGill.
After graduating in 2013, Labonté joined the Montreal Stars (now Les Canadiennes) in the Canadian Women's Hockey League and two years later was the CWHL goaltender of the year.
Labonté first made her name when she became only the second female to play in the Quebec Major Junior Hockey League after goalie Manon Rheaume. After playing on high-level boys teams in Boisbriand, Que., she was drafted by the Acadie-Bathurst Titan. She didn't think she'd make the team, but ended up dressing for 26 games in 1999-2000.
"Last week Les Canadiennes had their camp and I wasn't there. It's tough but that's the decision I had to make and I'm happy with it," Labonté told the media.