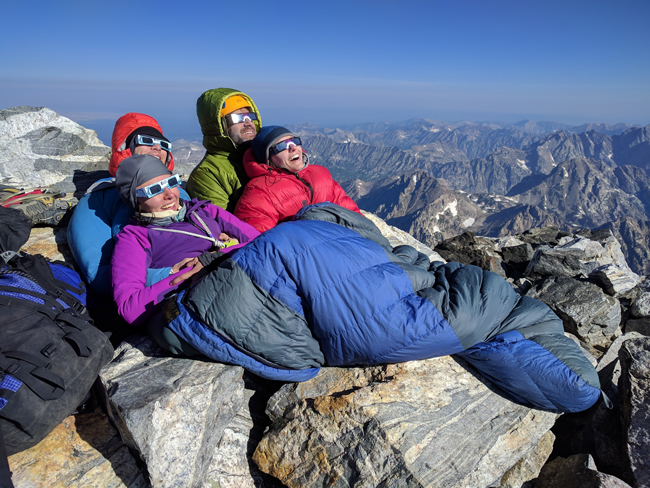 By Neale McDevitt
As any non-amphibious Montrealer will tell you, the Summer of 2017 wasn't one to write home about. Record rainfall and cooler-than-average temperatures meant we were often wearing rubber boots and sweaters when we should have been sporting flip flops and tank tops.
But it takes more than a little inclement weather (or in this case, a lot of inclement weather) to dampen the spirit of McGillians. When the call went out for summer vacation pictures for the annual Reporter's gallery, we were pleasantly surprised by the enthusiastic response.
The pictures on display below were taken around the world – from Bali to Switzerland – across the country – from Kelowna, B.C. to Prince Edward Island – and around the province – from Abitibi-Témiscamingue to les Îles de la Madeleine to Saguenay. And, of course, McGillians didn't let the cool, damp weather rain on their local fun either – as many of us relaxed by exploring our own fair City.
Few submissions for this year's gallery embodied the sense of discovery and adventure as much as the picture at the top of this article. It shows Chris Barrington-Leigh and Aleksandra Nasteska (both McGill community members) and two friends, Janet and Erick Matsen,  atop the Grand Teton waiting for totality in the 2017 solar eclipse.
"It was a truly rare experience.There were nearly 50 other climbers on the summit," says Barrington-Leigh, a professor at the School of Environment who had been planning the trip since 2010. "Totality is nuts. I cried seeing the sun's corona."
Looking at the love and laughter on display in the gallery below, maybe we have judged the Summer of 2017 too harshly. It looks like it was a lot of fun.
Thanks to everyone who submitted pictures for the gallery! We've tried to post in large format at least one photo from everyone who submitted pictures. The rest of the pictures will appear as thumbnails at the bottom of the page. Click on each thumbnail to see the large version.
****
"This is a picture of two of my three horses happily grazing, with my two daughters playing/hiding in the tall grass (you can only see one of them)," writes Kimberly Auclair, a professor in the Department of Chemistry.
****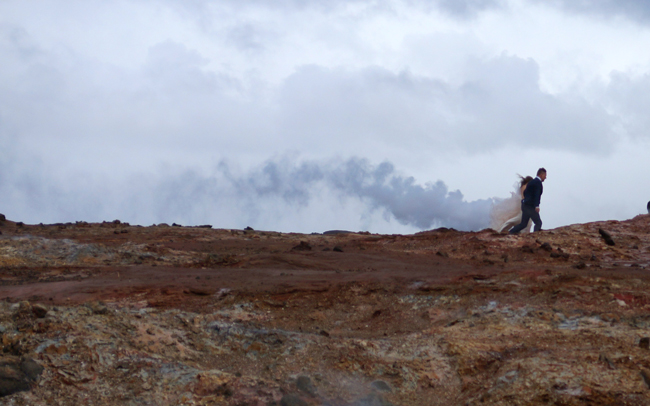 Steven Rousseau, Solution Architect at IT Services, took this evocative photo of a couple doing wedding photos in a geothermal field during his vacation in Iceland.
****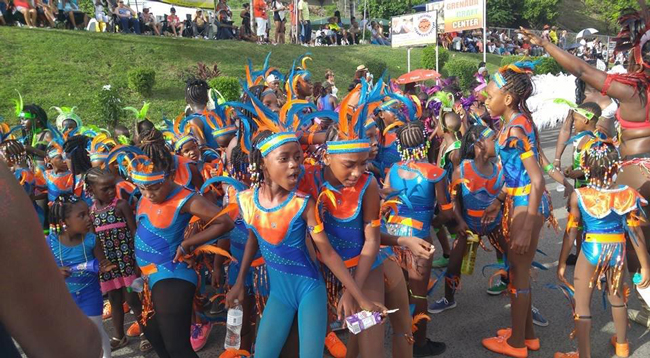 Anne Farray, Administrative Officer at the Institute of Islamic Studies, spent much of July and August in Grenada. She took this festive picture during Grenada's Carnival.
****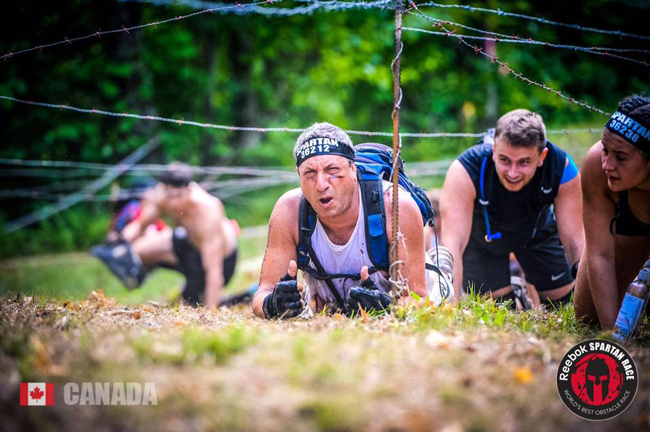 It should come as no surprise that the always-active Eyal Baruch, Assistant Manager Facilities, Athletics and Recreation, submitted photos of himself on a bike, in a kayak and completing a Spartan Race (above).
****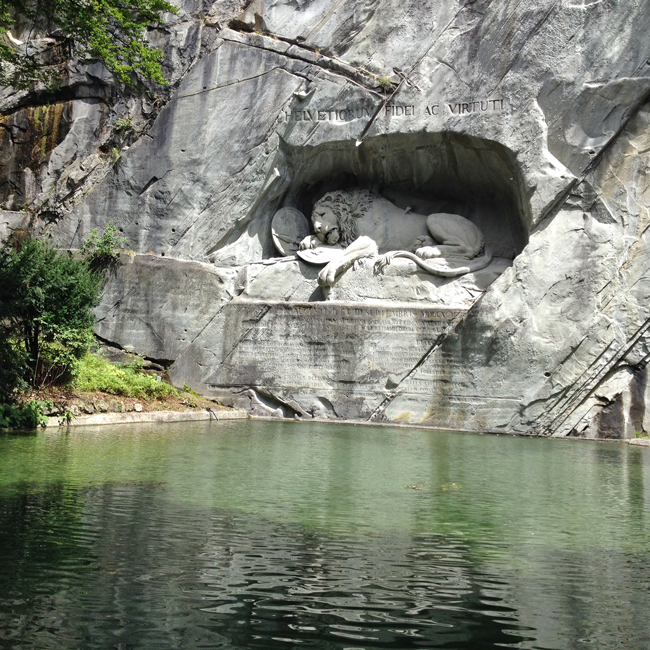 "Mark Twain said  'the Lion of Lucerne is the most mournful and moving piece of stone in the world,'" writes Abida Subhan, Department of Animal Science and Department of Natural Resource Sciences. "Did you notice the spear that has gone through its body?  I was so moved seeing it, I sat there for a while and just stared at it."
****
"I spent three weeks in Bali. It was amazing! " says Sophie Brosseau, Office Process Manager in Facilities Management and Ancillary Services. Judging by the view from her hotel room, it's easy to see why.
****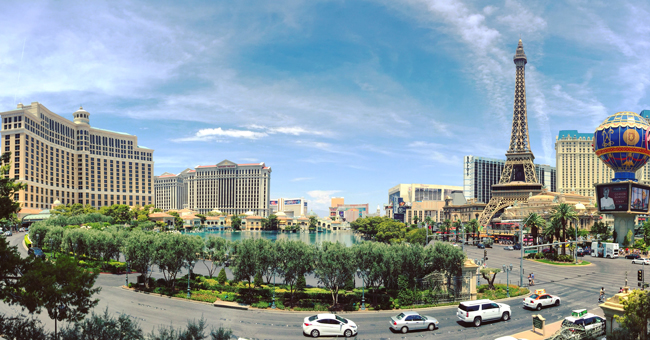 Justin Fletcher, Learning Technology Consultant & Mercury Administrator at Teaching and Learning Services had a busy summer travelling across the United States. This is his take on the skyline of Las Vegas, Nevada, from the Bellagio.
****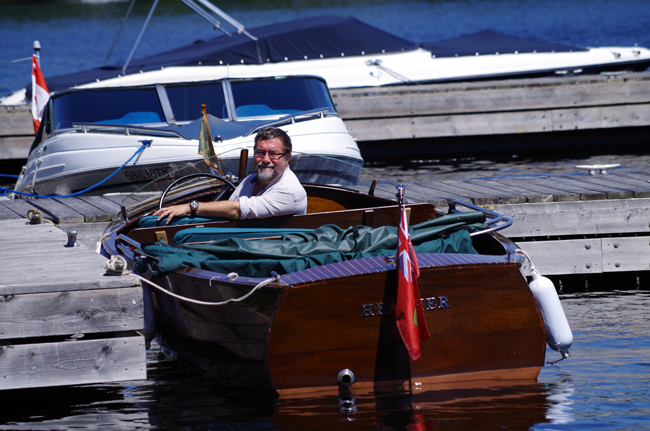 "My wife took this in Port Carling, Ont.," says Doug Sweet, Director, Internal Communications and antique boat aficionado. "The boat is a 1941 Duke Playmate built by Duke Boats in Port Carling. We had the boat for a day, thanks to our sons who found a wonderful 40th anniversary present for us!"
****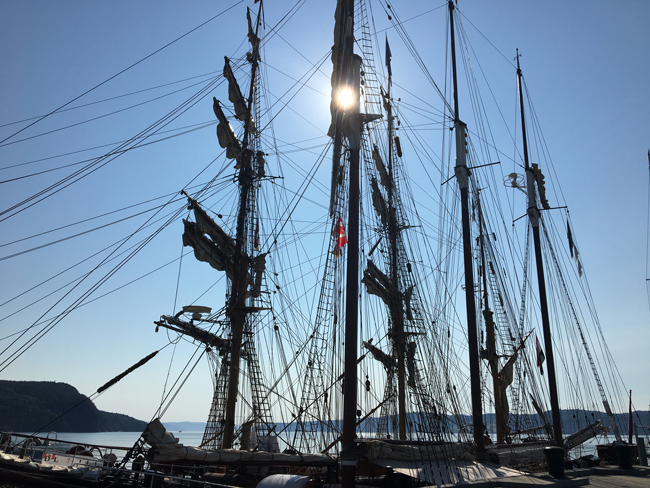 Speaking of boats, Lise Martin took this beautiful shot of a tall ship at La Baie Port in the Saguenay. "The best day of my vacation," she writes!
****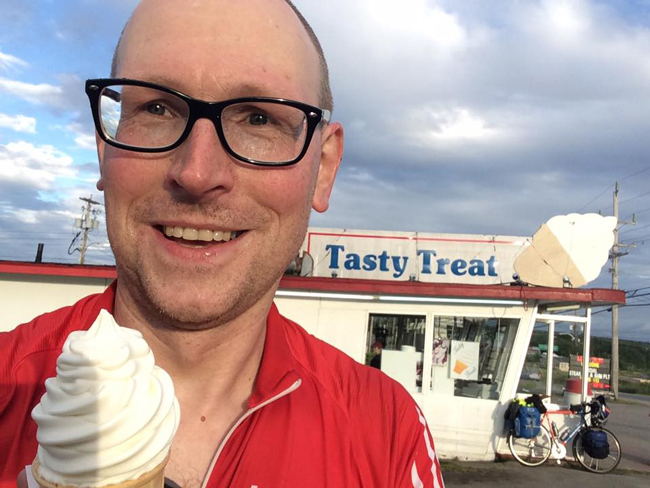 In keeping with the transportation theme, Victor Chisholm submitted a series of photos of himself taking ice cream breaks during his frequent cycling treks. Here, the Faculty of Science  Undergraduate Research Officer cools down at the Tasty Treat, in Westmount, Nova Scotia. His caption suggestion? "Victor Chisholm is of the firm conviction that the more one rides one's bicycle, the more one must stop for ice cream."
****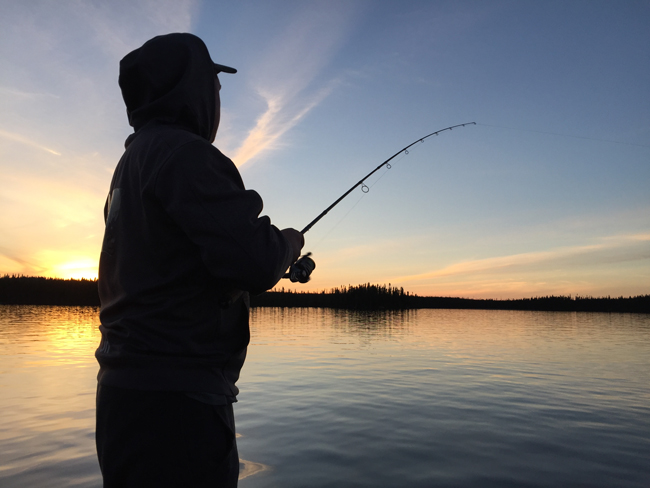 Fire Prevention Officer, Jeremy Blain gets some final casts in at sunset on Lac Desforges, in Abitibi.
****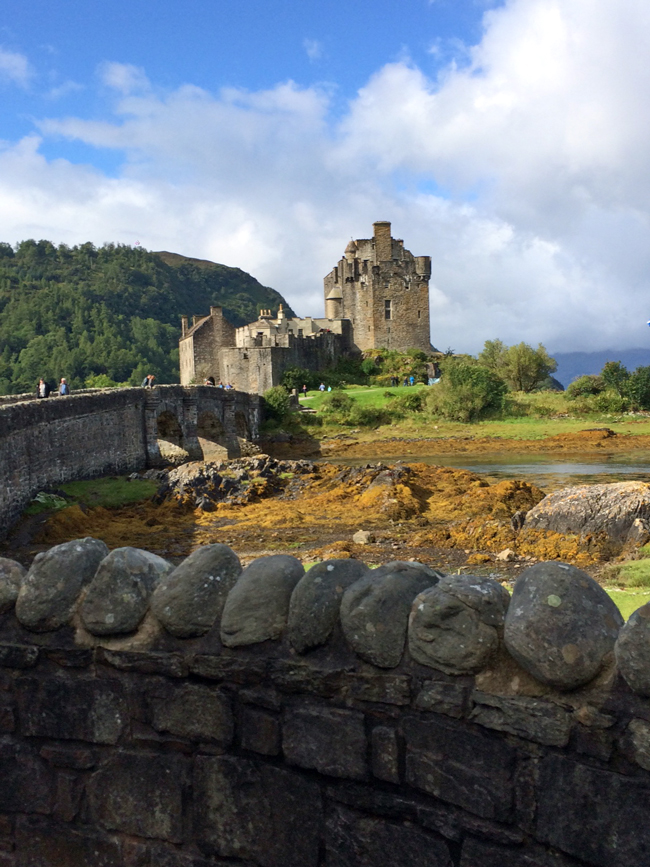 Administrative Coordinator Maria Naso snapped this lovely picture of Eilean Donnan Castle, in the Scottish Highlands during her recent trip there.
****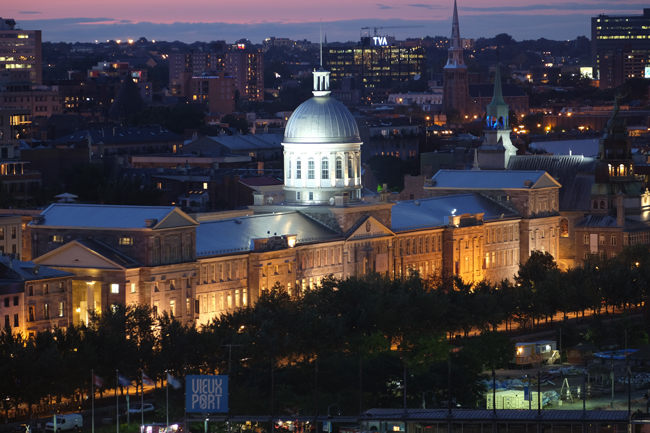 Suzanne King, a professor in the Department of Psychiatry, submitted a series of Montreal pictures, including this stunning shot of Bonsecours market at sunset
****
Bikramjeet Ghuman, EHS Technician, Environmental Health & Safety, enjoyed the sublime beauty of Lake Louise in Banff, Alberta.
****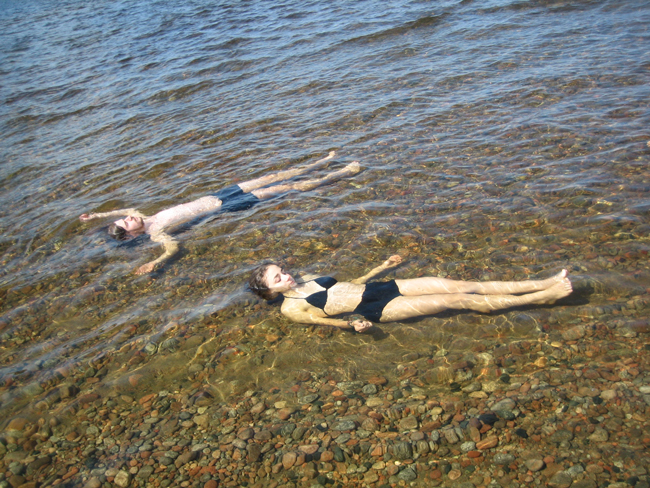 David Krawitz, Administrative Officer at the School of Architecture is a regular contributor to the annual summer photo gallery. He says the challenge is "to get some original shots from the same trip every summer: over the top of Lake Superior to spend time with my family in Winnipeg Beach." He whimsically titles this great shot "My elongated children, Old Woman Bay, Lake Superior."
****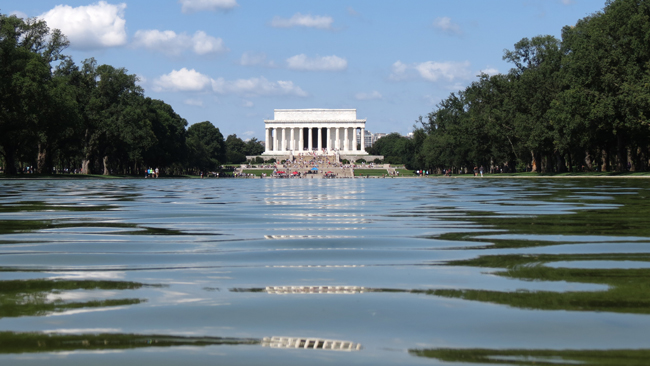 Caitlin MacDougall, Liaison Officer for the Farm Management and Technology Program took this beautiful shot of the Lincoln Memorial, across the reflecting pool in Washington, DC.
****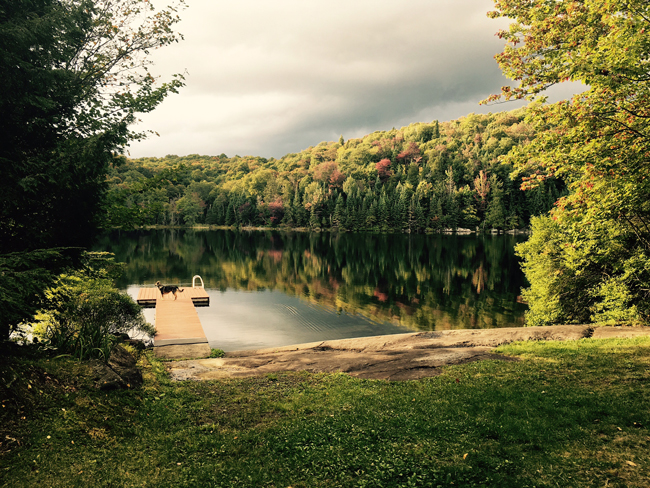 "Lac Wilson in Saint Adolphe d'Howard, featuring my dear friend and fellow nature-lover Jolene," writes Heidi Strohl, Technical Project Lead, Web Communications. "As you can see, the trees begin to turn a bit early in our neck of the woods!"
****
Water is a recurring theme in this year's gallery and this submission byanother regular contributor, Gayle A. Shinder,  is no exception. Here, the Academic Advisor to the Chair in the Department of Oncology, takes in the beauty of the famous Percé Rock, in Percé, Quebec.
****
During her vacation in France, Chidinma Offoh-Robert, Director, McGill Engineering Student Centre, took this picture of art in Castle yard at  Les Baux-de- Provence.
****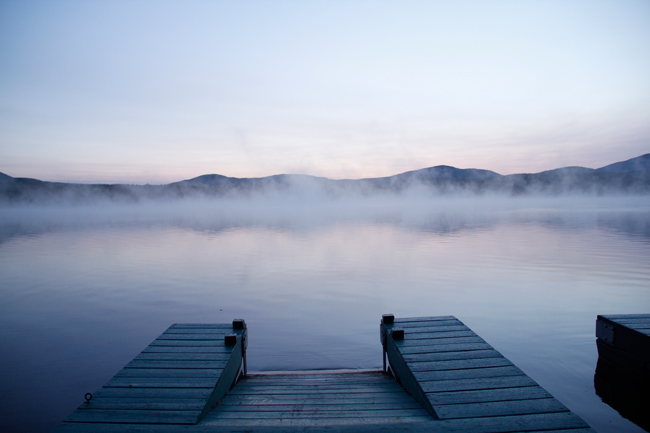 While camping in Maine, David Anderson snapped this gorgeous shot of the early morning mist rolling across the lake.
****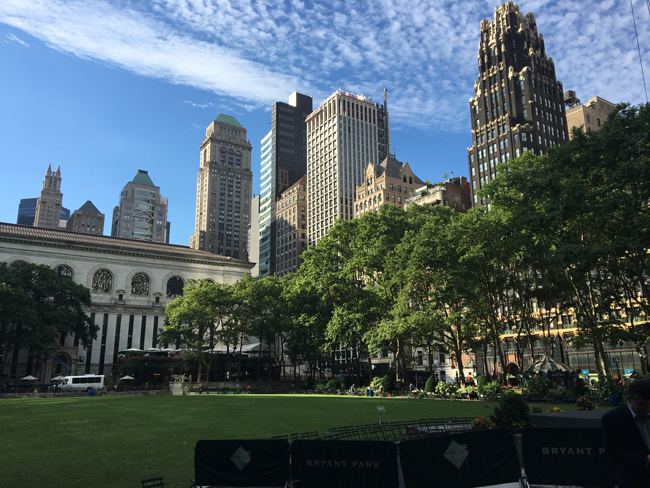 "This was early morning at Bryant Park in New York City (July 2017) where people were busy with their exercise and meditation before the busy schedule," writes Aditya Jain. "The clouds and soothing breeze made it the perfect morning."
****
During her recent trip to Italy, Kanita Ahmed, Program Manager at the Institute for Health and Social Policy, was treated to this magnificent view of Il Duomo di Firenze from Palazzo Vecchio, Florence.
****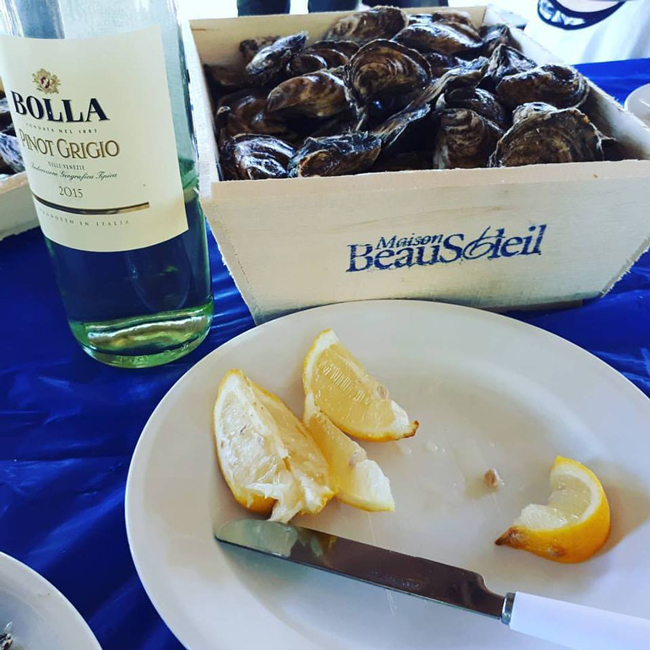 Tim Wilfong, Co-Curricular Records Administrator, Student Services, is making us all hungry with this mouth-watering picture of his oyster picnic lunch in Neguac, New Brunswick.
****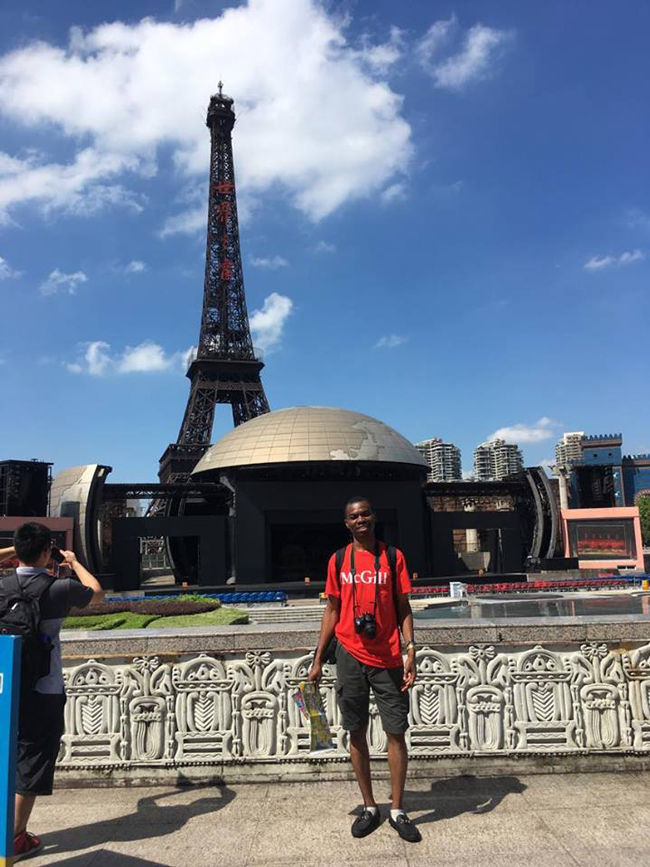 Christopher Nzediegwu, PhD Candidate,  Bioresource Engineering Department, proudly sports his McGill t-shirt at Windows of the World, in Shenzhen, China.
****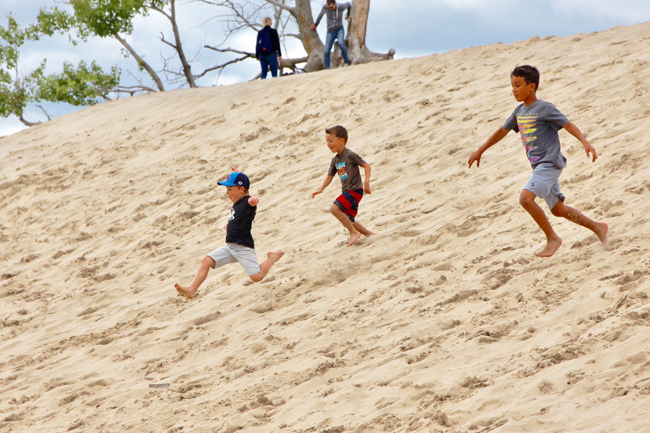 Last one to the bottom is a rotten egg! Sandbanks Provincial Park. Photo: Neale McDevitt, Editor, McGill Reporter
****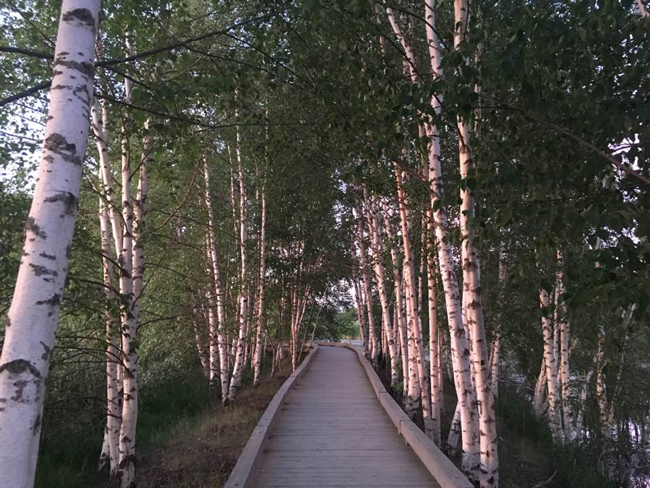 Claire Brown, a professor in the Department of Physiology, took a walk with her son at sunset at the Waterfowl Park in Sackville, NB.
****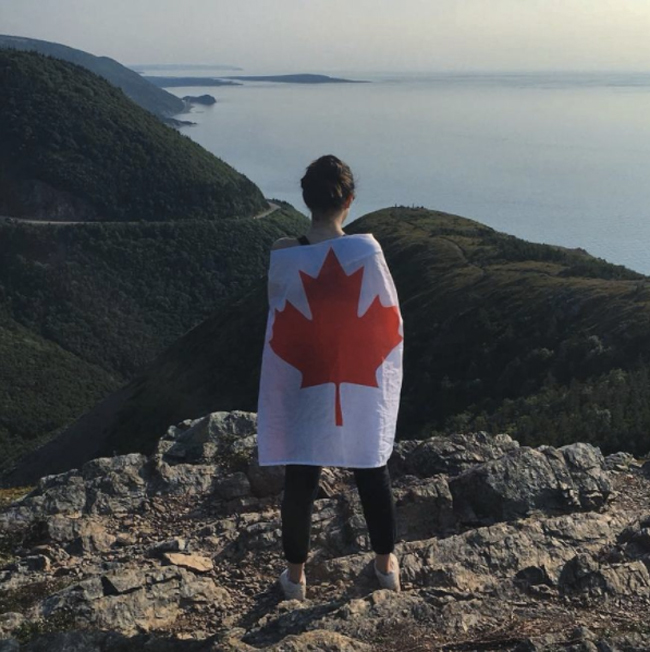 Another East Coast picture shows Noor Almamlouk showing some Canadian pride atop the Skyline hiking trail on the Cabot Trail in Cape Breton Island, Nova Scotia.
****
Since we're in the neighbourhood…
Julie Lapalme, Web & Creative Administrator at the Desautels Faculty of Management, took this lovely vista of of Lunenburg Harbour, Nova Scotia in early August.
****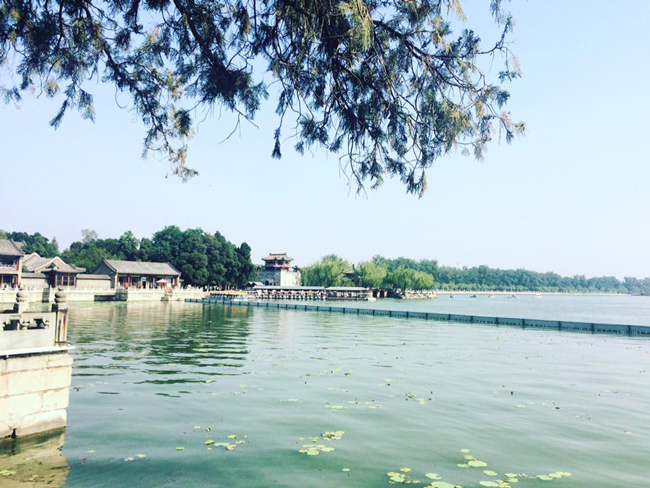 Moving further east, Maggie Lin took this beautiful picture of ancient buildings at the Summer Palace in Beijing, China.
****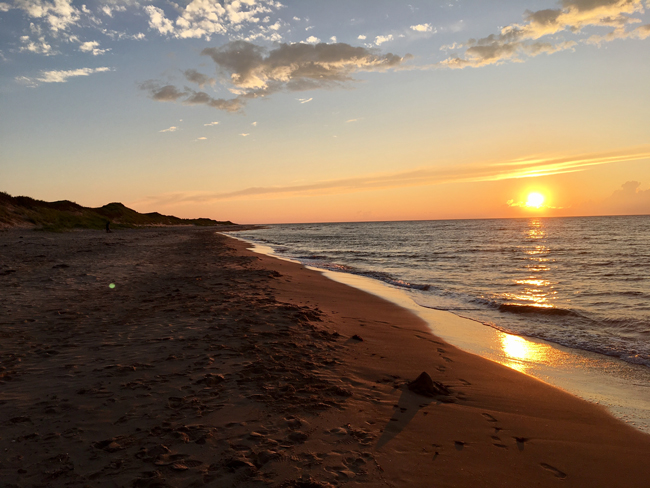 Beautiful Greenwich Beach on PEI at sunset by Paula Lavery, Research Technician at the School of Human Nutrition
****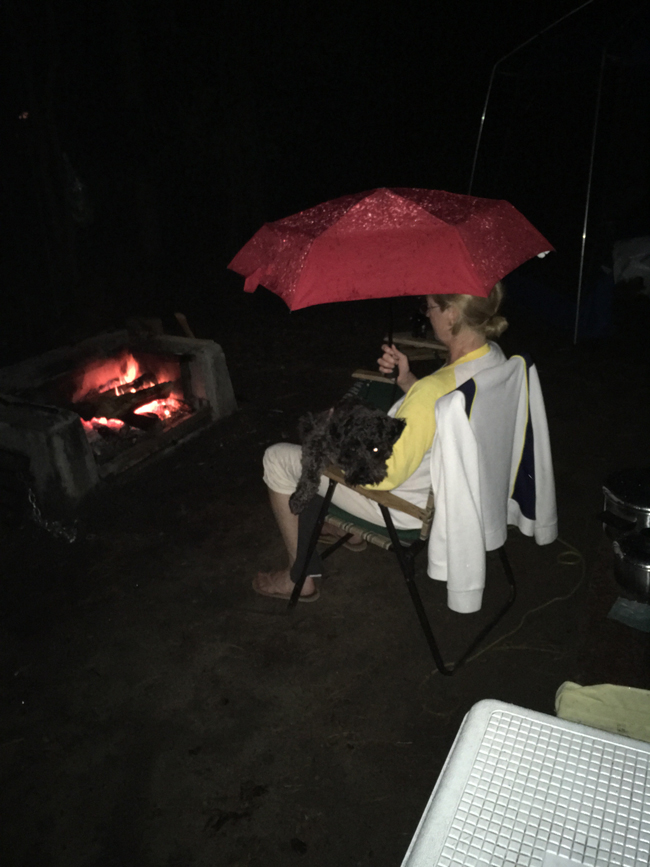 Darlene Fowler, Administrative Coordinator at the Desautels Faculty of Management, wins the coveted Caption of the Year contest with her entry "I love camping" for this picture of her camping in the rain
****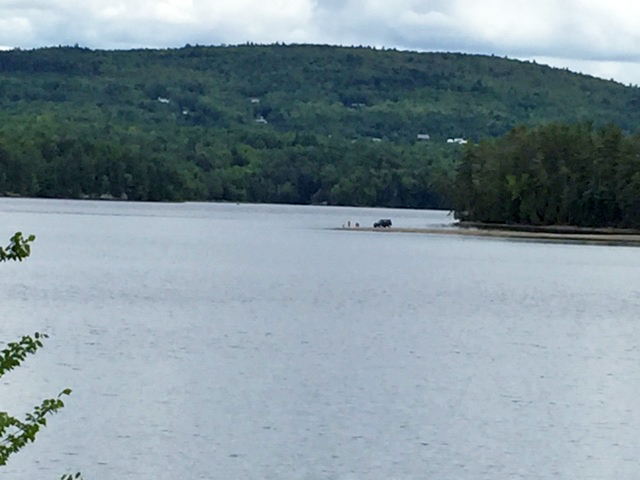 Crystal Noronha, Research Assistant at the Faculty of Dentistry, captures the solitude of Kennebunkport.
****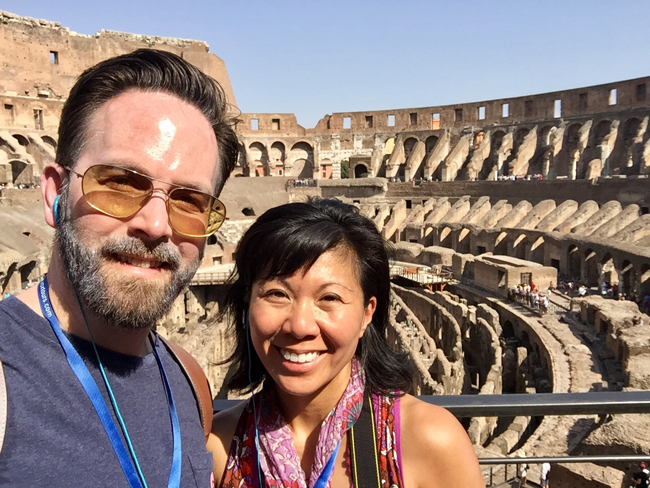 Assistant Professor of Sociology Barry Eidlin, with his wife, Anne Quismorio, at the Colosseum in Rome, August 5, 2017.
****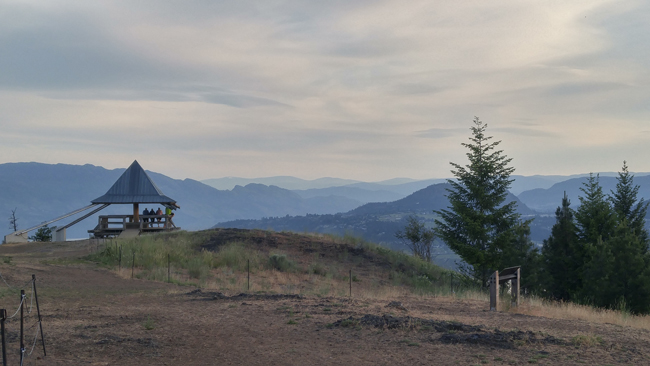 Jaaved Singh, M Sc. Candidate in Renewable Resource, calls this one "Overlooking the overlook, Kelowna, B.C."
****
During her summer vacation with her son and husband in Newfoundland (Bonavista and Gros Morne National Park) as well as Saint-Pierre et Miquelon, Joanna Mastalerek, Grants Officer in the Office of Sponsored Research, took this lovely picture of the rugged coastline.
****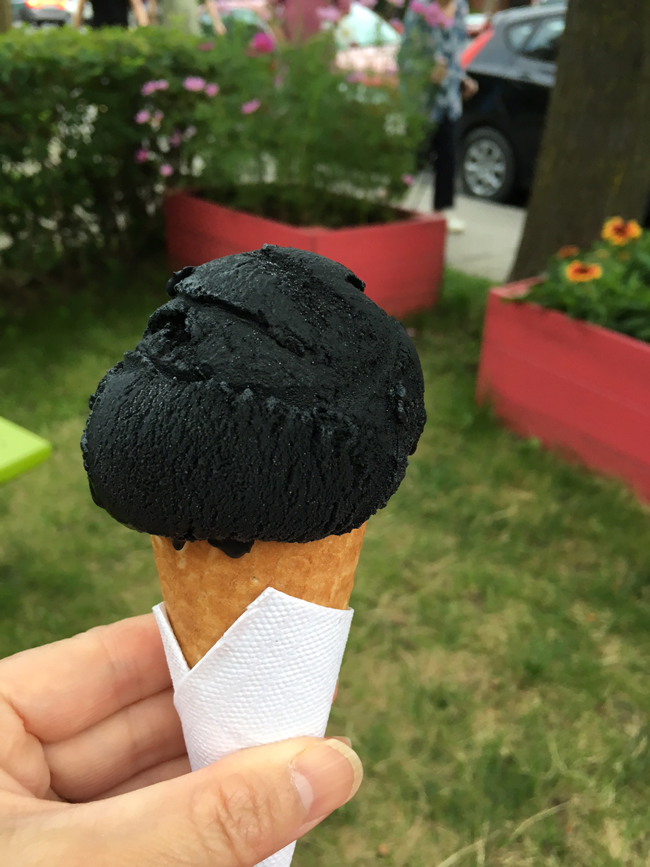 "Ca Lem's Black Sesame ice cream was the sweetest way to cool down this summer," says Lynn Mark, Senior Advisor, University Advancement. What would fellow ice cream aficionado Victor Chisholm say?
****
"Here's an image of our family's yearly tomato sauce production; we make enough for the whole year (over 150 mason jars)!" writes  Andrea Di Stefano, Editor, Enrolment Services.
****
Sasha Sookdeo-Gilkes provides us with a great shot of the recently completed Promenade Fleuve-Montagne.
****
Click on a thumbnail below to enlarge it.