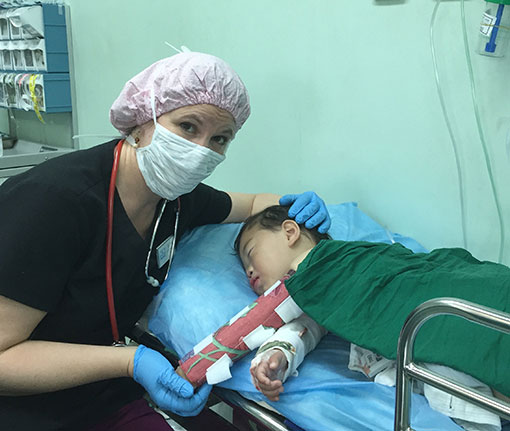 By Fabienne Landry, McGill University Health Centre
Julie Sparkes, a nurse from the McGill University Health Centre (MUHC) recently traveled to China with a medical team to do what she does best: care for patients recovering from surgery. During her two-week mission, she helped dozens of patients go through life-changing operations. Sparkes shared her story of inspiration, compassion and fulfillment with us.
What was your main motivation for doing this kind of trip?
For many years I wanted to go somewhere in the world and be helpful with a medical mission. I wanted to share my experience with people who don't have the opportunity to receive specialized health care.
How did you end up being part of this medical mission to China?
On New Year's Eve my husband asked me what I'd like to do this year. My answer was immediately I'd love to go on a medical mission.
I went online and found an organization called Education Medical Aid and Service (EMAS), which sends medical teams all over the world for two-week periods of time. I applied and was accepted to this surgical mission, along with a team of 50 healthcare workers, including surgeons, anesthesiologists, nurses, and more. Most of them are Chinese Canadians and have been doing this for 20 years, completely at their own expense.
What kind of patients did the team help?
We performed numerous cleft lip surgeries for young boys and girls, and even for a 40-year-old woman. This is a life changing surgery, since this malformation affects their speech, eating and even social lives as they are sometimes rejected by their community.
We also treated children with severe burns. They came from a poor community in the mountains where families live in small homes with an open fire to keep warm and to cook. Some young children are unaware of danger and literally crawl into the fire. When they survive the burn, they are often horribly disfigured and have contractures [a scar that pulls their skin and restricts normal movement]. They need a skin graft to release the scar and regain more function.
What was a typical day for the team?
The first day, we had to organize the supplies we brought from Canada for the 50 surgeries we were going to perform. On the other days, we'd have team meetings at 6 a.m., be dispatched in one of three hospitals, given our assignments, and later we'd meet up for dinner.
What was your role? 
My role was caring for recovering patients, like I do at the MUHC. This includes making sure patients have medication for pain if required, ensuring they are breathing well, and observing the wound to make sure there is no bleeding. I also assisted in the operating room (OR) I was very concerned about that because that's not what I am used to and I have even fainted once. Thankfully that didn't happen [laughing]! I really did whatever I was capable of doing. You do whatever it takes when you have limited staff.
How did you prepare?
I attended team meetings prior to the trip, but I must say that my 25 years of experience were my best preparation. What I did not have though was experience in pediatric recovery. So I was very thankful for my colleagues at the Montreal Children's Hospital for allowing me to come for one day and observe the recovery of children post cleft palate surgery.
Was language an obstacle?
Language didn't matter a lot, mainly because the majority of our team members did speak mandarin. Even if local people spoke a dialect of mandarin, they could usually find a way to understand each other. When I was by myself, I pointed a lot and I could ''read'' patients to see whether they were in pain or not by observing cardiac rhythm and other signs. When I had time, I would also try to interact with the kids in no medical way. They were often impressed with my blonde hair!
What do you like about this work?
As a nurse I feel like we have the privilege to establish a very intimate relationship with people in a very short period of time. We have to connect quickly with people in order to be able to help them. It doesn't matter where you are, care is the same. It's a big world, but people are similar in many ways. We work, we eat, we sleep. And we all know about hope, love, fear and pain.
What was the hardest thing? 
The hardest thing was seeing the burned patients, who feel so much pain — physical and psychological pain.
And the most gratifying?
I wanted to go on a trip like this for such a long time and it was honestly like a dream come true. It was incredibly gratifying to literally change peoples' lives. The experience more than met my expectations. I'd love to go back.