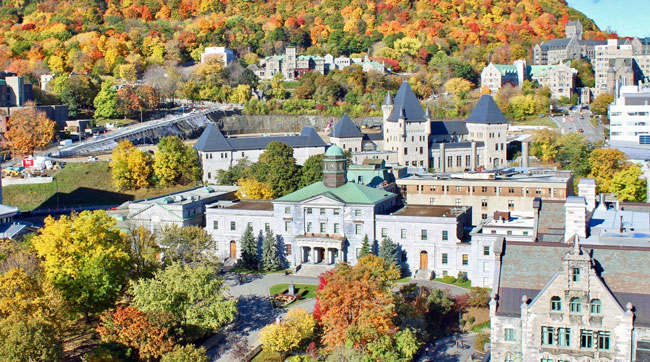 By Neale McDevitt
With 2016 drawing to a close, it is time for the Reporter's annual Year-End Quiz. While other quizzes will, no doubt, focus on global events of a tumultuous year unlike any other in recent memory, ours will highlight the last 12 months at McGill. Which McGill researcher became the first female recipient of NSERC's highest honour? The University's overall tally of Rhodes Scholars now stands at how many? Which two McGill sports teams won their third-straight national titles this year? Take the (Trump-free) trivia challenge and see just how well you know your stuff. Be warned, this one's tough, and all the stress dogs have gone home for the holidays.
January
1. Three McGill discoveries, spearheaded by researchers Thomas Szkopek, Guillaume Gervais, Jeffrey Mogil and Christine McCusker, were selected among the top 10 Discoveries of the Year by which Quebec magazine?
2. Which award-winning journalist and alumni was named Director of the McGill Institute for the study of Canada?
3. In January, Macdonald campus hosted the 56th edition of which annual, sawdust-producing event?
4. Service Point opened its doors on June 17, 2010. As of this past January, Service Point had helped how many students?
A. 150,000
B. 200,000
C. 250,000
February
5. On Feb. 9, McGill signed a new three-year collective agreement with which labour union?
6. Which United Nations dignitary told McGill students "I call on you to give back as a global citizen. Rise to the challenges of your generation" in a standing-room-only address in Leacock 232?
7. Which McGill star-gazer became the first woman to be awarded the Gerhard Herzberg Canada Gold Medal for Science and Engineering, NSERC's highest honour?
8. Which McGill sports team completed a rare (and completely soggy) three-peat, with its third-straight national championship?
9. Dr. Mark Eisenberg began a five-year clinical trial to study the effectiveness of which smoking alternative in aiding smoking cessation?
A. Nicotine patches
B. Pacifiers
C. E-cigarettes
10. Opera singer and Schulich School of Music student Chelsea Rus was the inaugural winner of which award established by McGill benefactor Elizabeth Wirth?
March
11. On March 16, how did McGill make fundraising history?
12. McGill students raised $17,000 for homeless people by living outdoors for how many days?
April
13. Which former Pittsburgh Pirate pitching prospect and McGill alum was named Executive Director of McGill Athletics and Recreation in early April?
14. What annual award honours McGill's leaders in sustainability?
15. This professor in the Département de langue et littérature françaises was honoured with the 2016 Killam Prize for the Humanities. Who is she?
May
16. According to a McGill study, what common supplement given during first year of a baby's life is critical for future muscle-mass development?
A. Vitamin D
B. Chocolate milk
C. Iron
17. In May, McGill hosted the 55th annual Canada-Wide Science Festival that gathered together 500 of the country's top young scientists. Four participants had to follow a difficult road to get the Festival, having been evacuated from which fire-ravaged town less than two weeks prior?
18. Longtime professors Donald Taylor, John Bergeron and Philip Branton were honoured during Spring 2016 Convocation ceremonies with which award?
19. How much did the annual Goodman Cancer Research Gala raise for foundational research, more effective diagnostic tools and the development of new treatments and therapies for cancer patients?
A. $900,000
B. $1.5 million
C. More than $2 million
June
20. Elsa Vasseur says a happy cow is a productive cow – and she would know. In June, Vasseur was installed as the Industrial research Chair in what?
21. A team of McGill archaeologists and archaeology students began digging for artifacts at which historic site in Verdun?
22. Rising research stars Jessica Coon, Nathalie Tufenkji and Tomislav Friscic were awarded which Principal's Prize?
23. This annual competition for business startups is gaining popularity with each year. What is it called?
24. McGill found itself all but surrounded by orange construction cones beginning in June. The City of Montreal's project Promenade Urbaine Fleuve-Montagne project has been undertaken to celebrate what anniversary?
A. Canada's 150th
B. Montreal's 375th
C. McGill's 200th
D. Mayor Denis Coderre's 54th birthday
July
25. In July, McGill food science students won top prizes in two competitions at the annual Institute of Food Technologists conference. One team won for its nutrient-rich ready-to-eat stew for children and pregnant women in Yemen. The other team won for its vegan variation of what meat-lovers' BBQ staple?
26. I beg your pardon? McGill researchers say too much of this popular beverage could impair recovery of hearing loss.
A. Coffee
B. Milk
C. Mountain Dew
27. As the Canadian government prepares to introduce legislation to legalize marijuana, which McGill pain specialist was named vice chair of the Task Force on Marijuana Legalization and Regulation?
August
28. How many McGillians competed at the Summer Olympic Games in Rio?
29. Who became the new Dean of Students on Aug. 1? Hint: He's everybody's favourite arachnologist.
A. Ludwig Carl Christian Koch
B. Chris Buddle
C. Peter Parker
30. The Le James Bookstore opened its first new location where?
September
31. Swimmer Sarah Mehain was part of the Canadian contingent competing at which major sporting event?
32. Catherine Potvin and Adelle Blackett each earned Fellowships from a national foundation that was created in 2001 as a memorial to which former prime minister?
A. Wilfrid Laurier
B. Kim Campbell
C. Pierre Elliott Trudeau
33. Which task force was launched in front of the newly relocated Hochelaga Rock, the five-tonne granite rock that commemorates the 1535 meeting of French explorer Jacques Cartier and members of the fortified Iroquois settlement?
34. The Government of Quebec announced it would invest in the development of a McGill Faculty of Medicine satellite medical campus in which region of Quebec?
A. Outaouais
B. Saguenay–Lac-Saint-Jean
C. Mauricie
35. McGill landed a whopping $84-million grant as part of the federal government's Canada First Research Excellence Fund. The funding will help make the University a global hub in which field of research?
36. Which Bioresource Engineering professor was elected President of the Royal Society of Canada's Academy of Science?
37. Which leading First Nations activist joined the School of Social Work?
October
38. The oft-celebrated Charles Taylor was named the inaugural winner of which major award?
39. Which Canadian literary icon delivered the 2016 Beatty Memorial Lecture?
40. Maclean's magazine once again named McGill as the top university in Canada among institutions with medical schools and a broad range of PhD programs. How many years in a row has the University earned this distinction?
41. Which McGill sports team won its third-consecutive national title this past fall?
A. The Redbird baseball team
B. The McGill Quidditch team
C. The Martlet basketball team
42. Which two inspirational McGill alumni were awarded honorary doctorate degrees at this year's fall convocation ceremonies?
43. There are how many categories of Principal's Awards for Administrative and Support Staff?
November
44. Which famed McGill alumnus passed away on Nov. 10?
45. In November, a pair of McGill students were awarded Rhodes Scholarships. The University has produced how many Rhodes Scholars since the awards were created in 1902?
46. An assistant general manager with the Chicago Cubs organization, Shiraz Rehman became the first McGill grad to earn what distinction?
47. Who won the 2016 Cundill Prize in Historical Literature?
48. The University launched a new financial award for student-athletes in the name of which legendary member of the Montreal Canadiens?
A. Guy Lafleur
B. Jean Béliveau
C. Red Light Racicot
December
49. McGill's Board joined Senate in passing which important University policy?
50. Who will assume the duties of Chair of McGill's Board of Governors on July 1, 2017?