From battling floodwaters in January to the installation of Suzanne Fortier as McGill's new Principal in November (photo, left), 2013 proved to be (yet another) busy year for the University. Heading into the last few weeks of 2013, the Reporter looks back on the year that was, highlighting some of the key happenings over the past 12 months in words and pictures.
January
• Law professor Roderick Macdonald heads the most recent list of McGillians honoured with Order of Canada appointments. Read more.
• The CFI awards $10,861,200 to three McGill researchers under its Leading Edge Fund. Read more.
• The University launches a major study on prevention of HPV transmission. Read more.
• The CFI awards $4.6 million to astrophysicists at McGill, the University of British Columbia, the University of Toronto and the Dominion Radio Astrophysical Observatory to build a novel digital radio telescope. Read more.
• Haitian school receives furniture, microscopes, computers and other much-needed supplies donated by the University and members of the McGill community. Read more.
• Robert Couvrette appointed Associate Vice-Principal (University Services). Read more. To read a recent Q&A with Couvrette, click here.
• Nancy Adler, the S. Bronfman Chair in Management, is named one of the 2013 Legends of Diversity Award honorees by the ISDIP. Read more.
• Classes cancelled, buildings closed after floodwaters sweep through campus. Read more.
• A group of quick-thinking McGillians save the McConnell Engineering Building from extensive damage by staving off violent floodwaters using little more than garbage bags, recycling bins, Tupperware containers and the snow all around them (see photo, above). Read more.
• McGill mops up after devastating flood. Read more.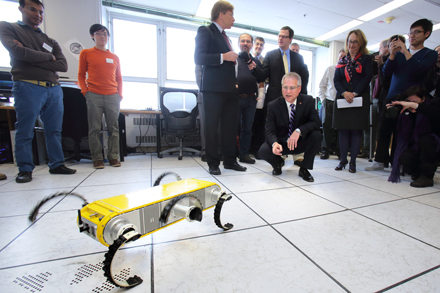 February
• Montreal business community shows support, concern, for city's universities in context of the 2012 Quebec tuition battle and cuts to education funding. Read more.
• Two McGill scholars awarded Killam fellowships. Read more.
• David Harpp named Tomlinson Chair in University Science Teaching to enhance science teaching and outreach. Read more.
• Board of Governors names Jim Nicell new Dean of Engineering, Paul Allison reappointed to Dentistry. Read more.
• CREPUQ leaders say government-imposed cuts to universities' operating budgets will have a profoundly detrimental impact on an already fragile education system. Read more.
• McGill physicist Jack Clayton Sankey is awarded coveted Sloan Research Fellowship. Read more.
• McGill joins several other universities around the world as a member of the not-for-profit edX consortium and plans to begin offering "massive open online courses" (MOOCs) in 2014. Read more.
• Provost Anthony C. Masi hosts four Town Hall meetings over two days to discuss the impact of government-imposed budget cuts on McGill's financial situation. Read more.
• NSERC Canadian Field Robotics Network gets a $5-million grant (see photo, above). Read more.
• For the fifth consecutive year, McGill is named one of Montreal's Top Employers. Read more.
• Unions, students, profs, administration join together to denounce Quebec government's cutbacks to universities. Read more.
• Principal Munroe-Blum tells Summit on Higher Education that budget cuts will leave Quebec's teaching, research and economy at risk. Read more.
March
• Principal Heather Munroe-Blum issues statement to the McGill community on her participation in the Summit on Higher Education. Read more.
• Suzanne Fortier named as McGill's 17th Principal (photo, left). Read more.
• David Apap wins McGill's first provincial men's individual alpine ski title since 2006. Read more.
• Mark Wainberg, Director of the McGill University AIDS Centre, is one of the five recipients of the CIHR-CMAJ Top Canadian Achievements in Health Research Awards. Read more.
• Chaplaincy Services receives Yellow Door Community Service Award. Read more.
• Katie Larson voted in as SSMU President. Read more.
• Men's and women's basketball teams win their respective provincial championships. Read more.
• A group of McGill students sleep outside all week as part of the five national Days for the Homeless campaign. Read more.
• The University's energy-reduction experiments help lower greenhouse gas emissions by 20 per cent since 2002-2003. Read more.
• Former Law Professor Ronald B. Sklar passes away after a short illness. Read more.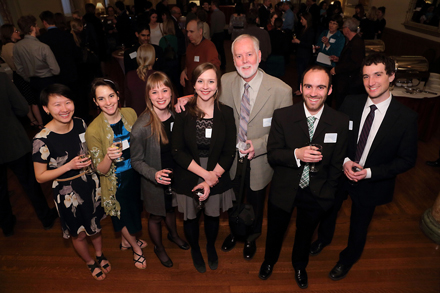 April
• IMHL students win Grand Challenges Canada grant to field-test low-cost water-purifying device in India and Kenya. Read more.
• Bravo celebrates 22 award-winning researchers. Read more.
• McGill Food and Dining Services receive the Marine Stewardship Council Chain of Custody certification for its commitment to serving sustainable seafood. Read more.
• Six law students selected to clerk at Supreme Court. Read more.
• The 3rd annual Catalyst Awards celebrate sustainability achievements by members of the McGill community including students, staff and faculty (photo above). Read more.
• Students vote overwhelmingly to continue to support the University's groundbreaking Sustainability Projects Fund. Read more.
• Exams held in Cineplex as City construction means Currie Gym unavailable. Read more.
• McGill joins The MasterCard Foundation Scholars Program. Read more here.
• Swimmer Steven Bielby and hockey player Melodie Daoust are named male and female athletes of the year. Read more.
• Research team from McGill and the Research Institute of the MUHC receives more than $5 million for project on the genomic biomarkers associated with pediatric glioblastoma, a form of incurable cancer. Read more.
• Five McGill researchers awarded Grand Challenges Canada grants. Read more.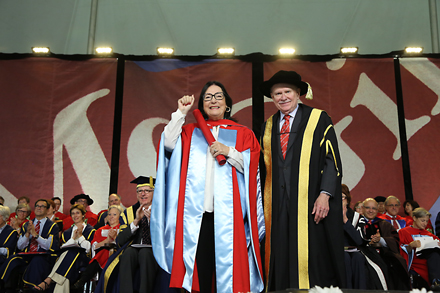 May
• McGill alumni Barbara and Patrick Keenan make landmark gift of $5 million to Religious Studies. Read more.
• Official bilingualism celebrated, criticized, at MISC conference. Read more.
• Ollivier Dyens appointed new Deputy Provost (Student Life and Learning). Read more.
• McGill and École de technologie supérieure officially launch the Quartier de l'innovation de Montréal. Read more.
• Official launch of an online tool to help in the selection of more environmentally friendly materials for new construction and renovation projects. Read more.
• Hockey player Patrick Delisle-Houde wins the Guy Lafleur Award as the Quebec university player who best combines hockey excellence with academic success and citizenship. Read more.
• McGill and TELUS Health enter into a three-year, $1-million partnership to create a learning environment and conduct research on how best to use technology to improve health and healthcare delivery for Canadians. Read more.
• Rossy Family Foundation and partners pledge $58 million to improve cancer care for Quebecers. Read more.
• Professor Emeritus Derek Gray wins the 2013 Marcus Wallenberg Prize. Read more.
• The University announces winners of the inaugural McGill Award for Equity & Community Building. Read more.
• More than 200 children flock to both campuses to take part in the University's first ever Bring a Child to Work Day. Read more.
• $1.1 million gift from Stavros Niarchos Foundation fortifies support for grad students. Read more.
• Nana Mouskouri fights back tears during Hon Doc ceremony and sets emotional tone for Convocation (photo above). Read more. All 11 Convocation addresses by Honorary Doctorates can be seen here.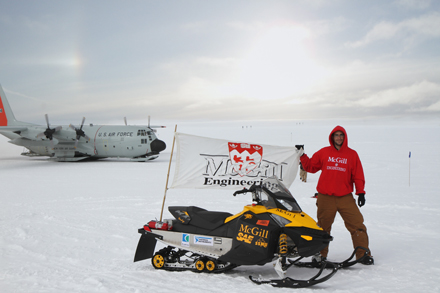 June
• Campaign McGill pulls in more than $1 billion. Read more.
• Chancellor H. Arnold Steinberg named to Order of Quebec. Read more.
• Munroe-Blum praised for "Making McGill a better place" in goodbye celebration. Read more.
• Researchers, Renée Sieber and Paul Yachnin receive Partnership Grants from the SSHRC, worth nearly $5 million in combined funding. Read more.
• Unveiling of James McGill Circle celebrates University's important benefactors. Read more.
• Michel Tremblay is awarded the 2012 Robert L. Noble Prize by the Canadian Cancer Society. Read more.
• Winners of the McGill Dobson Cup, the annual competition for budding entrepreneurs, are announced. Read more.
• Electric snowmobile summers on Greenland ice sheet while helping with sensitive air-quality research (photo, above). Read more.
• McGill, Oxford and Neuroscience Center Zurich sign three-way agreement to create leading-edge neuroscience network. Read more.
• Revolutionary new 3D digital brain atlas allows researchers to zoom into the brain to see various cells the way we zoom into Google maps of the world and to look at houses on a street. Read more.
• The McGill Baja Racing team takes top honours in its category at the Rochester World Challenge. Read more.
• McGill officially announces it has expanded its Preferred First Name Procedure in which students' preferred first name will appear in lieu of their legal first name on Minerva class lists. Read more.
• University signs collaboration agreements with two Mexican universities. Read more.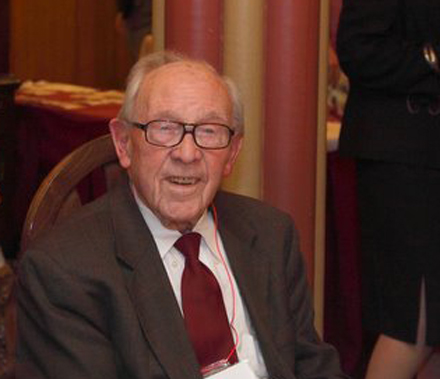 July
• Stanley Brice Frost, professor, administrator and McGill's first official historian, passes away in Montreal on July 25 (photo, left). Read more.
• Researchers from McGill, RIKEN and the Institute for Molecular Science discover a way to make the widely used chemical process of hydrogenation more environmentally friendly – and less expensive. Read more.
• Two McGill rugby players claim bronze as Canada beats Brits at FISU Games in Russia. Read more.
• McGill's Nigel Roulet part of international science panel calling for complete preservation of half of Canada's boreal forests. Read more.
• Law professor Daniel Weinstock is appointed Director of the McGill Institute for Health and Social Policy. Read more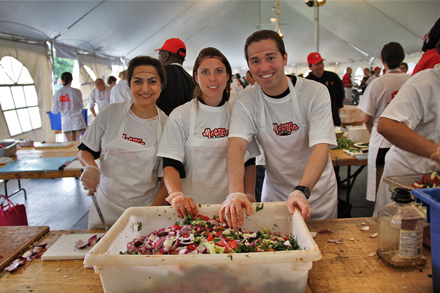 August
• McGill will reach its cost-cutting target of a $43.5-million reduction in the operating budget without having to resort to large-scale job cuts, Masi and Di Grappa tell University community. Read more.
• Study shows alcoholism could be linked to a hyperactive brain dopamine system. Read more.
• McGill nudges up in the Academic Ranking of World Universities to reach its highest level since this set of rankings was established in 2003. Read more.
• McGill rallies to capture national tennis championship. Read more.
• Tomato festival feeds McGillians, Montrealers with five-course tomato-themed meal (photo, above). Read more.
• Three students cycle 1,300 kilometres to help raise money for the people of Lac-Mégantic. Read more.
• University receives $1.65 million through NSERC's CREATE initiative to develop a multidisciplinary training program – called the Medical Physics Research Training Network – in the fields of physics, biology and medicine. Read more.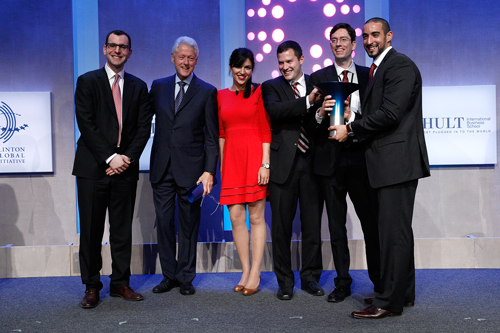 September
• In its submission to the government's Chantiers de travail, McGill recommends that any new funding formula be firmly grounded in principles of equity, predictability, recognition of performance and accountability. Read more.
• New fossil data shows that every time a dinosaur grew its limbs, a bird got its wings. Read more.
• Father/son team pull up to Roddick Gates after driving around the world (more than 18,000 kilometres) to get son to McGill in time for first semester. Read more.
• Don Smith, Scientific Director of BioFuelNet, is named recipient of a Canada's Clean50 Award. Read more.
• A study by an international team of environmental scientists, including McGill's Brian Robinson, finds that a government-run clean water program in China is providing substantial benefit to millions of people in the nation's capital. Read more.
• Professor Nahum Sonenberg, a James McGill Professor in the Department of Biochemistry, is the 2013 recipient of the Royal Society of Canada's McLaughlin Medal. Read more.
• McGill earns official designation as a Fair Trade campus. Read more.
• The Redmen football team snaps an 11-year, 15-game losing streak to the Concordia Stingers with a 32-19 win in the 45th annual Shaughnessy Cup football game. Read more.
• Suzanne Fortier hosts campus-wide block party that includes everything from from Bach to breakdancing. Read more.
• Sixteen McGill graduate students are recipients of Vanier Canada Graduate Scholarships. Read more.
• Masi tells Senate; reduction in workforce means we must learn to do things differently. Read more.
• Third annual Indigenous Awareness Week a success. Read more.
• QS Rankings: McGill in world's Top 25 for 10th straight year. Read more.
• Desautels MBA team wins $1-million Hult Prize competition for social enterprise to secure food for undernourished communities in urban slums (photo, above). Read more.
• Dr. Luda Diatchenko awarded more than $10 million in federal funding as CERC in Human Pain Genetics. Read more.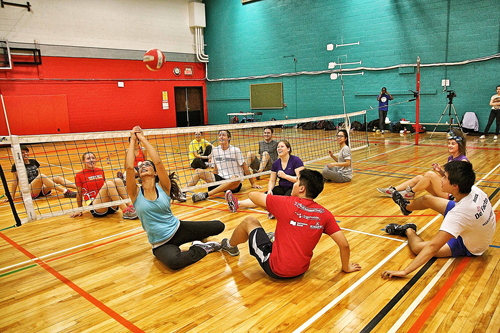 October
• Empty storage area on 2nd floor of McIntyre Medical reborn as high-tech CyberMed. Read more.
• The sixth-ranked McGill women's rugby team outlasts No.4 Concordia 41-34 to claim the Christine Regimbald trophy as RSEQ conference champions. Read more.
• McGill/MUHC team wins innovation award for HIV self-screening strategy and app. Read more.
• McGill moves into the brave new world of MOOCs when registration opens for CHEM181x, the University's first Massive Online Open Course. Read more.
• More than 600 McGillians – students, staff, faculty, administrators and alumni – volunteer their time as part of the University's second annual Community Engagement Day (photo, above). Read more.
• Strong McGill link to Nobel Prize in Physics that is awarded to theoretical discoverers of Higgs boson. Read more.
• McGill's Philosophy Professor Emeritus Charles Taylor and Université de Montréal Law Professor Daniel Turp square off on Charter of Values debate. Read more.
• Conference on Global Food Security offers food for thought. Read more.
• Brianna Miller, a fourth-year back on the Martlets, was named CIS player of the year in women's rugby. Read more.
• Cancer researchers Phil Gold and Michel L. Tremblay 2013 Prix du Québec recipients. Read more.
• McGill Libraries acquire important collection of Voltaire's works. Read more.
• Merck Canada awards $4 million to Faculty of Medicine. Read more.
• Researcher Colin Chapman helps deliver ambulance to serve 100,000+ people in remote area in Uganda as Uganda Mobile Health Clinic sets wheels in motion. Read more.
November
• Suzanne Fortier installed as McGill's 17th Principal. Read more here.
• McGill #1 in Maclean's rankings for ninth straight year. Read more.
• Innovation Week showcases innovation as an economic driver and demonstrates how institutions can work together to create new and exciting things. Read more.
• Focus of the annual joint Board-Senate meeting is mental health, with McGill looking to take action on an issue that affects more than undergraduates cramming for exams. Read more.
• Working group formed to study how the University should accommodate cycling on the downtown campus. Read more.
• Thirteen researchers to receive CRC funding. Read more.
• McGill Symphony Orchestra plays the new concert hall at Place des Arts for the first time. Read more.
• Thousands of Montrealers pay tribute to Canada's war veterans during Remembrance Day ceremonies on McGill's lower campus. Read more.
• Fire at Macdonald Campus Farm results in extensive property damage but fast-acting staff and students ensure no people or animals are harmed. Read more.
• Debaters Cole Bricker (U2 Arts) and Sarah Balakrishnan (U3 Arts) win first place at the North American British Parliamentary Championships and get ready for the World Championships in India. Read more.
• Saleema Nawaz, an Administrative Coordinator in the Department of Philosophy, wins Quebec Writers' Federation top prize in fiction for her debut novel, Bone and Bread. Read more.
• Football player/med student Laurent Duvernay-Tardif wins two major football awards. Read more. Earlier this fall he was also named among the Top 8 CIS Academic All-Canadians. Read more.
• Senate unanimously rejects provisions of the Charter of Values. Read more here.
• Anne Applebaum wins the 2013 Cundill Prize in Historical Literature. Read more.
• Fall Hon Docs: Mike Babcock, Richard A. Walls and Carolina Walls honoured at Convocation (photo, above). Read more.
• Recipients of the Principal's Award for Administrative and Support Staff for 2012-2013 receive their prize at the fall Convocation ceremony. Read more.
• The Principal's Prize for Excellence in Teaching is awarded to four educators during fall Convocation. Read more.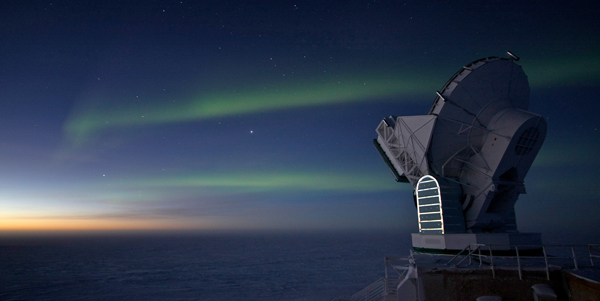 December
Scientists in McGill's Astrophysics group are honoured in Physics World magazine's list of top 10 breakthroughs in physics for 2013 (photo, left). Read more.
I• n an appearance before the National Assembly's Committee on Culture and Education, Principal Suzanne Fortier describes McGill's performance in today's extremely competitive international climate as a "tour de force." Read more.
• Suzy Newing, in the final year of an Arts BA doing an Honours degree in International Development Studies, with a Minor in African Studies, becomes McGill's newest Rhodes Scholar. Read more.
• Senate approves amendments to Policy on Harassment, Sexual Harassment and Discrimination. Read more.
• McGill athletes receive top two academic awards at Quebec Foundation sports gala. Read more.
• Study suggests that a father's diet before conception plays a crucial role in the health of his offspring. Read more.
• Four McGill athletes in Italy for FISU World University Games. Read more.