It's a busy place at the best of times, but 2011 was an especially active year at McGill for a number of reasons. The McGill Reporter looks back on the year that was, highlighting some of the key happenings over the past 12 months in words and pictures.
JANUARY
– Stephen and Nancy Molson give $1-million birthday gift to Redmen hockey.
– Prof. Tim Geary gets $1-million grant for parasitic diseases research.
– New skating rink opens on lower campus.
– Seven teams of McGill researchers land more than $3 million in NSERC grants.
– Green Chemistry breakthrough named one of top discoveries of 2010 by Quebec Science.
– Ten people with ties to McGill appointed to Order of Canada.
– Philanthropist and alumnus F. Peter Cundill dies.
FEBRUARY
– First annual Sustainability Symposium takes place.
-Vicky Kaspi wins NSERC's John C. Polanyi Award.
– Mark Lathrop named Scientific Director of McGill University and Génome Québec Innovation Centre.
– New Dentistry outreach program, the Jim Lund Dental Clinic at Welcome Hall Mission, is launched.
– Gerald Butts, Peter Coughlin and Samuel Minzberg appointed to McGill Board of Governors.
– Pioneering physician Rita Levi Montalcini awarded Honorary Doctorate in Rome.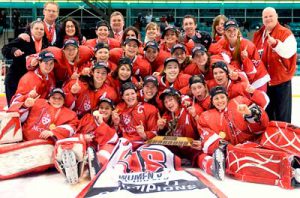 MARCH
– Schulich School of Music student Philippe Sly wins Metropolitan Opera promising singer contest.
– McGill Alumni Association launches Greatest McGillian contest.
McGill students David Morris and Omer Dor win TD Go Green Challenge sustainability competition.
– Hockey Martlets win CIS Championship.
– Annual MISC conference on Canada-U.S. relations attracts current and past leaders.
– McGill's Steven Bielby wins two gold medals at the CIS swim championships.
APRIL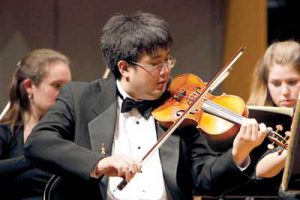 – Students develop glove to help stroke victims recover hand mobility.
– "Vote mob" comes to McGill during federal election campaign.
– Nobel laureate and McGill alumus Jack Szostak leads list of new honorary doctorate recipients.
– Ian and Jayne Munro Chair in Food Safety created through $1.5-million gift.
– Office of Sustainability recognizes McGill's green leaders with inaugural Catalyst Awards.
– Professors Lorenz M. Lüthi and Grace Fong win prestigious Guggenheim Fellowships.
– City honours Greening McGill project.
– Violinist Ewald Chung wins Golden Violin Award.
– Literary icon Carlos Fuentes visits Faculty of Law.
 MAY
– Centre for Continuing Education becomes School of Continuing Studies.
– Bloomberg Manulife Prize for the Promotion of Active Health launched.
– Nobel laureate and McGill alumnus Willard Boyle dies.
– Redpath Museum mummies scanned at The Neuro.
– Actor Michael Douglas special honoree at McGill Head and Neck Cancer fundraiser.
– Sean Ferguson named Dean of Schulich School of Music.
– Five McGill students win seats for the NDP in 41st general election.
JUNE
– MNI Director David Colman dies.
– McGill, IBM team up to develop Quebec's most powerful and energy efficient supercomputer cluster.
– Waste management project earns McGill students Alex Pritz and Christian Elliott inaugural Dalai Lama Fellowship.
– Actor and alumnus William Shatner receives Honorary Doctorate.
– Faculty of Medicine opens new pathway for international medical graduates.
– McGill music student Bénédicte Lauzière is first ever winner of the Canada Council Michael Measures Prize.
– Twenty-five McGill researchers win prestigious Vanier Scholarships.
JULY-AUGUST
– McGill and University of São Paulo researchers identify new species of 70-million-year-old crocodile.
– New Schulich School of Music grad Charles Richard-Hamelin wins grand prize at Quebec's Prix d'Europe 2011 competition.
– Quebec legal giant, Emeritus Wainwright Professor of Civil Law Paul-André Crépeau, dies.
– McGill among the world's best universities in a broad range of subjects in 2011 QS World University Rankings.
– Ministry of Education recognizes Desautels MBA as 'specialized program.'
– MUNACA members vote in favour of strike action in labour dispute with University.
 SEPTEMBER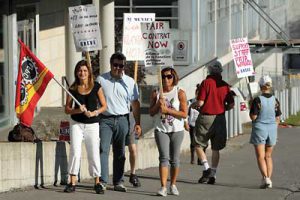 – MUNACA launches strike on first day of fall term
– Greatest McGillians announced.
– Burst City pump leads to flooding on campus.
– McGill ranks first in Canada and 17th in the world in the 2011 QS World University Rankings.
– Royal Society of Canada honours nine McGill researchers.
– Arcade Fire host charity basketball game at McGill Sports Centre.
OCTOBER
– Goodman Cancer Research Centre officially launches McGill Dances for Cancer Research Video.
– McGill Daily celebrates 100th anniversary.
– $1.5-million gift from Macdonald Stewart Foundation bolsters water resource management studies.
– McGill awarded 16 new CRCs, eight chairs renewed.
– McGill named to Canada's Top 100 Employers list for fourth-straight year.
– McGill cracks Top 30 worldwide in Times Higher Education rankings.
– McGill tops Maclean's ranking for seventh straight year.
 NOVEMBER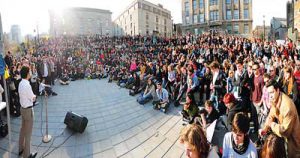 – Police presence rocks campus on November 10.
-We Are All McGill rally attracts large crowd to discuss events of Nov. 10.
– Nahum Sonenberg wins prestigious Rosenstiel Award.
– Sergio Luzzatto wins fourth annual Cundill Prize.
– MUNACA strike talks called off, then resume.
– $5.5-million gift from Lorne Trottier secures the future of science outreach initiatives.
– Teaching assistants approve new three-year contract.
– Nov. 10 events, strike questions, dominate Ask the Principal webcast.
DECEMBER
– MUNACA strike ends, support staff return to work.
– New volunteers step up to save the McGill Book Fair.
– Former Redmen player and McGill alum Robert B. Winsor, and his wife Susan make $1.5-million donation to support football program.
– Student protest disrupts part of Board of Governors meeting.
– SSMU organizes a visit from Therapeutic Paws of Canada to help relieve students of exam stress.
– Jutras report on events of Nov.10 released.