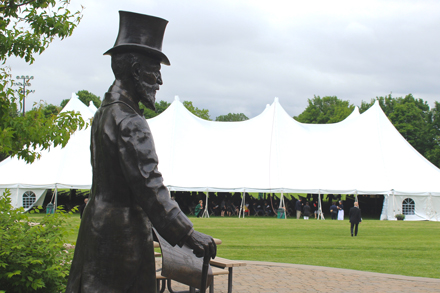 By Jim Hynes
Under cloudy skies that turned sunny just soon and long enough to brighten everyone's souvenir photos, McGill's 2013 Spring Convocation came to a close yesterday with a ceremony at Macdonald Campus.
For nearly 400 new graduates from the Faculty of Agricultural and Environmental Sciences, the event marked the end of one part of their lives, but also the beginning of another.
Although her term officially ends June 30, the same can be said for Heather Munroe-Blum, who was taking part in the final Convocation ceremony in her more than 10 years as the University's Principal and Vice-Chancellor. During that time, McGill's 16th Principal has taken part in approximately 150 ceremonies in which students have received degrees.
"Every year, for more than 10 years, I have had the privilege of seeing you, our McGill students, complete this major chapter in your lives and embark on a new one," said Munroe-Blum. "To say thank you is an enriching act. It is so important, in fact, that I'm going to do so myself. Serving McGill, serving you, has been in every single day, an exceptional honour for me. I have had you, wonderful students, to inspire me. Thank you."
Munroe-Blum also paid tribute to Dean Chandra Madramootoo and the entire Faculty of Agricultural and Environmental Sciences.
Dean Madramootoo, she said, "…has built with his outstanding team of colleagues and students a timely and distinctive platform to express the mission and history of this campus."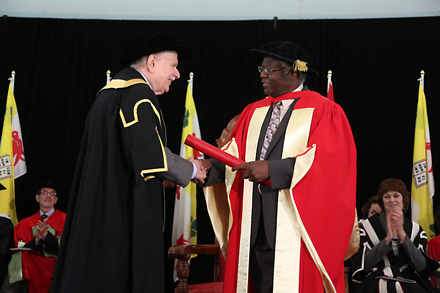 In his Convocation Address, honorary doctorate recipient Calestous Juma, Professor of the Practice of International Development and Director of the Belfer Center's Science, Technology, and Globalization Project at Harvard University, reflected on his long relationship with McGill and Canada.
"It's a great honour for me to be back in Montreal, and I am deeply honoured to be inducted into the family of this university. It feels very much like being back at home."
Juma, the founding director of the African Centre for Technology Studies in Nairobi, Africa's first independent policy research institution designed to advance research on technology in development, told the graduating class, particularly those who plan to pursue careers related to agriculture, to maintain an optimistic outlook.
"There is tremendous interest and enthusiasm in helping Africa to not only feed itself, but to become a player in global agriculture."
Earlier in the ceremony, Professor Elena Bennett from the Department of Natural Resource Sciences and the McGill School of Environment was presented with the Carrie M. Derick Award for Excellence in Graduate Teaching & Supervision, and Professor George McCourt, Faculty Lecturer and Associate Director, Undergraduate Affairs, at the McGill School of Environment, received the Macdonald Campus Award for Teaching Excellence.
Bioresource Engineering student Sadman Islam delivered the Valediction.
To view the complete ceremony, click here.
To see a gallery of 2013 Spring Convocation photos, click here.