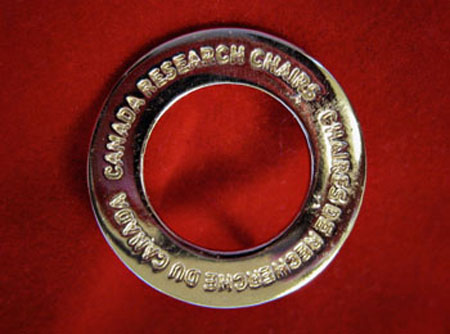 By Kathryn Jezer-Morton
On Friday, Dec. 2, the Honorable Kirsty Duncan, Minister of Science, announced over $173 million in funding for 203 new and renewed Canada Research Chairs at universities across Canada. Sixteen CRCs went to McGill faculty. Eleven of McGill's new CRCs went to women, which reflects the national trend; this cohort is among the highest percentage of women ever, at 38 per cent.
CRCs are granted to outstanding researchers acknowledged by their peers as world leaders in their fields. The CRC program was created to enable Canadian universities to attract and retain established and emerging world-class researchers. McGill research projects to be supported by this new round of CRC funding range from studies in artificial intelligence to social justice articulated through architecture to the emergence of systems of land tenure in New France, New Spain and New England.
"I would like to extend my heartfelt congratulations to the new and renewed Canada Research Chairs," said Minister Duncan. "The Government of Canada is proud to support talented researchers whose hard work will improve our scientific understanding and strengthen Canada's reputation for research excellence. The Chairs' efforts will also provide us with the evidence needed to inform decisions that help us build a vibrant society and a strong middle class."
There are two types of Canada Research Chairs. Tier 1 Chairs are tenable for seven years and renewable. Each Tier 1 Chair is valued at $200,000 annually. Tier 2 Chairs, valued at $100,000 annually for five years with one opportunity for renewal, are for exceptional emerging researchers, acknowledged by their peers as having the potential to lead in their field. Seven new Tier 2 Chairs and four new Tier 1 Chairs were granted to McGill researchers in this round. Five McGill researchers were granted renewals on their Tier 1 and Tier 2 awards.
"McGill is grateful for the ongoing support of the Canada Research Chairs program, which helps us to attract some of the most innovative thinkers and researchers from around the world and helps to keep Canadian research at the global cutting edge," said McGill's Vice-Principal (Research and Innovation) Rosie Goldstein. "Congratulations to our latest cohort for this valuable recognition of their work."
The full McGill's newest CRCs is below.
Marco Amabili, Professor of Mechanical Engineering – Tier 1 Renewal – Canada Research Chair in Vibrations and Fluid-Structure Interaction
Lea Berrang-Ford, Associate Professor of Geography – Tier 2 – Canada Research Chair in Global Health and Environmental Change
Adele Blackett, William Dawson Professor of Law — Tier 1 – Canada Research Chair in Transnational Labour Law and Development
Anja Geitmann, Professor Plant Science – Tier 1 – Canada Research Chair in Biomechanics of Plant Development
Allan Greer, Professor of History – Tier 1 Renewal – Canada Research Chair in Early Canada/Colonial North America
Lauren Human, Assistant Professor of Psychology – Tier 2 – Canada Research Chair in Social Perception and Expression
Sarah Kimmins, Associate Professor of Reproductive Biology – Tier 2 Renewal – Canada research Chair in Epigenetics, Reproduction and Development
Sylvie D. Lambert, Assistant Professor of Nursing – Tier 2 – Canada Research Chair in Sustainable Self-Management Support for Patients with Cancer and Their Family Caregivers
Karyn Moffatt, Assistant Professor, McGill School of Information – Tier 2 – Canada Research Chair in Inclusive Social Computing
William Muller, Professor of Biochemistry – Tier 1 Renewal – Canada Research Chair in Molecular Oncology
Doina Precup, Associate Professor, School of Computer Science – Tier 1 – Canada Research Chair in Machine Learning
Selena Sagan, Assistant Professor of Microbiology and Immunology – Tier 2 – Canada Research Chair in RNA Biology and Viral Infections
Thomas Martin Schmeing, Associate Professor of Biochemistry – Tier 2 Renewal – Canada Research Chair in Macromolecular Machines
Gustavo Turecki, Professor of Psychiatry – Tier 1 – Canada Research Chair in Major Depressive Disorder and Suicide
Aysenur Ipek Tureli, Assistant Professor of Architecture – Tier 2 – Canada Research Chair in Architectures of Spatial Justice
Anna Weinberg, Assistant Professor of Psychology – Tier 2 – Canada Research Chari in Clinical Neuroscience