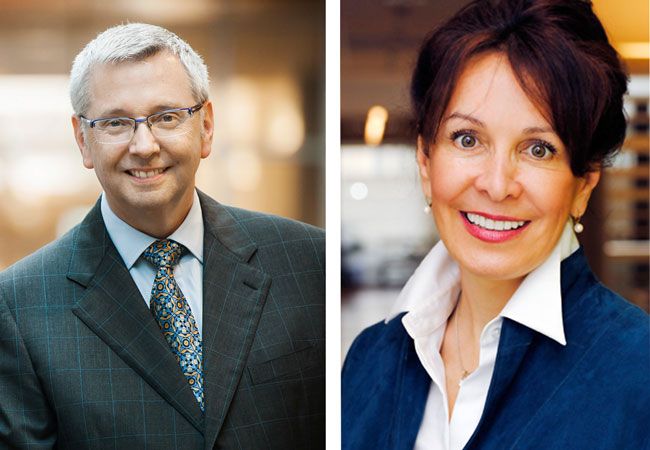 By McGill Reporter Staff
A dozen McGillians, including renowned alumni and generous contributors, were named last week when Governor General David Johnston (a former Principal of McGill) announced the annual Canada Day list of citizens named to or promoted within the Order of Canada.
Justice Louise Otis, an adjunct professor of law at McGill, was named an Officer of the Order for her "contributions to expanding the administration of justice in Canada as a judge at the Quebec Court of Appeal, and for having created and established judicial mediation systems." And former McGill Law Dean Stephen Toope (LLB 1983, BCL 1983), who also served as President and Vice-Chancellor of the University of British Columbia, was also named an Officer for leadership in post-secondary education and for scholarship in the fields of international law and human rights.
Montreal Museum of Fine Arts Director Nathalie Bondil, who was presented with an honorary degree by McGill in 2013, was named a Member of the Order, as were alumni Aubie Angel (MSc 1963), Lisa de Wilde (BA 1977, LLB 1980), Linda Gaboriau (BA 1965, MA 1972), former provincial cabinet minister Monique Jérôme-Forget (BA 1971, PhD 1977), Donna Soble Kaufman (BCL 1984), Frances Oldham Kelsey (BSc 1934, MSc 1935), Vivan Morris Rakoff (Dip Psych 1963), philanthropist Lawrence Rossy (BA 1965) and television personality Marla Shapiro (MDCM 1979).